Local visibility have you heard of it, but don't know what it is? Today we come back to this essential of internet marketing.
Who is local SEO for?
Local SEO is an Internet marketing tool. This offers the possibility for all physical stores to gain visibility. It is important for every business toinvest in local SEO to develop their website traffic. Specific service providers should also use this tool. Thus, plumbers, masons or even doctors' offices can also benefit from local visibility.
When you use it for your local business, this SEO plays an important role in bringing in new customers. Indeed, with a strong local referencing, you convert simple Internet users into punctual customers.
It is also theone of the first weapons against the Internet giants. This type of referencing offers each store the possibility of benefiting from great local visibility. With this advantage, they compete with companies like Amazon in different search results. Investing in this local SEO offers a major advantage in finding consumers around you.
Google has always made it its mission to promote various local businesses. This is why it makes this search possibility available to its users. Thus, if your company is located in a geographically interesting radius for a user, this one is redirected to you. This greatly reduces the list of competitors in your area of ​​expertise.
This proximity is also very important for local consumers. In fact, the vast majority of consumers travel to less than 20 minutes from his home to buy the various utility products.
Why do we need local visibility?
Growing its notoriety and local visibility is, as we have seen, necessary for physical businesses. This is because this setting helps attract a lot more customers to your store. This makes it easier for you to convert the different people who want your products.
Today, many companies have two storefronts for their business. One is physical and the other is digital. Local SEO makes your digital storefront much more visible. It helps you attract lots of customers. Of course, there are many other benefits to local SEO. Among these, we find:
Significant customer gain in sectors dominated by online businesses
An increase in footfall in the store concerned
An increase in traffic to your website
Greater customer loyalty
How is local visibility different from organic SEO?
There is a big difference between the two concepts. Indeed, local referencing is based, as its name suggests, only on a locality. Thus, this type of SEO depends on the searches made by users in a specific geographic radius.
In a very large majority of cases, local searches and SEO target two different audiences. One is trying to deliver results to nearby consumers. The other is a comprehensive SEO method. So, each type of SEO uses different tactics to achieve their respective goals.
The two references nevertheless have one thing in common. Indeed, they show Google that you deserve your place at the top of the SERPs.
To improve your local visibility, you must provide your site:
A large number of names (city, establishment, etc.)
A repetition of the postal code
Directions to your city and its surroundings.
Thus, you create links with your locality. Once the first customers have been converted, you take advantage of the various Google opinions to implement this geolocation.
This type of SEO helps you reach customers more easily. In addition, these new customers subsequently become loyal customers if they appreciate your services. Geolocation is therefore the ideal way to make yourself known more easily in your locality.
What is a local search?
Local search is based on a specific product when someone enters the right keywords on Google. For example, if you want to order Mexican in your city, you type "Mexican restaurant in Paris X". Google analyzes all the Mexican restaurants in the vicinity to provide you with a complete panel of choices. If your geolocation is available for Google, you don't even have to type the name of the city.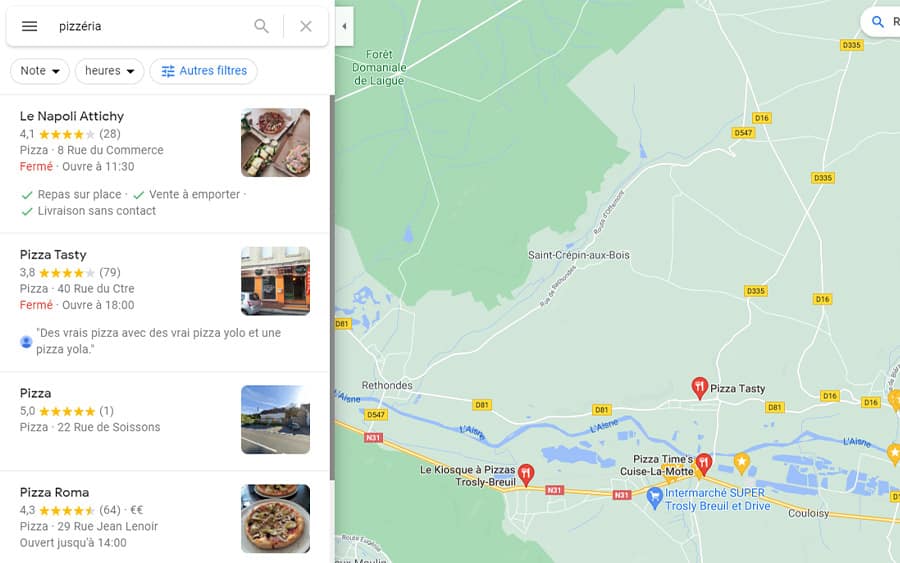 In the latter case, how does Google know where the customer is and what to show them? Quite simply by using the GPS present in each cell phone. If the search is done on a computer, it is with the IP address that Google identifies the customer's position. Thanks to this, it is possible for him to deliver relevant results to every user. Thus, the user sees the establishments capable of providing what he is looking for appear in his local SERPs.
What are local SERPs?
A SERP is a search engine results page. When you do a keyword research, the first results show the authoritative sites. The target local page for results regarding services located around the user.
Depending on the location of the latter, the SERPs are different. These pages also include maps. Thus, the Internet user finds the store or the service provider associated with the search. In addition, the user has a visual on the different products offered. Indeed, it is possible to find at the top of the SERPs a selection of the product in question.
Presented in a carousel of images, a visibility is made on certain information concerning the product. Its location and the opinions of previous users appear directly on the search page. To generate this carousel, Google pulls the data directly from the sites in question.
All of the products presented, when displayed by local referencing, come largely from the company's Google My Business. This element is essential for improve the local visibility of an establishment. Correct optimization then offers the possibility of appearing more regularly in the various search results offered by Google.
Google's local visibility algorithm
To provide local visibility relevant to all searches performed by users, Google uses a complex algorithm. The latter decides what to display in the various search results. More complex than the standard algorithm, it takes into account different parameters. Among these, we find three important elements:
Relevance which defines a level of consistency between the requested query and the product offered by the company
Notoriety aimed at defining whether the selected company is trustworthy
And the proximity of the store or service provider to the data collected on the user's side
Relevance is the basis of Google's local algorithm. Indeed, there is no point in displaying a result that is completely different from the product sought by the user. To gain relevance, we must target strong, impactful keywords directly related to your product.
Awareness is how your brand differentiates itself from others. Here, you are assessed against your competition. You need to let Google know that your business is trustworthy. For this, it is necessary to offer a significant amount of data to the research platform. The more easily it finds you, the more you validate your online reputation. For Google to offer you local visibility, having a high reputation online is very important. To achieve this, you can for example register on the various directories on the web.
Google has the particularity of extracting this data from any website. If your business doesn't appear on any other site, you're less likely to rank on Google …
To gain notoriety, you can for example:
Create local links
Share relevant and unique content related to your area of ​​expertise
Be present in many directories on the Internet
Propagate your business name online through social media for example
Obtain positive opinions on your products
Possess local media mentions
Finally, proximity completes this table of relevance and notoriety. Last stone of the building, it is very important to gain local visibility. This parameter is based on a classification of establishments around the user. If SEO only uses notoriety and relevance, it is because it promotes digital institutions. In the context of a physical establishment, the proximity parameter is absolutely necessary.
Based on this observation, the user can perform a local search in several different ways. Indeed, he has the choice between:
Non-geolocated research
A geolocated search
A search for direct proximity.
For the enhancement of the proximity to be total with Google, it is important tooptimize these research methods.
Know the different research methods
To be relevant in terms of proximity, a geolocated search includes in the keywords the city or the district concerned. For example, the keywords used by the user can be: "Mexican restaurant Paris X" if the user is located in this arrondissement.
Non-geolocated searches are more vague. Here the user removes the location from their search. It just searches for "Mexican restaurant" and lets the Google algorithm do it to find the different restaurants in the area.
Finally, local proximity searches are, as their name suggests, results that are found around the user. Thus, the latter only has to type "Mexican restaurant nearby" to find the relevant results within a small radius of action.
This type of research, very little used by Internet users, is quite unfavorable for the various companies. Indeed, the local visibility it offers does not extend to the whole city or the whole neighborhood. If the user is far enough away from your location, they won't see you.
To conclude,
As you will have understood, your business must have very good local visibility. To obtain the latter, there are several parameters to optimize in order to acquire more notoriety on the Internet. By mastering the field of local SEO, you can effectively find new customers and retain them. This is because local search users are close to your business. Investing in this type of SEO therefore helps you develop your internet sales as well as your customers.