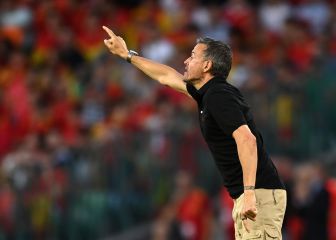 Luis Enrique analyzed the draw against Portugal in the debut of the National Team in the League of Nations. The coach was satisfied with the performance of his players in front of the Spanish Television cameras.

Slump in the second part: It's hard to keep up with the pressure throughout the game, but I liked the team. Since we are going to celebrate a World Cup, well, a non-aggression pact. It is a match that has been tied and could have been won or lost.
The best of the team: "I loved the atmosphere. The public was superb and I liked the attitude of my players, the spirit of the team… Now it's time to rest, recover. The idea of ​​competing has been very good in some phases, not so good in others .
Ansu Fati: Ansu comes to help us in the long term. He still doesn't have the competition rhythm to help us as much as he would like. The public really wants to show him affection, but I'm the professional and I have to control that.
Later, the Spanish coach addressed the media in the press room.
Fiery defense from Luis Enrique to Gavi in ​​the days when the expansion of the midfielder is defined.
Portugal has done well, a good move. He has taken a throw-in in zone one and this is a game of errors. He thought there was a serious mistake but they have done well. They have released an offensive version; And they have had chances. But I think the team has been good. We have generated more chances than them but it has happened that we could have beaten them, but also that we could have lost. Let's go to the second game and see if we can be superior.
Gavi is almost indisputable. What does he give you?
It is not indisputable. There are few, some, but few. One of the great qualities of the team is that there are no indisputable. Anyone contributes. With Gavi I have a feeling that he is still unknown in Spanish football, even for people who are close to him. He with the ball is a very special player. A pure interior, capable of giving the last pass. He has a goal, he has a header and overwhelming physical power. A single player.
What does it mean that the Barça people have him close?
Anyone who can see it. It is not my rule to criticize anyone, but I say what I see and what I feel. I'm not talking about your club, I'm talking in general. Gavi is unknown in Spanish football. Without the ball, they see that they fight but with the ball he is a stranger, is what he wanted to say.
Do you feel that without Gavi you have lost punch?
No. I have changed it because it has received a blow. Marcos Llorente has entered. I don't have that feeling but it is clear that I had to change it.
What is he left with?
To beat Portugal you have to play at a very high level. I think that with 1-0 we have generated some clear chances, and when that happens one is exposed to that happening. It's hot, it's the end of the season. There are players who are thinking that it is the end of the season. I am convinced that when I analyze it.
Ferran is imprecise. Can it affect you that he finished the season without aim?
In this case, Ferran's numbers are spectacular at his club. He is the right wing of him. In Europe there are very few players with his numbers and assists. Today he has not had his best day, it is evident. But that is part of football. It worries me zero and he will have better games, it is evident.
What does Morata contribute that is not seen so much?
I think he has 26 goals in 53 games. Perhaps in his club he did not score 30 goals but he is in his numbers. For us it is necessary when we serve with the ball, so that it gives us continuity in progression; and then he is powerful that he arrives in transition. And he has a good head. He is an interesting striker who contributes offensively and defensively. Because he directs the pressure and when Raúl de Tomás came on, he also gave us continuity in the support game. But the forwards are the first defenders.
---
Diego Llorente: "We leave with a slightly bitter taste"
Return: "It's a unique opportunity every time I come here. When the coach thinks I can help the team, I do my best to do it. We leave with a bit of a bitter taste because we wanted victory".
Analysis: "Our intention was to go out and win, but they focused more. In the second half we didn't dominate as we wanted. Now we are ready to correct those small details and focus on the next game".
Azpilicueta: "It was a tough game"
Analysis: "It was a tough game. We knew we were playing against a very complete opponent. We had chances to make it 2-0, but we didn't make it. We wanted to start winning".
Mistakes: "We should have controlled a little more with the ball, because we have had losses that have forced us to defend more than we wanted. When you win, it seems that everything is more positive. We have to continue improving. In this team we criticize ourselves.
Future: "For us this doesn't change anything. We continue to grow as a team. Now to recover and think about Sunday's game".
[