The caravanning and camperization sector is very fashionable and now more than ever people are realizing how important it is to have a good house on wheels. We are going to talk about the luxury motorhomes.
First of all, you should know that in Spain, A luxury motorhome is considered to be any motorhome that exceeds 100,000 euros, a high figure, but beware, modest if we compare these super motorhomes with those that we can find in countries like the United States, where often over a million dollars.
Although their sale is scarce, in the caravanning sector, luxury motorhomes are sold and there are options for all tastes. Available from 2 to 6 seats, these motorhomes can be much better than our own home and are equipped with all imaginable comforts as well as being autonomous in many ways.
We leave you with this list that we have configured and that shows us the most representative examples and perhaps the ones that have received the most praise and awards. It should be noted that we have included some models with a base price of around 80,000 euros because with the necessary options we get into the range of luxury motorhomes.
Luxury motorhomes from 80,000 to more than 200,000 euros
Bürstner Elegance I 920 G- German luxury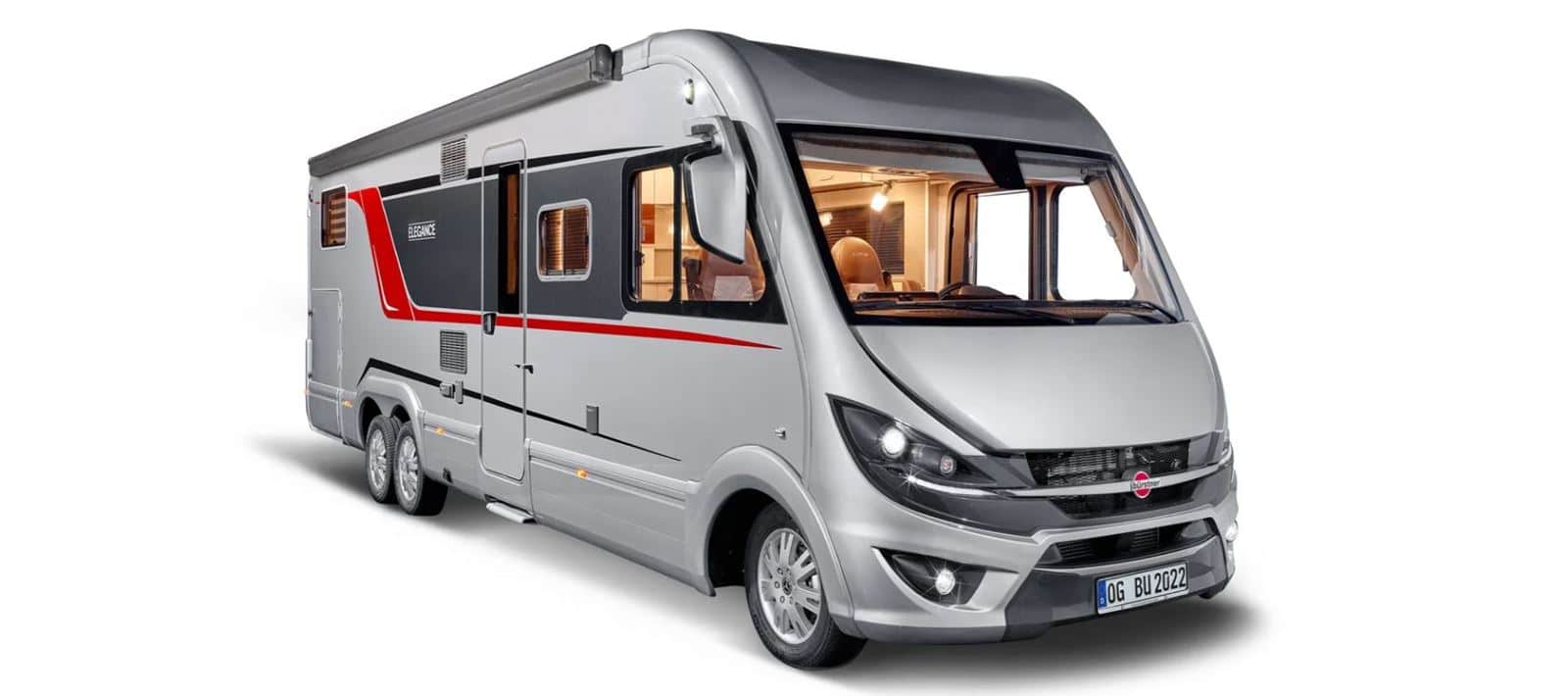 German from head to toe and that's why it has three axes, it's almost 9 meters long and hell, it's better than my house, why should we fool ourselves.
The base is perfect and we are talking about a Mercedes-Benz Sprinter, being able to choose between the 415 CDI with 150 hp or the 417 CDI with 170 hp. In this model almost everything is optional and this is good and bad at the same time. It's good because it allows you to configure it to your liking and bad because we're going at heart-stopping prices.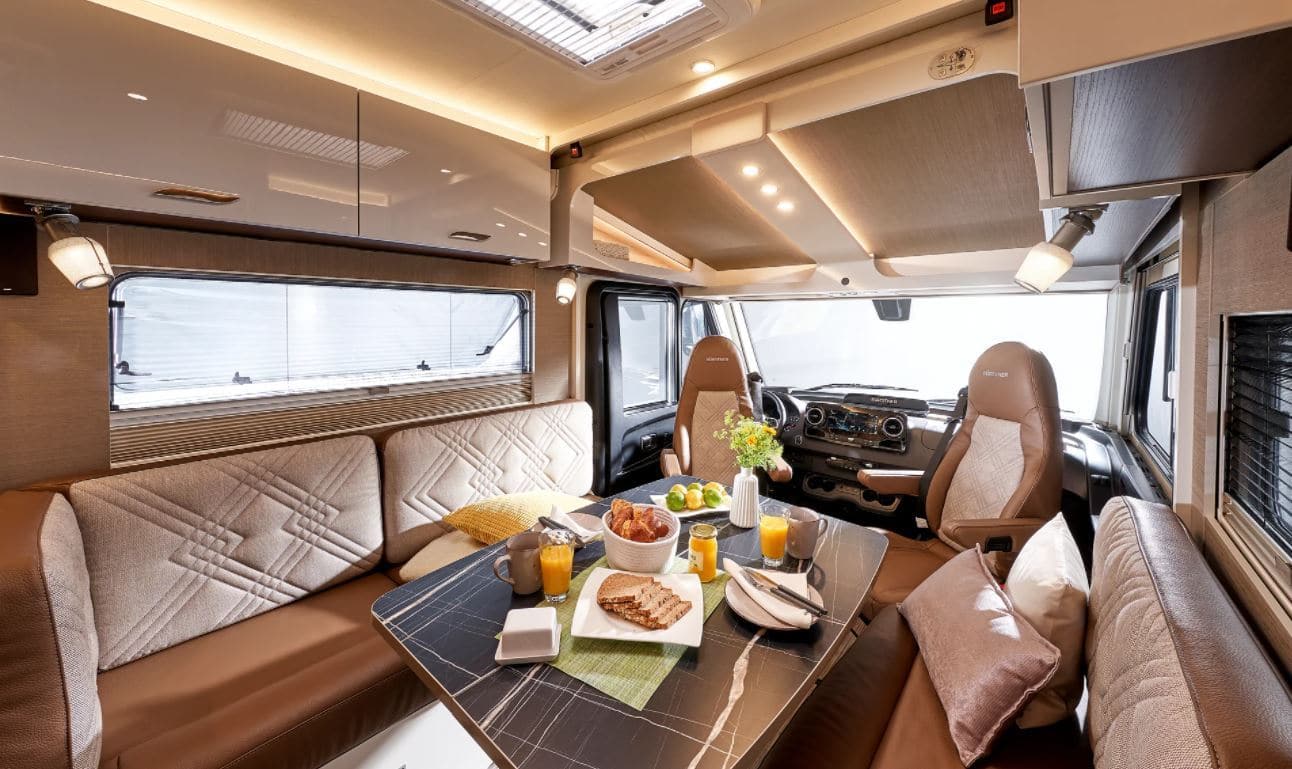 17″ alloy wheels for 1,628 euros, complete goldschmitt pneumatic suspension for 13,100 euros, full led optics for 1,300 euros, automatic transmission for 4,690 euros, multimedia pack for 3,240 euros, winter pack for 4,690 euros, autonomy pack for 5,580 euros, paint optional for 3,935 euros, painting of alloy wheels for 1,518 euros, safe for 179 euros, darkening blinds for 864 euros, insulating glass for 1,147 euros and like this until you pass the 190,000 very calmly.
The Bürstner is without a doubt one of our favorites along with the one we will discuss below.
HYMER B-Class MasterLine I – going over 200,000 euros is possible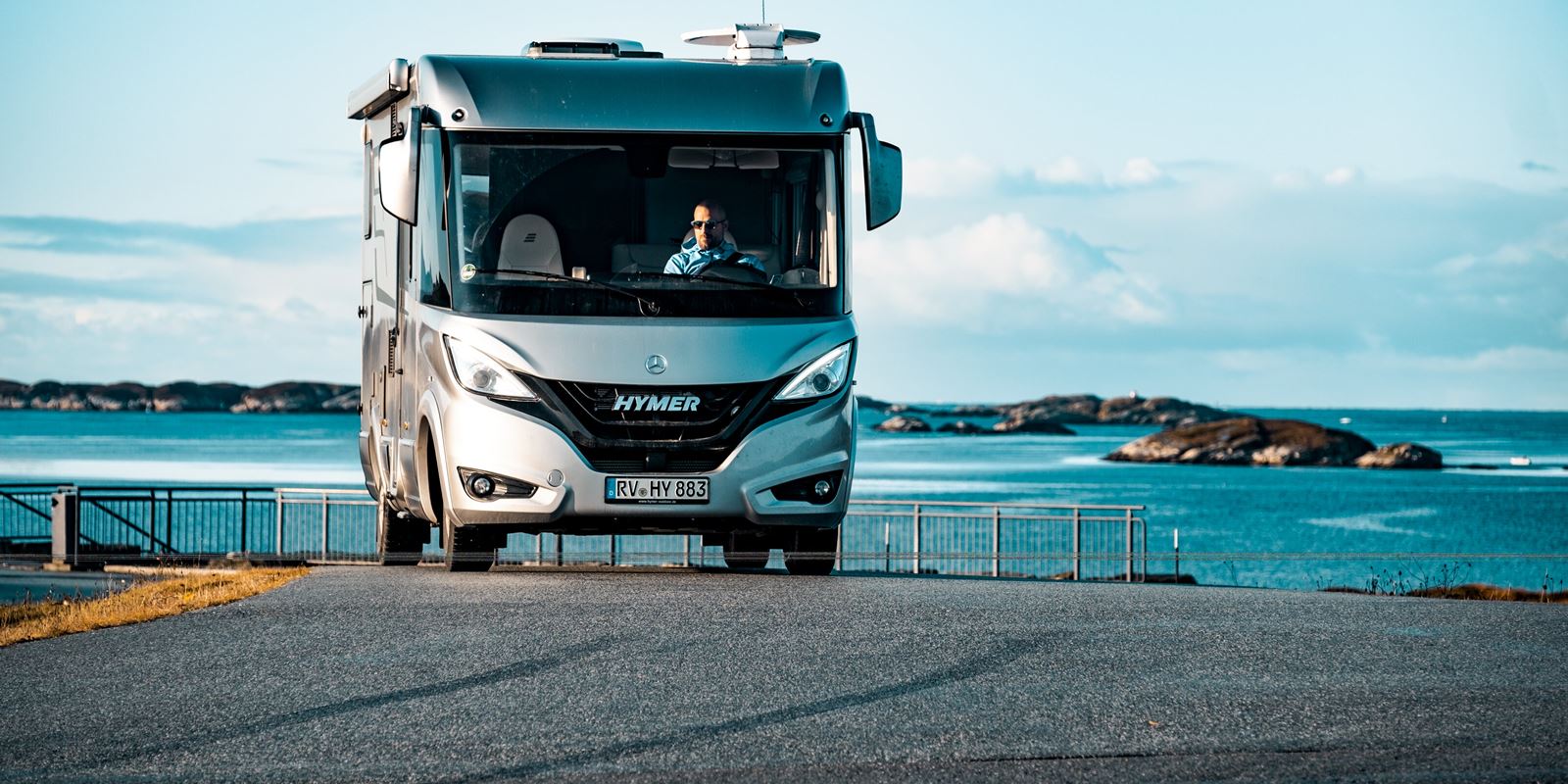 In the first place we could find the HYMER B-Class MasterLine I luxury motorhome. It is the pinnacle of the range of a brand that has been in the sector for more than 60 years and knows very well what they do.
This beast starts from almost 8 meters long – 789 mm – offers between 4 and 5 seats, weighs 4430 kg and its price starts from 121,173 euros.
The basis of this luxury motorhome is a power head Mercedes-Benz Sprinter 415 CDI or 417 hp – 150 hp or 170 hp – with a host of driving assistance systems associated with a flat-floor SLC chassis with independent suspension on all wheels.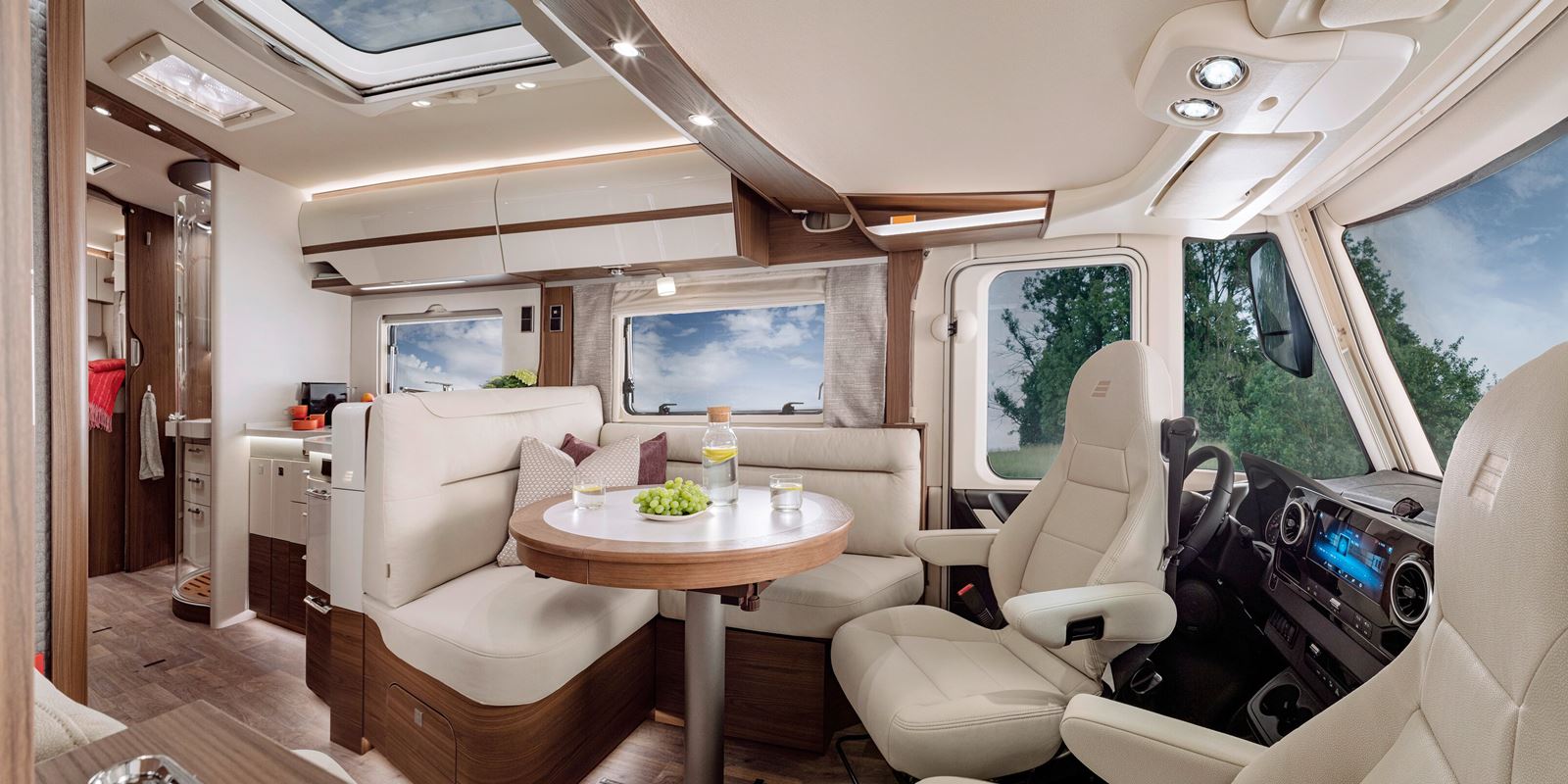 The model has various configurations, among which we find the top one, which is the B-ML I 890, which is almost 9 meters long and raises its starting price to 133,084 euros.
As expected, this luxury motorhome has all the equipment you need and if you need more, you tell the manufacturer and they assemble it to your liking. Home automation, high-end air conditioning, soundproofing, sun protection, mosquito nets, refrigerator, LED lighting and a lot of design and good finishes, which is what you are paying for.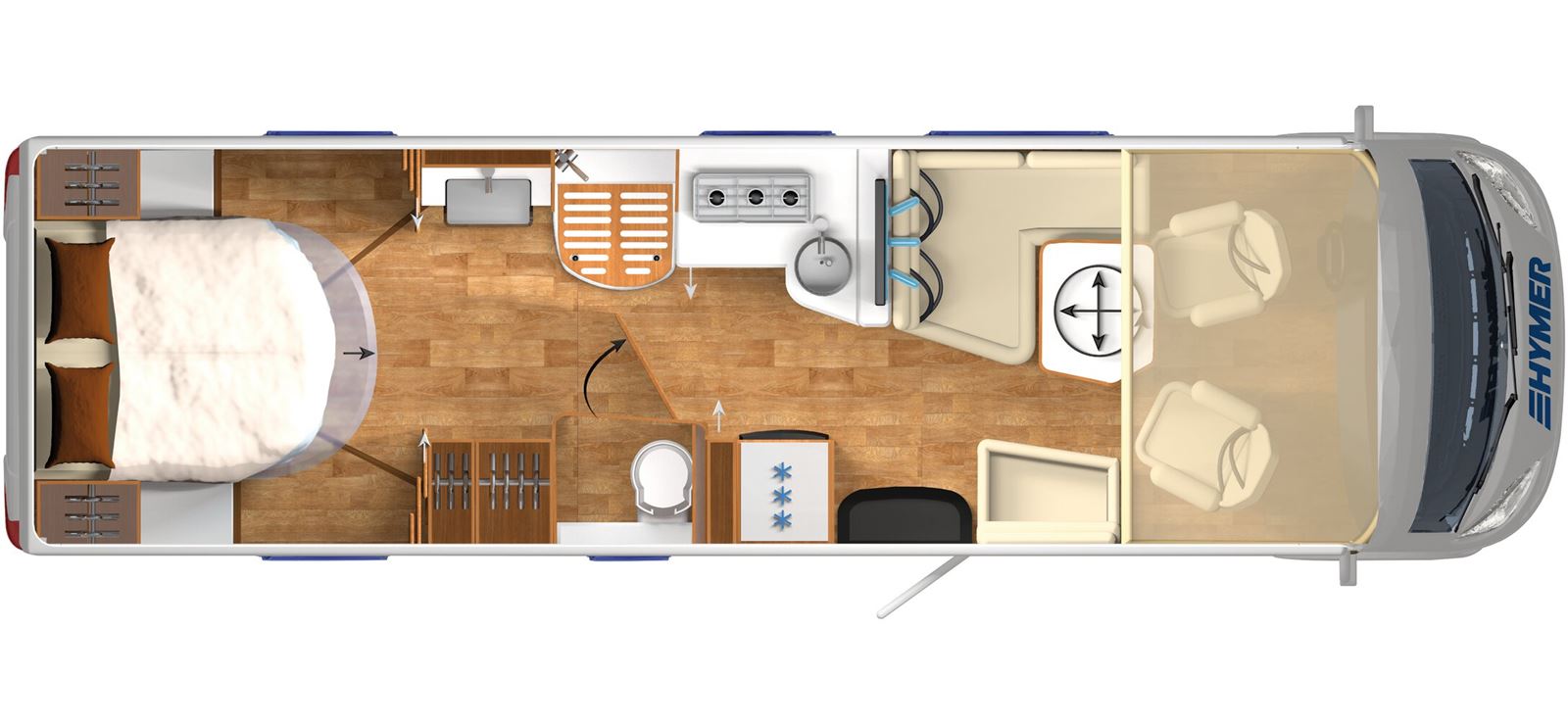 Configuring one of these devices I remind you how poor you are and we are talking about extras such as air suspension for 12,190 euros, silver exterior color for 3,345 euros, original 17″ alloy wheels for 1,475 euros, electric shutters for about 1,670 euros, the hydraulic jack system with automatic front leveling for 8,125 euros and various furniture options. If we opt for a top-of-the-range version we can reach 200,000 euros or even exceed them.
Take a look at the gallery, because it's going to hallucinate and if you want to give yourself a tribute, look at the configurator, which is a delight.
If the HYMER B-Class MasterLine I it gets out of hand, you should know that the bodybuilder has other more affordable options from 83,501 euros with a Fiat base.
Fast DISTINCTION Series i1090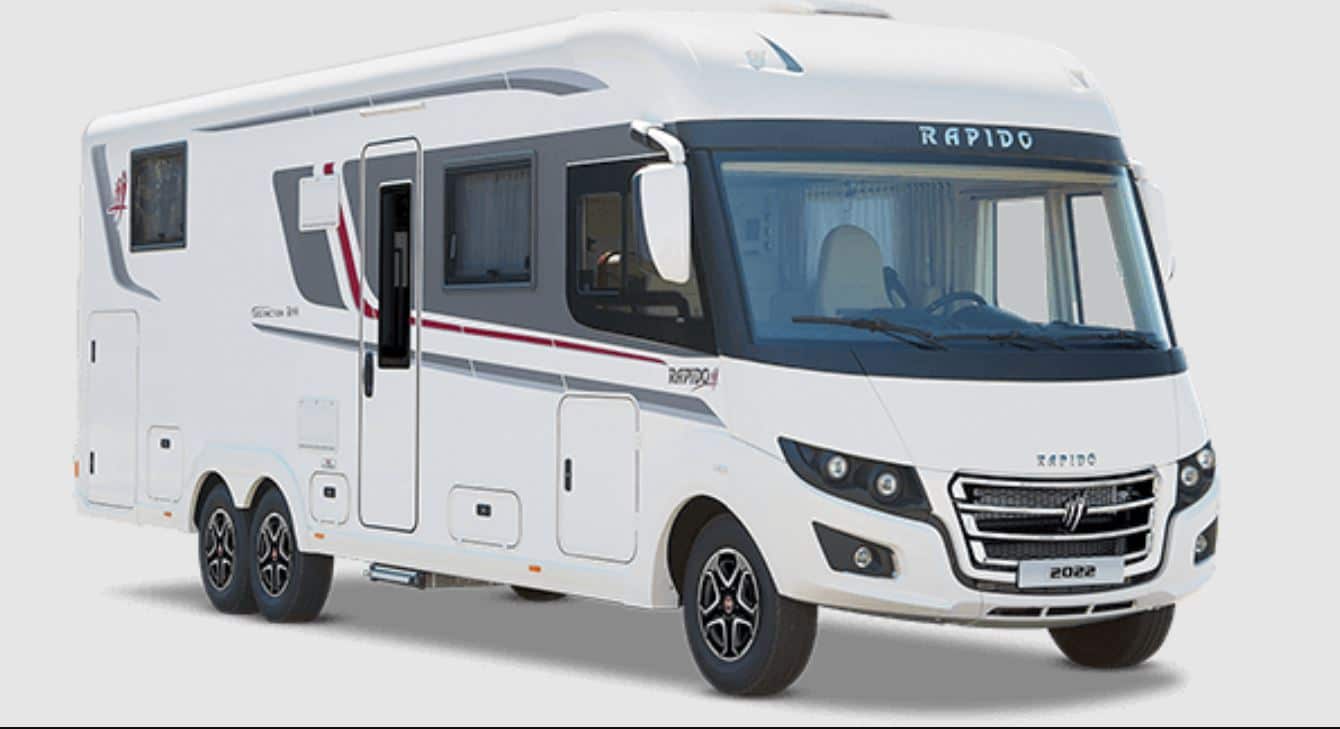 The French manufacturer knows what it is doing and the Rapido DISTINCTION Series is proof of it. We are talking about a two-axle luxury motorhome approved for 5 passengers who can spend the night but who can also be joined by two additional guests during the day to eat.
We are facing the highest range of Rapido and in 8.79 meters long we have everything.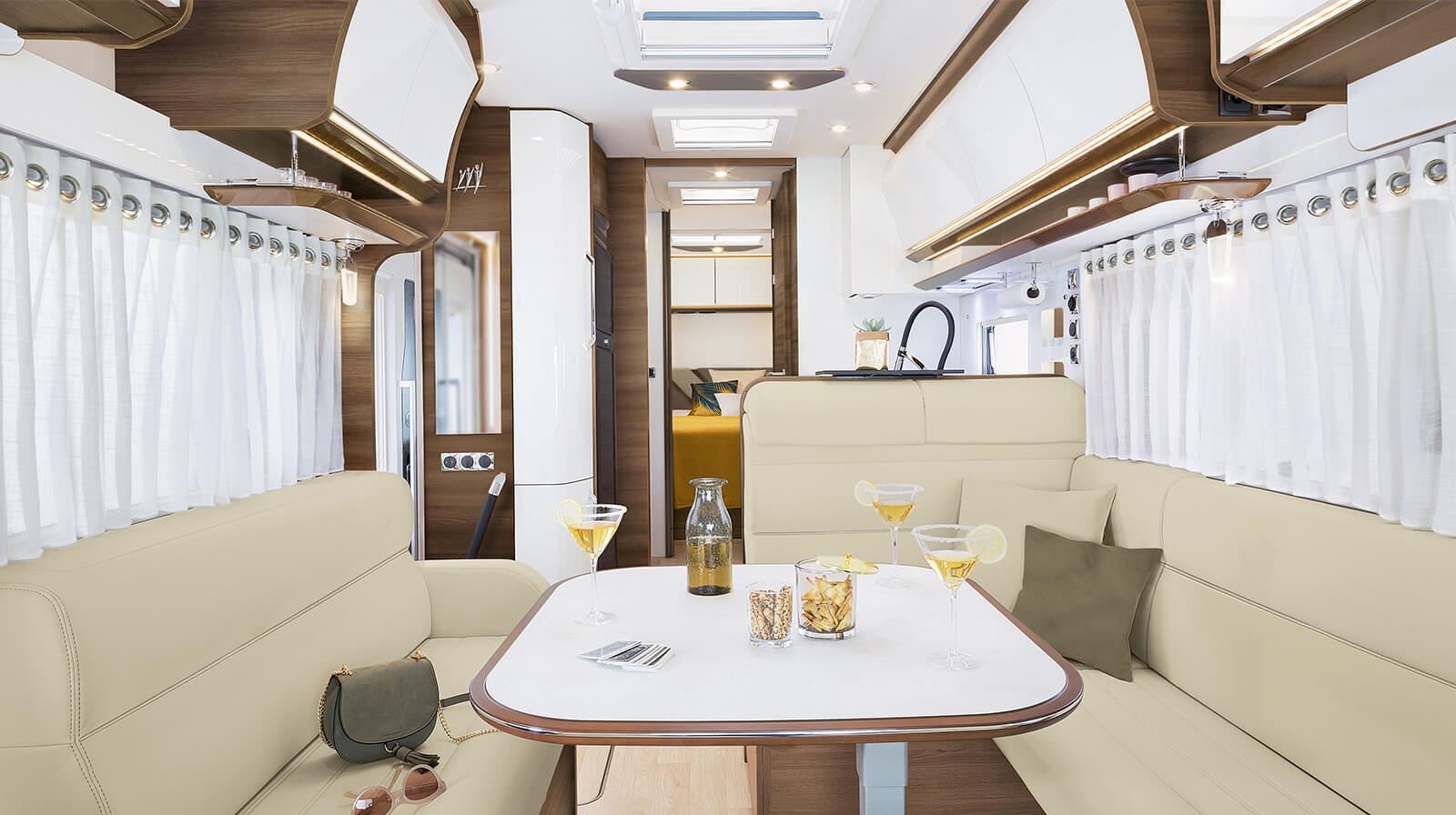 From just over 125,500 euros plus the relevant extras you will be much better than in any apartment and the amenities will be far superior. The interior height is XL, we have thermal and acoustic insulation, central heating, intelligent air conditioning, ambient LED lighting, mosquito nets, lithium battery and much more.
The good thing about this model compared to others is the standard equipment and it is that where many charge you for options on all sides, in Rapido they give a lot as standard.
Laika ECOVIP H 4112 DS – Italian refinement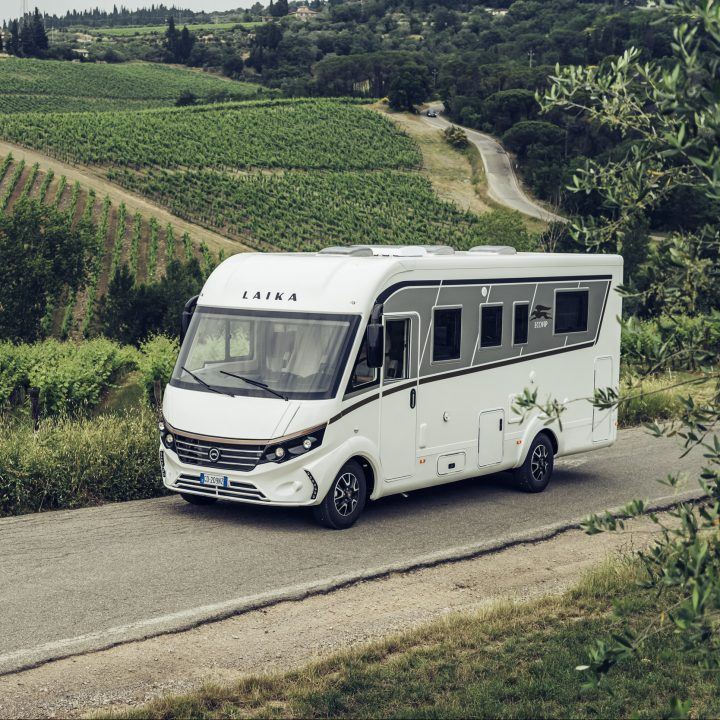 Although the base price is about 89,000 euros, the truth is that this Italian luxury motorhome can raise its price significantly above 100,000 euros.
The Laika ECOVIP H 4112 DS has a base Fiat Ducato 35 Light since as good Italians, they are not going to set up anything else from abroad. There are benefits for all tastes and that is we are talking about 140 hp or 180 hp and regarding comfort and equipment, we have a list that is too extensive. Its almost 7.5 meters long go a long way and although there are several interior configurations, we have chosen the "most succulent".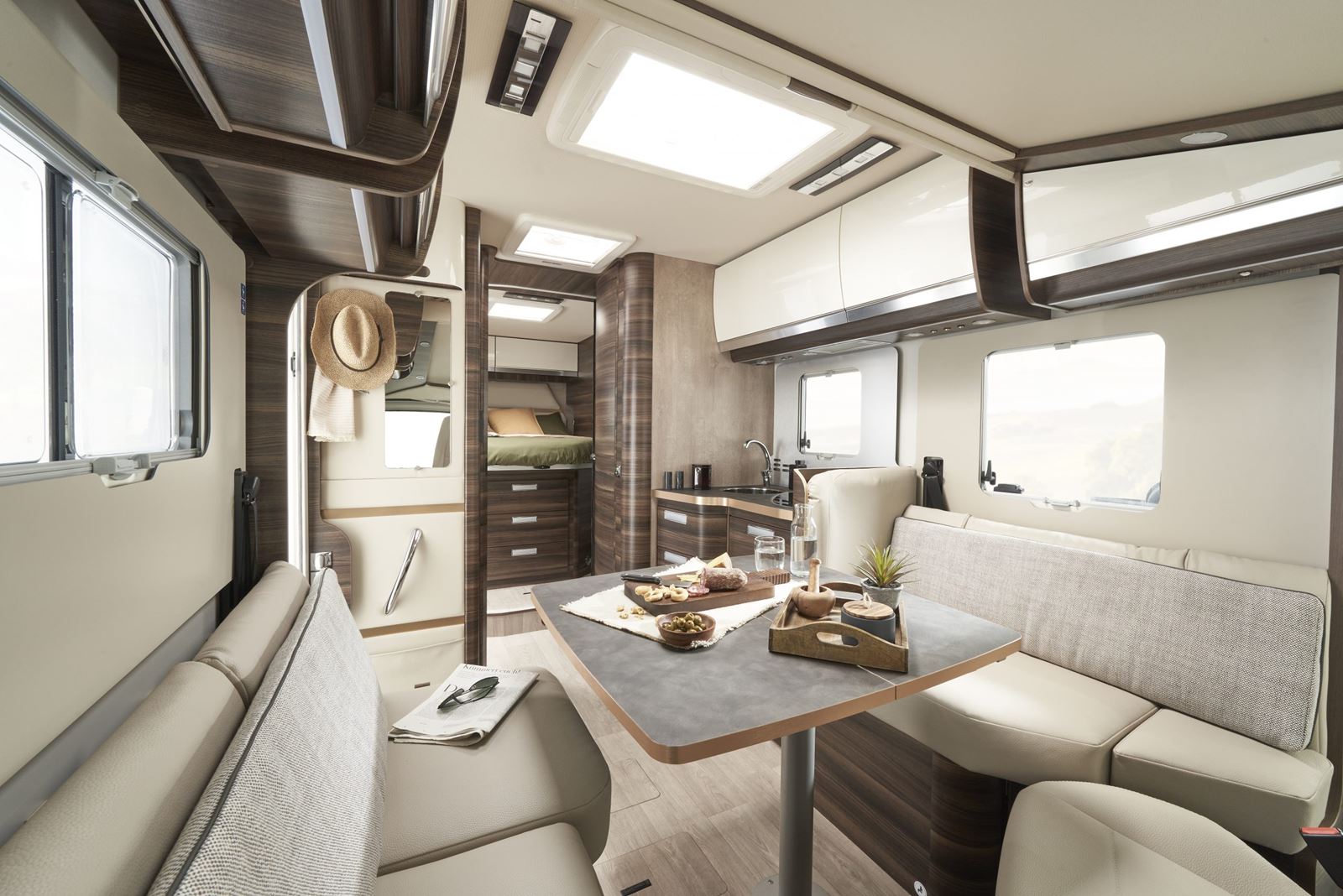 Even if homologated 4 seats, it can include space for a fifth bed as an option and as a good luxury motorhome, it has an extensive list of equipment and a lot of detail in the appearance and materials.
Laika's interiors are modern yet classic at the same time and this particular model places great importance on natural light, although at night you will have a sophisticated LED lighting system at your disposal. The kitchen is perhaps one of its strong points, don't you think?
Adria Sonic Supreme 700 SL – sobriety above all things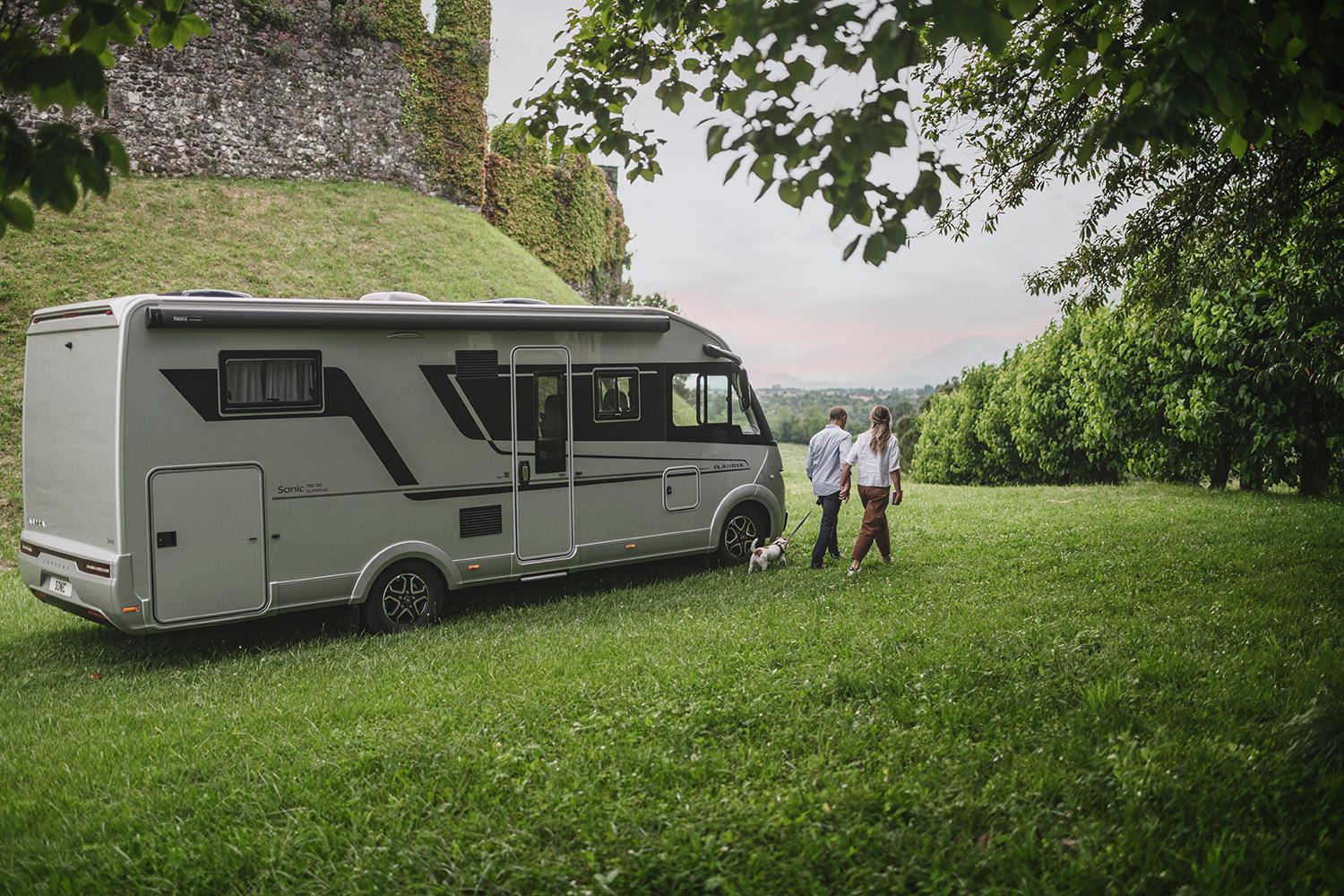 This option is around the price of the previous ones, only that it is much more sober than the aforementioned ones.
The environments offered by Adria are more Nordic, and in the case of Sonic model we speak of between 6,999 mm and 7,499 mm with homologation for 4 people although a fifth can be accommodated optionally.
Within the Adria Sonic range we have the Supreme and the Plus and what changes are the interior distributions, the types of beds and the space of their bathrooms. The model has a large panoramic window for a lofty feeling light and airy with built in shutters and open for additional ventilation.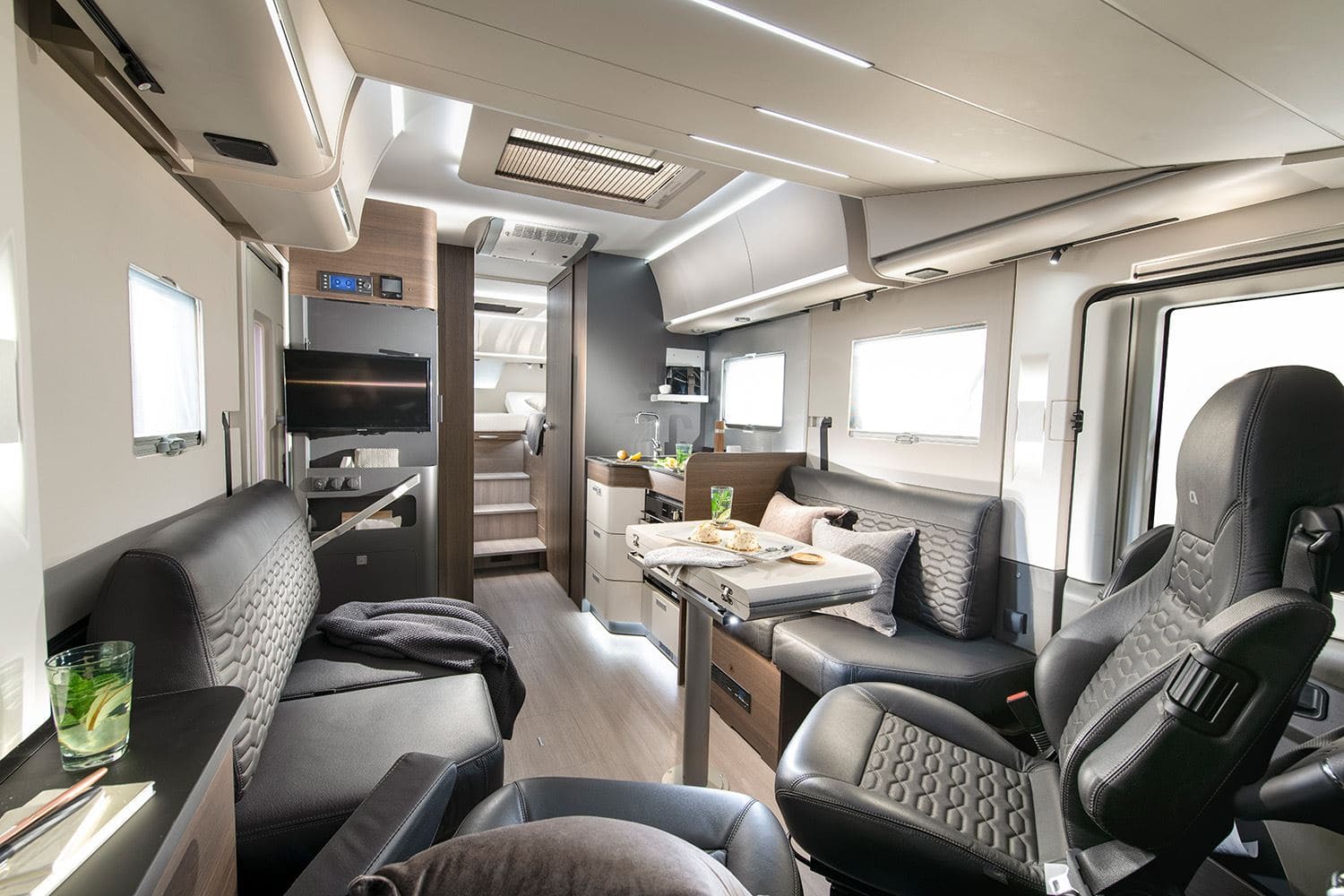 The model has a large cargo space of 120 cm in height with two doors and 220v / 12v connectors and LED lights. Throughout the interior we have tall concave cupboards with an illuminated profile and an easy-open mechanism. In the kitchen we have a large design cupboard and a kitchen with large capacity drawers and a rail for utensils.
The Fiat Ducato low frame chassis fits like a glove and allows you to significantly reduce the price compared to a Mercedes-Benz chassis.