Key facts:
Miners believe that Kazakhstan is no longer the "paradise" of Bitcoin mining that it was 2-3 years ago.

Some large Bitcoin mining operations are considering moving to the US or Russia.
After becoming the second country in the world with the highest concentration of Bitcoin miners in 2021, Kazakhstan has become an inconvenient location to develop the activity. This is revealed by a Reuters investigation, according to which some large mining operations are preparing to leave the country.
The report notes that Bitcoin mining farm operators fear that the political instability that has set in in Kazakhstan since the start of 2022, and the threat of stricter regulations, will bankrupt them. It is because of that are evaluating migrating, at least part of their operation, to destinations such as the US and Russia.
The first week of this year, Kazakhstan experienced massive protests that led the government to take exceptional measures, such as cutting off electricity and internet service, leaving mining nodes disconnected from the network. As CriptoNoticias reported, the event produced a sharp 12% drop in the Bitcoin hashrate.
News is already emerging from Kazakhstan about the resolution of the situation and the withdrawal of troops from the Russia-led Collective Security Treaty Organization (CSTO) peacekeeping mission. However, according to one of the report's sources, Bitcoin miners believe that "the development and stability of the mining industry in Kazakhstan are in danger", due to the difficulty of estimating the real costs and profits of the operation.
From Bitcoin mining paradise to inconvenient place
Last year, Kazakhstan saw a significant migration of bitcoin mining farm operators from China, displaced by a crackdown on activity in that neighboring country. Between May and August 2021, the Kazakh territory went from hosting 12% of the world hashrate, to concentrating a mining power of 21.9%, second only to the US.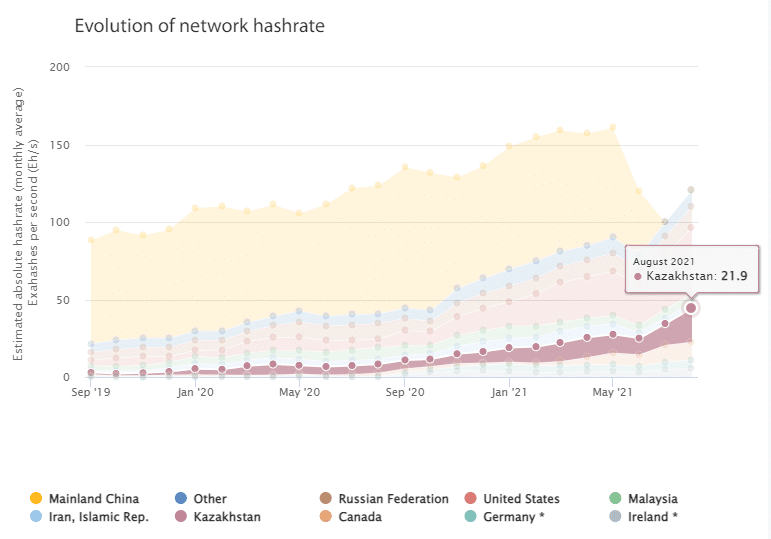 But another miner, named Vincent Liu, told Reuters that Kazakhstan is no longer the "paradise of the mining industry" of a couple of years ago, when the political environment and electricity service were stable. CriptoNoticias also reviewed the testimony of some miners according to whom, for more than 4 months, Kazakh energy providers have been applying power cuts to bitcoin mining farms, up to 5 hours a day.
Advertising

On the other hand, miners must submit to strict regulatory control. Last November, the congress of the Asian country approved a Law that qualifies those who are engaged in activities related to Bitcoin and other cryptocurrencies, including miners, as "subjects of financial monitoring." This implies that they must keep the Kazakh authorities informed about the development of their activities.
However, miners with small operations in Kazakhstan doubt that moving to another country is economically feasible. For these operators, there still seem to be exploitable advantages, with relatively low taxes (for now), as well as competitive labor and technical costs relative to other regions.