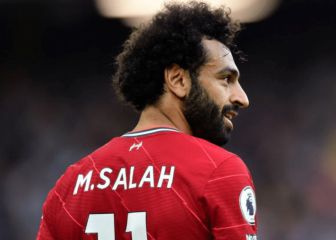 Summary of the first half
The City as it had never been seen. He suffers with the ball, he can't find a way to get out from the bottom with associated play and he doesn't generate dangerous actions. The pressure and order of Liverpool blurred Guardiola's men. From the first minute, Klopp's team showed his intention and carried it out to perfection.
Konaté opened the scoring at minute 9 after winning at height in a corner executed by Robertson. Doubts began to grow at City and, at 17′, Mané put pressure on Steffen, who didn't know what to do with the ball, and ended up making a mistake for the Senegalese goal.
Luis Díaz has not had much influence in the game because of Keita. The midfielder was the best on the field in the first half, but he always played on the opposite side of the Colombian. Delivery, pressure and arrival in the rival area have managed to unsettle the entire Manchester City midfield.
Before the end of the first half, a great associated play on the edge of the area by Steffen ended with a great definition by Mané to score the third goal of the match and a recital in the first 45 minutes.
[