The conversions of the Mercedes G Class have been an integral part of the product portfolio of Mansory for many years.
To meet the high demand and wishes of its customers, Mansory launched two new products based on the Mercedes-Benz G-Class. On the one hand, the "Star Trooper Pickup" offered in collaboration with designer and couturier Philipp Plein, and on the other, a completely independent special protection vehicle program that follows the philosophy of "invisible armor".
Now, eight years after Mansory first released a full conversion called "GRONOS", a new edition of this bestseller called "GRONOS 2021" continues the legacy of its predecessor.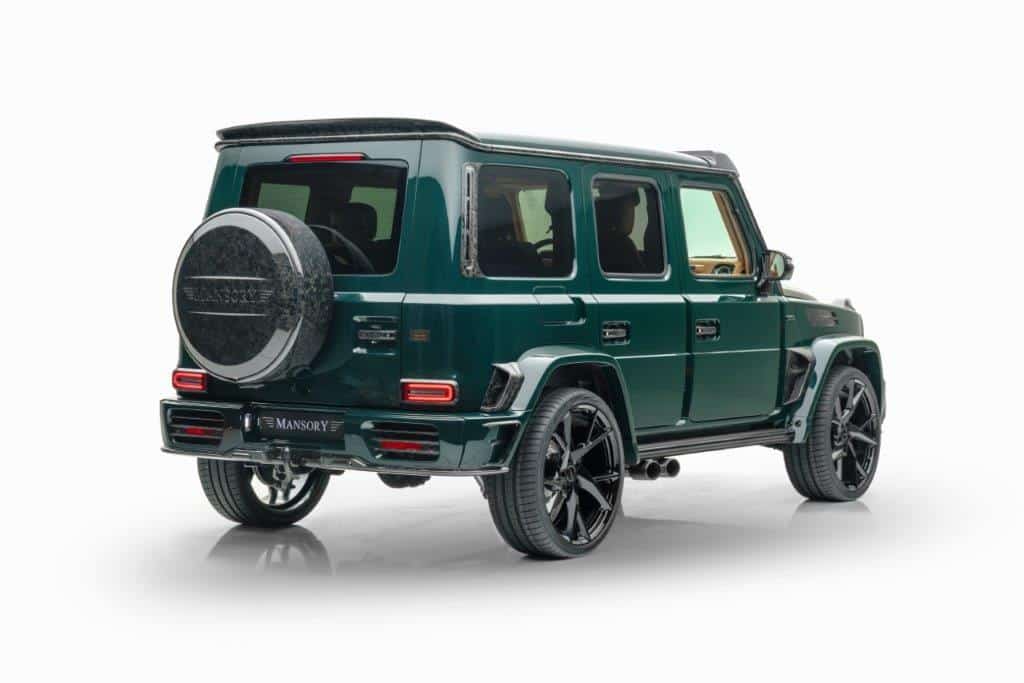 The bodywork of the G-Class completely painted in "British Racing Green", it is impressive both visually and technically. All aerodynamic parts have been redesigned. Starting with the front apron, the elegantly widened front wings, the widened doors and ending with the rear apron. All of these components are made of forged carbon fiber.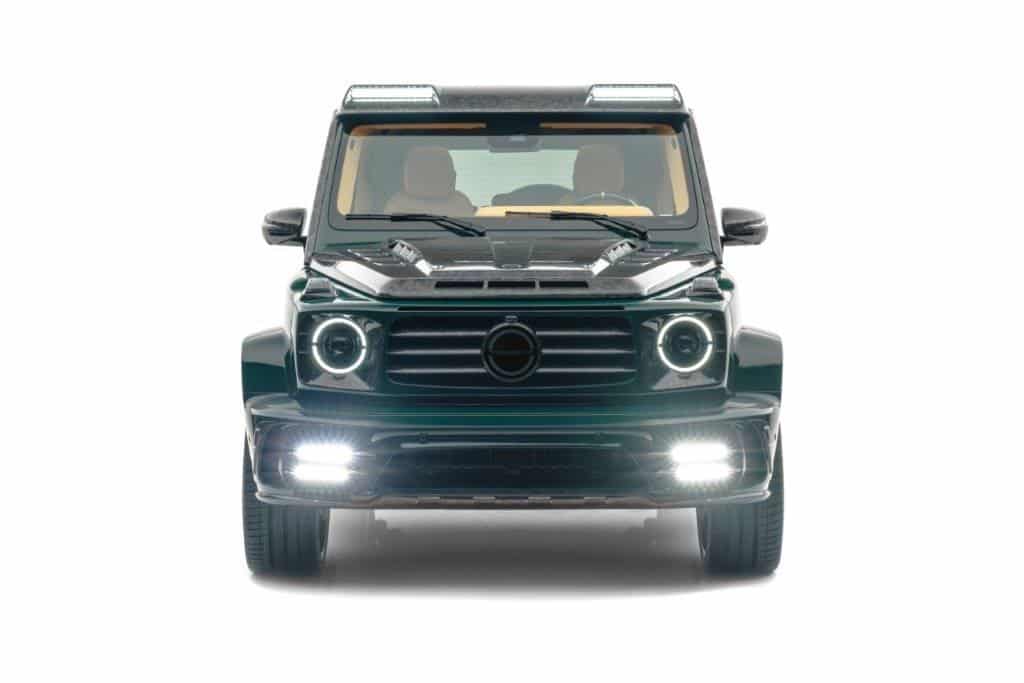 The ultralight carbon fiber bonnet in unpainted and therefore visible 'Forged Carbon' with additional cooling air vents at the front and sides, completes the redesign of the front section. Dual daytime running lights on both sides of the front apron and two additional headlights on the roof edge are also decorated with carbon fiber and complete the overall look of the 'GRONOS 2021'. At the rear, the spare wheel is completely covered by a 'forged carbon' cage and, in combination with the newly designed rear apron, provides an impressive appearance.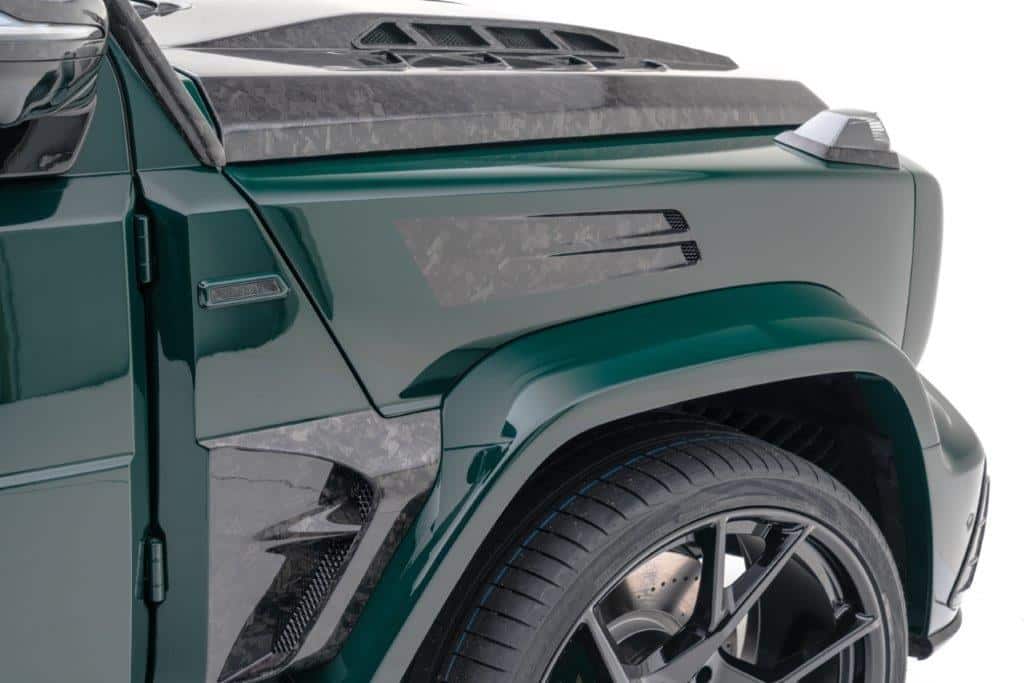 The preparer also uses the forged carbon fiber in other places like the bases of the indicators, the inserts of the door handles, the housings of the mirrors, the air intakes and the exits.
The model equips larger turbochargers, a high-performance exhaust system and a new engine management system to make the 4.0-liter V8 engine now has 850 hp instead of the 585 hp that the G63 AMG has as standard. Maximum torque increases 850 to 1,000 Nm. As a result the 0-100 km / h is improved to just 3.5 seconds. The maximum speed is limited to 250 km / h.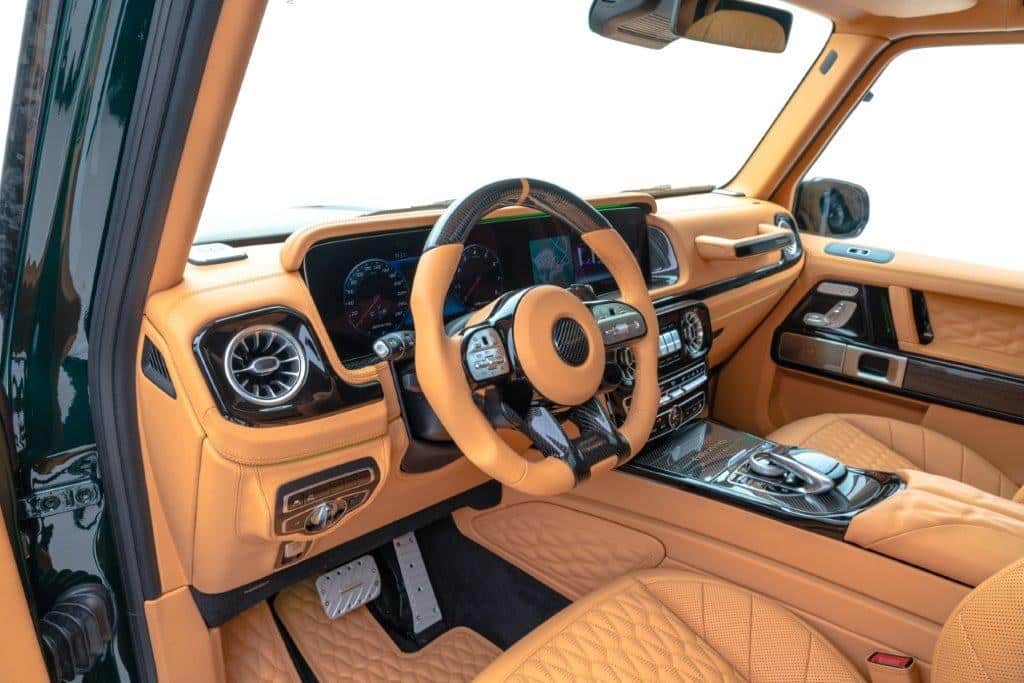 To bring this enormous power to the road, the preparer equips the «GRONOS 2021» with high-performance tires in size 295/30 R24 on forged wheels (type: «YN.5») painted entirely in black in the corresponding dimension 10 × 24.
The interior design is improved by new materials and an upholstery made entirely of 'Fawn Brown' leather. A new leather and carbon fiber sports steering wheel, a set of aluminum sports pedals, carbon fiber inlays and new 3D-embossed leather inserts for the seats, doors and center armrest complete the interior.
Very few people will be able to enjoy this unique vehicle. The noble off-road vehicle is limited to only 10 copies worldwide.