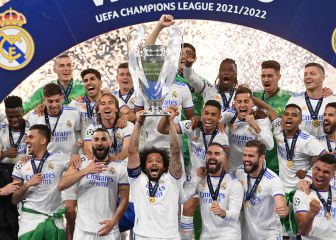 The player with the most Real Madrid titles, Marcelo, went through the microphones of Movistar Plus just after the match.
What goes through your head?: "Joy, emotion… It's hard to even talk, because I see my teammates, family members… The season has been what it has been and we deserved it. I don't know. It's a weird moment in my head right now."
Weird, why?: "Because it's weird. I have five Champions and in my life I thought I could be at this moment, that I could win a lot of things. It's all very weird right now."
He suffered a lot during the game. Is the joy greater?: "The joy we have [Ancelotti interrumpe la entrevista para abrazar al capitán y dice: 'Yo no me lo creo, ¡eh!']… These are moments like this that are rare. We were all sweating on the bench, running with the team… I remember the youngsters who have played their first final, who are very mature… It's a crazy moment with the fans, who have been with us all the time".
What is the value of having a coach like Ancelotti?: "We already know what the coach is like. He has his philosophy, his character… He is a great person and he has deserved it since he arrived".
Will lifting the Cup be your last image with Madrid?: "I do not know. Now I'm with my family and my colleagues… I didn't even have to be talking to anyoneI had to enjoy it, but nothing, you will find out very soon".
[