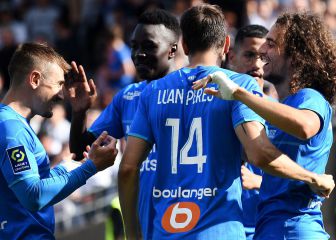 In a very difficult week for the team, especially due to the elimination in the semifinals of the Conference League, but also due to the painful 0-3 loss last week against Lyon, Marseille took a step forward in its goal of qualifying directly for the next Champions League. The Marseille team beat Lorient 0-3 in Brittany thanks to goals from Bamba Dieng, Guendouzi and Gerson, so they continue to rely on themselves to finish 2nd in Ligue 1. It wasn't a brilliant match for Sampaoli's men, but it was effective, something that had lacked during the last two games.
The first half in Brittany started with a fairly slow pace for both teams. Sampaoli, aware of Thursday's accumulated fatigue in the Conference League, decided to play pragmatically, defending with very long possessions and trying to lure Lorient into leaving space behind the defence.
Marseille found two flagrant scoring situations before half an hour of play: the first was by Gerson, who ran into an extraordinary Dreyer. The goalkeeper saved Lorient with a header from the Brazilian from close range and still had time to make a better save from a corner taken by Ünder that Pape Gueye finished off in the small area. The third time was the charm for the goalkeeper, who could not do anything before a good shot from Dieng after a beautiful center from the Turkish. Lorient, unable to find their two forwards on the counterattack, equalized just before the break, but Laporte failed on a set piece that ended with a header from the central defender grazing the post.
In the second half, Marseille wasted no time putting land back on the scoreboard. Guendouzi, precisely trained in the Lorient academy, made it 0-2 in a great play braided by Luan Peres and Gerson on the left wing and that ended with an error by Dreyer, who could not block the weak shot of the former Arsenal player with his left leg. With a morally sunk Lorient, Marseille once again found its weaknesses in a great transition launched by Rongier, followed by a great pass from Dieng and materialized by Gerson, which is experiencing a very sweet moment after a rather irregular start. In short, an impressive victory for Marseille, which is still 2nd.
Lens approaches Europe and Girondins is close to relegation
A late goal from Seko Fofana gave Lens the victory in Reims (1-2), which maintains its European aspirations With two games to go before the end of Ligue 1, from which Girondins is further and further away, thrashed at Angers (4-1).
There are six points at stake and Franck Haise's are two behind Strasbourg. Anything can still happen for Lens, which went back to Oscar García Junyent's team that hasn't had anything at stake for a long time.Reims took advantage at the Auguste-Delaune stadium with a goal from Arber Zeneli. The situation changed in the second half, when Florian equalized for the visitors before the hour mark. And in added time, Lens, focused on Predrag Rajkovic's area, scored the winning goal.
Girondins took a step towards Ligue 2 by leaving the Raymond Kopa stadium thrashed against Angers, who had gone four games without winning and who mathematically certified their permanence. Mohamed-Ali Cho, Batista Mendy, Mathias Pereira and Stephane Bahoken signed the four goals for Gerald Baticle's team that will face the final stretch of the season with a comfortable income that ensures salvation.
Quite the opposite of the Bordeaux team who scored their only goal through Sekhou Mara. Colista, lacks margin of error. Direct permanence is impossible. His stay in Ligue 1 goes through the promotion that Saint Etienne now occupies, with a pending match against Nice. If the Greens score a match postponed by the Coupe de France final, Girondins will drop to Ligue 2.
A step towards permanence was taken by Clermont who beat Montpellier at the Gabriel Montpied stadium. Pascal Gastien's team came out of the trance with flying colours, fleeing from the last places. It is not mathematical because it can still fall to the place of promotion. But no longer to the direct descent. Clermont took the lead with Elbasan Rashani's goal, although Joris Chotard equalized half an hour later for Montpellier, who is no longer at stake. But in the final stretch, Mohamed Bayo, from a penalty, gave the locals the valuable victory.
[