Key facts:
Problems were reported in wallets, markets, sidechains and second layer solutions.

Infura has already fixed the problem and the services are back up and running.
The Metamask cryptocurrency wallet and other platforms and applications had a service outage this morning, Friday, April 22. The problem originated from flaws that have already been resolved in the Infura server, which connects these services to the Ethereum network.
As reported by Infura in a release on your website, in addition to Metamask and Opensea services and networks such as Palm, Optimism, Polygon, Filecoin and Arbitrum were affected. A few minutes before the publication of this note, the developer company of this Ethereum client reported that the functionality had already been restored.
It is not the first time that an Infura problem has caused inconvenience for Ethereum users. Being a client that runs a significant number of nodes, any failure or outdated service causes setbacks that can be complex, as CriptoNoticias has reported in the past.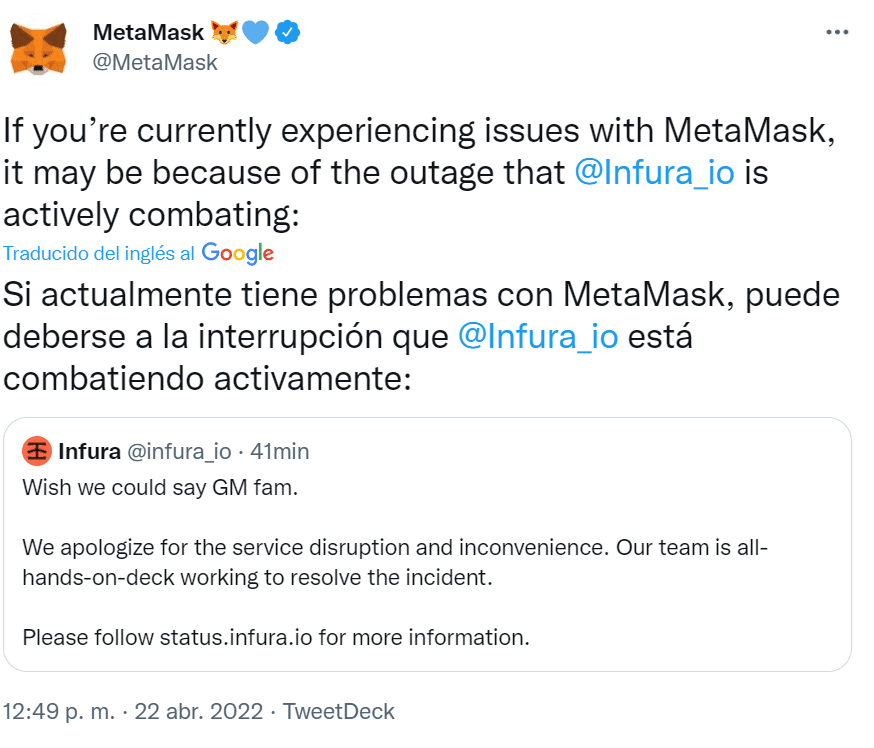 As detailed in Twitter the user @iamDCinvestor, there are other nodes apart from Infura that can be used to connect a service to the Ethereum network. In Metamask, this can be configured in Settings/Networks (Settings/Networks) and changing to one of the options in the list below that are working.