Key facts:
The estimated cost of electricity service in Paraguay is USD 0.033 KWh.

Mining Bitcoin in Hawaii would cost more than $50,000 for each BTC reward.
Bitcoin mining in Latin American countries such as Paraguay is cheaper than in any US state. The comparison arose after an infographic was released that suggests how much it costs to mine 1 bitcoin (BTC) in the North American country.
Fernando Grijalba, a Bitcoin miner and business developer at Braiins, a mining company, tweeted a seemingly innocent response about the cost of mining Bitcoin in Paraguay. According to the platform cost calculator he represents, mining 1 (BTC) in Paraguay costs USD 11,019, with "100% green energy"he adds.
In communication with CriptoNoticias, Grijalba points out that he "simply" introduced in the tool the cost of electricity service in Paraguay, which is USD 0.033 per KWh. He also clarifies that he himself maintains Bitcoin mining operations in that country.
If we look in detail at the infographic that began to circulate on networks, the costs of mining 1BTC in the 10 US states where electricity service is cheaper far exceed what the same activity could cost in Paraguay.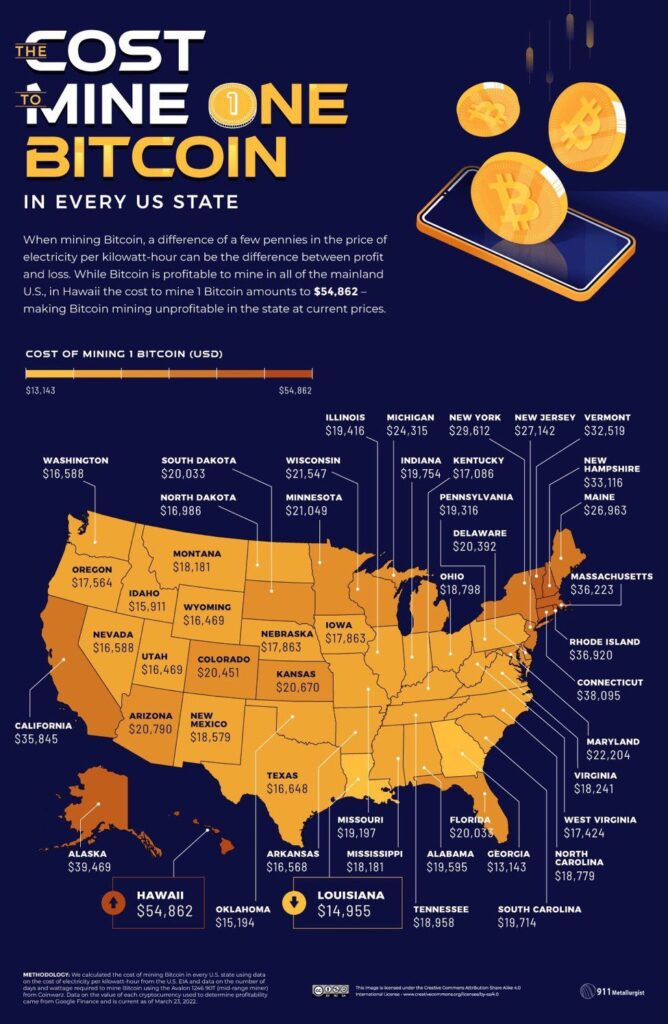 According to the source, mining 1 BTC in Georgia costs $13,143, in Louisiana $14,955, in Oklahoma $15,194, Utah $16,469, Wyoming $16,469, Washington $16,588 and Texas $16,648. In fact, several of these states are home to some of the largest Bitcoin mining farms in the region.
On the other hand, many other states offer completely opposite conditions and the cost exceeds the price of bitcoin in the current market, reaching estimated figures of more than USD 30,000 for each BTC. In Hawaii, for example, mining 1BTC would cost $54,862.
The publication offers a brief description of the factors taken into account to make the analysis. Basically the price of the electrical service and the number of days it would take a mid-performance miner like the 90 TH/s Avalon 1246 to reach that figure.
To explain this difference, Grijalba comments that "for every penny [que se sume] in 1MW the consumption goes up USD 7,200, so small differences in cents of light are noticeable in the production».
Of course, the costs to mine Bitcoin are actually tied to variables other than electricity. The consumption efficiency of the equipment used, taxes, refrigeration costs and maintenance in general, would affect any estimate in this regard.
Paraguay It currently concentrates 0.18% of the Bitcoin hashrate and is a profitable activity on the riseas we recently reported in CriptoNoticias.