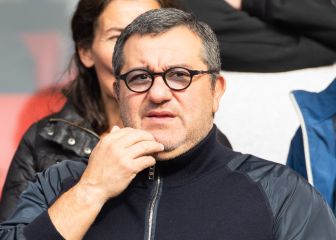 Mino Raiola, one of the most important agents in the history of football, has passed away this afternoon at the age of 54. The Italian wore months struggling with a serious illness and their conditions had worsened in recent days. The Raiola family published a statement through the representative's social networks: "It is with infinite pain that we announce the passing of Mino, the most extraordinary agent of all time.
Reactions from the world of football to the death of Mino Raiola
Mino fought until the last moment with all his might just like he did to defend the soccer players. Once again, he made us proud of him, without even realizing it.
Mino has been a part of the lives of many players and wrote an indelible chapter in modern football history.
We will miss him forever and his project of making football a better place for players will continue with the same passion.
We sincerely thank those who were close to him and ask everyone to respect the privacy of family and friends at this time of grief."
From Bergkamp to Haaland
Born in Nocera Inferiore, near Naples, Mino Raiola grew up in the Netherlands, where he worked in his family's pizzeria. Then, he began his long and impressive journey as an intermediary and representative of soccer players. He started with Bergkamp and added more and more stars to his agency: Nedved, Ibrahimovic, Pogba, Balotelli, Donnarumma, Verratti, De Ligt, Haaland…
Famous for being a tough negotiator and for his tough and unconventional character, the Italian fought in his last years to change the world of football by attacking FIFA and creating an association together with Jorge Mendes, Jonathan Barnett and David Manasse.
Forbes calculated that in 2020 its turnover exceeded 80 million euros while, in 2016, he obtained the largest commission in the history of the market: 26,154 million to take Pogba to Manchester United.
Raiola always put facts ahead of form. The account of his first meeting with Ibrahimovic, "in jeans and a Nike shirt," is perfect for remembering his personality. The transfer market changed forever and he did it his way, until the end: "I dress so badly, that when we talk about business everyone underestimates me and I earn more…".
[