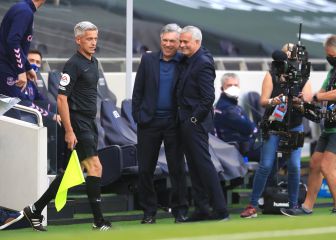 That Real Madrid leaves its mark is undeniable. Even Jose Mourinho had a moment yesterday to send a message of congratulations to the white club, although because of how he did it, it went unnoticed by most. The former coach of the white team responded to one of Madrid's publications on Instagram with this message: "Great Real Madrid, great president, great Carlo". In clear allusion to the one who opened the door to Real Madrid and the coach who succeeded him.
Jose Mourinho was coach of Real Madrid in the 2010-11, 2011-12 and 2012-13 seasons. Curiously, after leaving his post, Ancelotti arrived. The Italian was the one who relieved the Portuguese in his first stage at Real Madrid, from 2013 to 2015.
At the helm of Real Madrid, Mourinho won three national titles, the League, the Cup and the Spanish Super Cup, but the Champions League resisted him. In the three seasons in which he was he was at the gates of the final, falling in the semifinals.
[