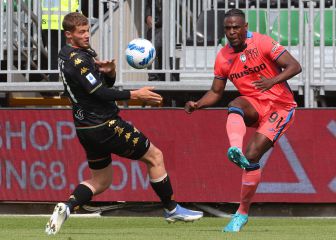 Atalanta won 1-3 against a Venice that after this defeat is practically condemned to relegation, with goals from the Croatian Mario Pasalic and the Colombians Duvan Zapata and Luis Muriel, in the thirty-fourth round of Serie A.
Atalanta got even for their bad run in the league, in which they accumulated three consecutive defeats, with the bottom team in Serie A. Gasperini's men dominated from start to finish in a match that could have gone against them in the first minute.
A header from Frenchman Thomas Henry unleashed the Venetians, who saw their chances of salvation increase at that moment, but the goal was ruled out by VAR for offside.
The dominance was total by the Bergamasques, who constantly stalked the area with a very active Muriel, falling to receive and throwing deep unchecks. ANDhe first of the goals came, in fact, after a great individual play by the striker, who, when defining, ran into a defender. The rebound was loose and Pasalic did not forgive. The resistance of the Venice lasted 43 minutes, until the sunset of the first part.
It was hard for Venezia to receive a goal just before facing the locker room tunnel, but it was worse to receive another blow as soon as the second half began. Again Muriel managed to get rid of several rivals, reach the bottom line and give the ball to his compatriot Zapata so that he could only push it. Minute 46, game and Venice sentenced, and tenth goal for Zapata in the league.
The push of the visitors, led by Muriel in attack, did not stop. The Colombian wanted his goal and he wasn't going to stop until he got it. The stick got in the way on one occasion, but on the next play he finished off a cross from Italian Davide Zappacosta to sign his sixth goal in the domestic championship.
With 10 minutes to go, Venezia cut back with a goal from Slovenian Domen Crnigoj.
With this victory, the 'Dea' remains eighth and approaches, although with one more game, the fight between Fiorentina, Lazio and Rome for European places, while Venice says goodbye virtually to the highest category of Italian football.
Besides, Torino beat Spezia at home (2-1) with a brace from Serbian Sasa Lukic that leaves the Turinese eleventh, while Spezia is fifteenth.
Changes
Domen Crnigoj (61′, Gianluca Busio), Dennis Johnson (61′, David Okereke), Demiral (63′, Giorgio Scalvini), Teun Koopmeiners (63′, Freuler), nsame (74′, Thomas Henry), Don Perez (74′, Mickael Cuisance), matthew pessina (75′, Pasalic), J. Boga (76′, Duvan Zapata), Issa Bah (80′, Aramu), Moustapha Cisse (87′, Luis Muriel)
goals
0-1, 43′: Pasalic0-2, 46′: Duvan Zapata0-3, 62′: louis muriel1-3, 79′: Domen Crnigoj
cards
Referee: Francesco Fourneau
VAR Referee: Aleandro Di Paolo
Giorgio Scalvini (48′, Yellow) Duvan Zapata (56′, Yellow) Djimsiti (70′, Yellow
[