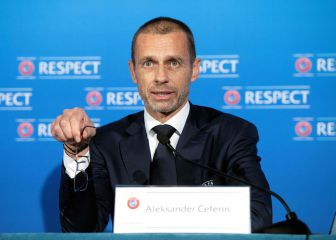 After weeks of rumors about the possible arrival of the French star to Real MadridMbappé renewed his relationship with PSG, arousing suspicion and generating criticism such as that made by LaLiga, and its president Javier Tebas, who called the operation an "insult to football" after highlighting the French club's losses.
In an interview with the BBC, the president of the UEFA, Aleksander Ceferin, explained that his body has "financial regulations that are quite strict. Anyone who respects our rules will be invited to participate in our competitions, and those who do not respect them, no," the Slovenian told the British outlet. "Neither Real Madrid nor anyone else will tell UEFA what to do. They feel outraged, but as far as I know, their offer was very similar to PSG's.".
Qatar Sports Investmenta subsidiary company of a Qatar public fund, are the owners of the PSG. Ceferinwho is president of the UEFA since 2016, he said he was tired of hearing complaints about state-controlled football clubs: "I've said it many times and I'll say it again, give me an argument why they shouldn't own the club."
"The English clubs have their own owners. Some are from the United States, some are from the Middle East, and some are from England. This is exactly the same situation, and I am very tired of hearing these baseless accusations. I want to know who broke the rules, because if you break the rules you will be punished.".
[