Key facts:
Umbra makes it possible to make the sender and receiver of a transaction invisible.

It is already available on Ethereum, Polygon, Arbitrum and Optimism.
The Arbitrum and Optimism rollups, Ethereum network's second layer solutions for faster and cheaper transactions, added support for a tool to add privacy. This is Umbra, a protocol for performing stealth payments or "invisible payments" on this blockchain.
With this addition, Umbra already adds four networks in which it can offer users more private operations, in which only the sender and receiver know who participated. In addition to Arbitrum and Optimism, this protocol can also be used on the Ethereum mainnet and the Polygon sidechain.
Scopelift, the developer of Umbra, published a release in which the availability of this tool in the mentioned Ethereum second layer solutions is detailed.
Advertising

Arbitrum too made the announcement on his Twitter profile. Along with Optimism, they are two of the main Ethereum rollups.
Rollups are second layer solutions that they allow to group several transactions and then add them all together to the main network. Thus, it is possible to considerably reduce the commissions in the network, which have been a major problem in recent times for Ethereum.
It is important to note that privacy tools have already been developed for Ethereum for several years. For example, in 2020 CriptoNoticias reported on Aztec, a solution also focused on privacy when using this network. However, little by little you can see how these developments begin to interact with second layer solutions.
In a sense, this confirms Vitalik Buterin, co-creator of the network, who had anticipated that the main advances in Ethereum would come from second layer solutions.
How Umbra is used to send funds on Ethereum
To use Umbra you have to enter the application. Once on the site, you can choose to send funds, receive funds, or adjust settings.
For any of these alternatives, the next step will be to connect a wallet. The supported options are Metamask, Fortmatic, Portis, among others. Wallet Connect can also be used to sync a wallet from a mobile phone.
When this step is complete, Umbra will need to be configured for use for the first time. For that purpose, we must sign a transaction with the wallet to generate private keys in Umbra. These have nothing to do with the private keys of the wallet and it is not necessary to store them anywhere, it stands out.
The remaining step consists of make a transaction so that the public keys of Umbra are registered in the chain of blocks and anyone can use them to send us funds privately from this tool.
To confirm this last transaction, a fee must be paid to the miners, since it is an on-chain operation. The difference here is wide depending on whether a rollup is used, such as Arbitrum, or the Ethereum mainnet. CriptoNoticias ran a simulation with each case and the results were a fee of 0.00036246 AETH ($1.14 at press time) and 0.00248 ether (ETH) ($7.58) on the Ethereum mainnet.
It should be noted that this commission arises from an automatic calculation made by the wallet, which varies every few seconds and can be manually adjusted by the user.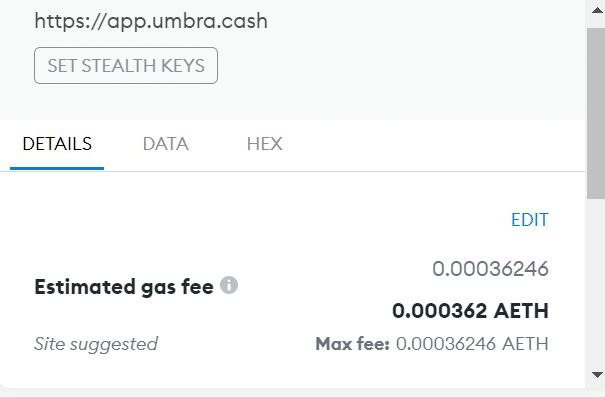 Finally, to send and receive funds using Umbra, all you have to do is add an address from the app (in the case of sending) or share your own with another person also from the app.
Future developments of Umbra for Ethereum
Scopelift describes as "a very important milestone" the integration of Arbitrum and Optimism in Umbra. However, he also anticipated that other news will come soon.
For example, the company plans to add support for sending tokens through these rollups "in the coming weeks." It also plans to add compatibility for other networks and work on a method of withdrawing funds that allows the privacy of the user to be preserved.