This June 7, Umbrel presented the new update that brings its operating system to version 0.5, in which operating Bitcoin and Lightning nodes becomes much easier than in previous versions.
Users of previous versions of Umbrel will only have to log in for the operating system to update automatically. For its part, those who want to install it for the first time will only need to execute one line of code on any device running Ubuntu or Debian.
This is one of the improvements applied to the new version of Umbrel, since installing this operating system on devices that were not from the Raspberry Pi family was a cumbersome process.
Users of previous versions of Umbrella you will notice the drastic change occurred in the user interface of this operating system that, according to its developers, had not been modified in such a way until now.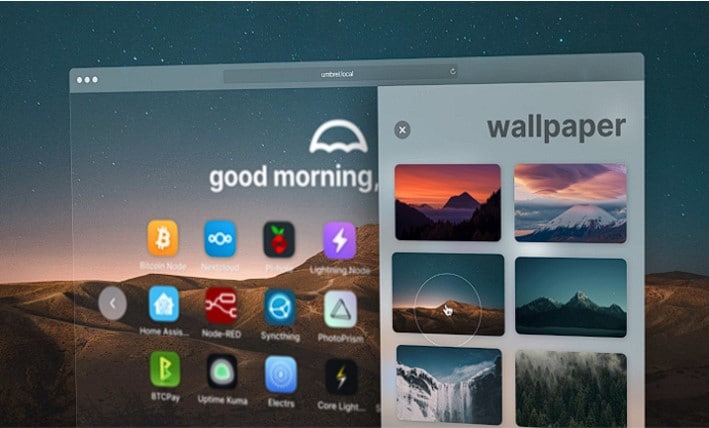 A significant improvement in the new version of Umbrel has to do with the management of Bitcoin and Lightning nodes, which can now be done through a proprietary application of the operating system.
All the information related to the nodes, whether Bitcoin or the Lightning network, that the user manages will migrate to the new applications by default.
In case the user prefers a different client or application to manage their Bitcoin or Lightning node, the Umbrel app store also offers other implementations of these networks. Core Lightning, developed by Blockstream and previously known as c-lightning, is one of the applications that can be found.
Umbrel All-in-One Node Application Enhancements
One of the improvements included in Umbrel v0.5 is the independent and automatic updating of each of its internal applications. Previously, in order to update the applications available in this operating system, it was necessary to wait for a general Umbrel update.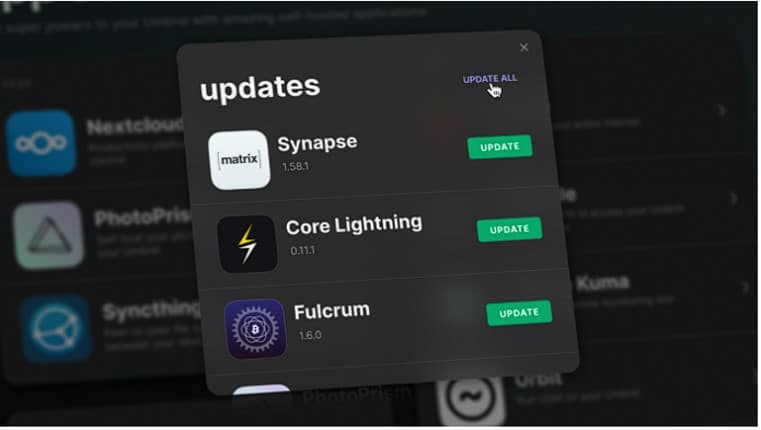 Another improvement in this same area is that now it is possible to link several applications with just a couple of clicks, which allows them to share relevant data between them. The operating system is programmed to warn the user both about the linking between applications, and the unlinking between them.
Applications installed on Umbrel will now be able to count on extra layers of security. Umbrella's blog explains that, if the user has their operating system session open, access to the applications is direct.
However, in the case of trying to access an application via the web or with the Umbrel session closed, it will be necessary to enter a password and even two-step authentication, if it is configured in this way.
Not everything is rosy
While the receptivity and feedback from most Umbrel users regarding its recent update is positive, not everyone is happy with it.
On Twitter, a couple of users raised their concerns in response to the Umbrella announcement thread. Both of them have a similar problem in which, after having started the update process, this seems to have failed and now they can't access their node.
Since yesterday, when the problem was reported, until the time of writing this article, there has been no response from Umbrel.
On Reddit there are also users dissatisfied with Umbrel 0.5. The main complaint present in this social network refers to the tool of remote access via Tor URL. The new version of Umbrella has it active by default and at the moment it is not possible to deactivate it.
This has caused some users to fear for the safety of their nodes in the event that someone manages to break into their nodes.
Umbrel co-founder and CEO, Mayank Chhabra, responded to the Reddit thread about the complaints regarding the use of Tor URLs, stating that it is impossible for anyone to gain access to Umbrel nodes this way.
Chhabra says that the level of security offered by Tor URLs is high enough that he doesn't have to worry about it. However, the executive promised that in the next Umbrel update the option to disable Tor URL will be added and it would stop being an active tool by default.