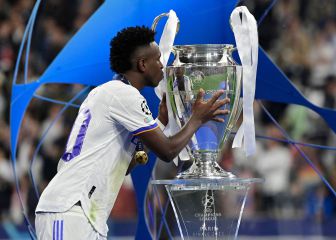 Real Madrid is once again the King of Europe. The whites have been crowned for the 14th time thanks to a goal by Vinicius against Liverpool in Paris. A special circumstance for the madridistas after the soap opera that has been lived with Mbappe. The team coached by Carlo Ancelotti has conquered again Parisnot in the Parc des Princes, the home of PSG, but in the Stade de France.
Viniciuswith his goal, he writes his name in the history of the Champions. Neymar had words of praise for his compatriot after winning his first Orejona: "I haven't seen many games this year, but from what I've seen Vinicius for me was the best player. Benzema too. He did very well but I say Vinicius.".
With the Champions who has won Vinicius with the real Madrid match the only one who has won Neymar. It was in 2015 being a player of the Barcelona. Two years later she went to Paris to get back, however, the one that has done it has been Vinicius.
Pelé: "Vinicius overcame so many challenges to decide an epic match"
The former soccer player Edson Arantes de Nascimento Pele congratulated Real Madrid on Saturday for winning the Champions League and praised Vinicius Juniorscorer of the team's winning goal against Liverpoolfor his performance in an "epic match".
"That's why soccer is the most beautiful sport in the world. I was able to see a dear friend, Vinicius, who overcame so many challenges to decide an epic match."he claimed Pele on his social networks, where he shared a photo of the team lifting the Cup.
Considered by many to be the best player of the 20th century, he also praised Marcelo for being the first Brazilian to lift a Champions League cup as captain and praised the "inexplicable defenses" of the goalkeeper Thibaut Courtois.
"I am delighted to see Marcelo be the first Brazilian to lift a Champions League Cup as captain. I witnessed an impeccable goalkeeper, Thibaut Courtois, make inexplicable defenses"he added.
Finally, he highlighted the work of the technical "strategist" Carlo Ancelotti for knowing how to "read the moment and use the best features of your team".
"Congratulations, Real Madrid. What a beautiful adventure!" Celebrated the former soccer player.
[