Key facts:
Miners flee China, but with sound business strategies.

Miners settle around the world, strengthening the Bitcoin network.
Noti Hash is CryptoNoticias' Bitcoin mining newsletter. It is published on our website every two weeks, being today, Thursday, October 21, 2021, the sixth edition to be published, at the height of block 706,035.
---
Many things can be said about the price of bitcoin (BTC) and its behavior. The traders They apply predictive models, make bullish and bearish forecasts, make a balance between future contracts and purchase orders, some even apply astrology.
But what cannot be denied is that the health of the mining industry is one of the main indications of Bitcoin's growth, both in its price and in its technological faculties.
This week, bitcoin hit its all-time high in price, CriptoNoticias reported, while mining power and difficulty continue to rise, aiming to break their all-time highs as well.
All this is driven, among other factors, by the events that have been occurring in the mining industry for a few months: the massive migration of miners from China to other jurisdictions, the opening of energy resources in the US and other countries, the acquisition and installation of hundreds of ASIC equipment by companies in various commercial alliances, as well as the frequent investment rounds and other financial and stock market moves that the mining companies are running.
Difficulty, hash rate and price of Bitcoin on the same trip to the moon
According to BTC.com, the mining difficulty of Bitcoin was adjusted on October 18 by 0.95% and now stands at 20.08 T. It is the seventh positive difficulty adjustment that occurs consecutively.
The last time there were 7 consecutive positive adjustments of Bitcoin's mining difficulty was from April to October 2019, according to the same source.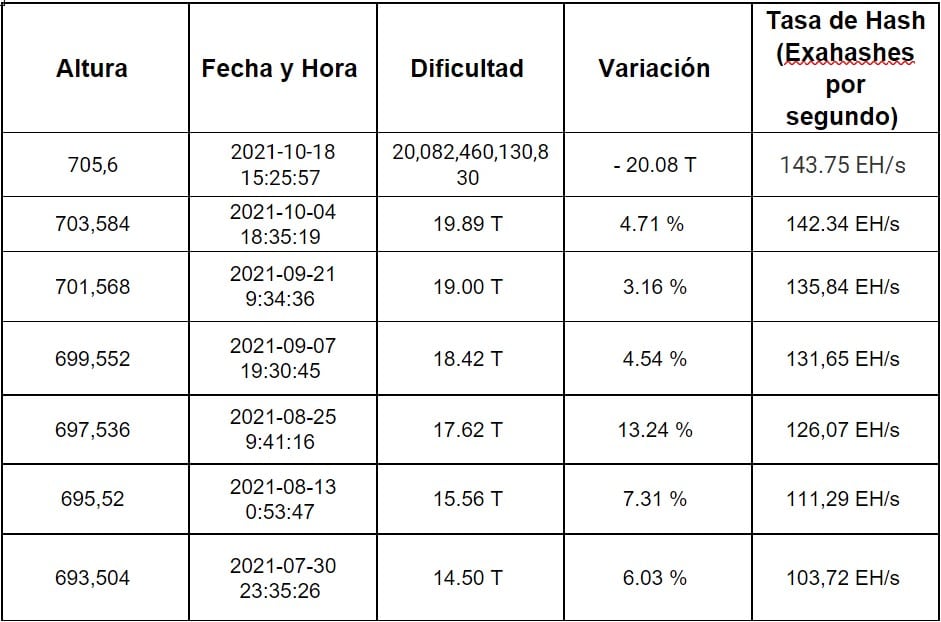 For his part, hash rate The mining power of Bitcoin has been growing steadily since June 2021, when miners who fled China began to settle in other territories.
The upward trend has continued in October and now the hash rate stands at 140 exahashes per second, this figure being understood as the number of hash sequences that the network miners generate every second to discover blocks with transactions.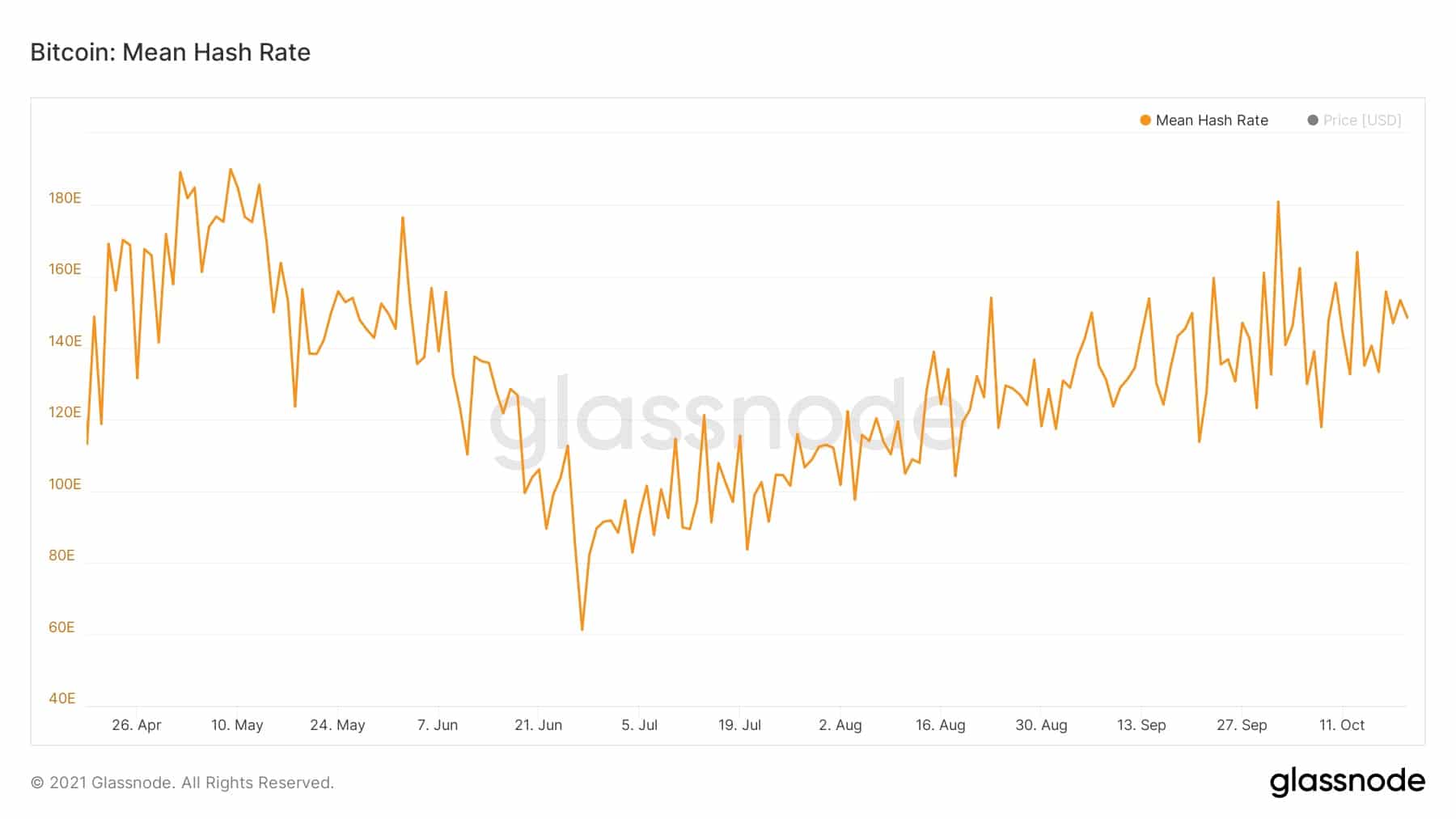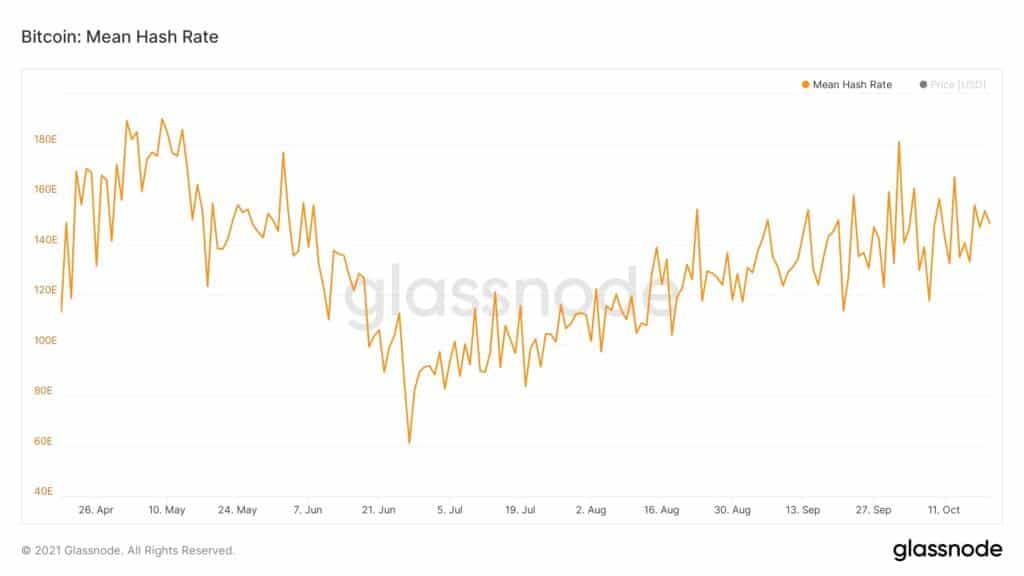 As CriptoNoticias reported on October 14, Bitcoin's hash rate tripled its levels since May, when the bans began in China.
How is all this related to price?
There is no magic formula to estimate the relationship of the price of BTC with the behavior of the miners of the network, but one of the models that has been more correct historically in this sense, is the Puell index.
This index starts from the premise that the price of BTC usually goes up when miners sell their reserves, to recover earnings in fiat and finance its operations (payment of energy and electricity, human resources, repairs and maintenance, new acquisitions, etc.).
When the index moves away from base 1, that is, it increases beyond that number, it is said that the price of BTC tends to rise. Judging by the most recent update of this index on the portal LookIntoBitcoin, the month of October 2021 repeats this bullish pattern, which suggests the influence of Bitcoin mining on the rise in the price of BTC.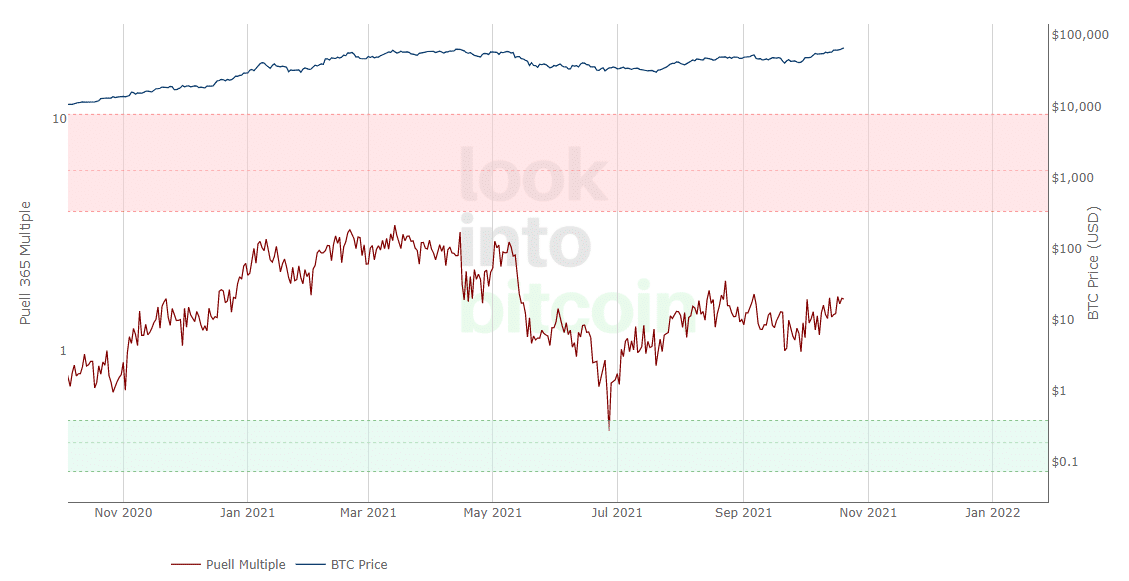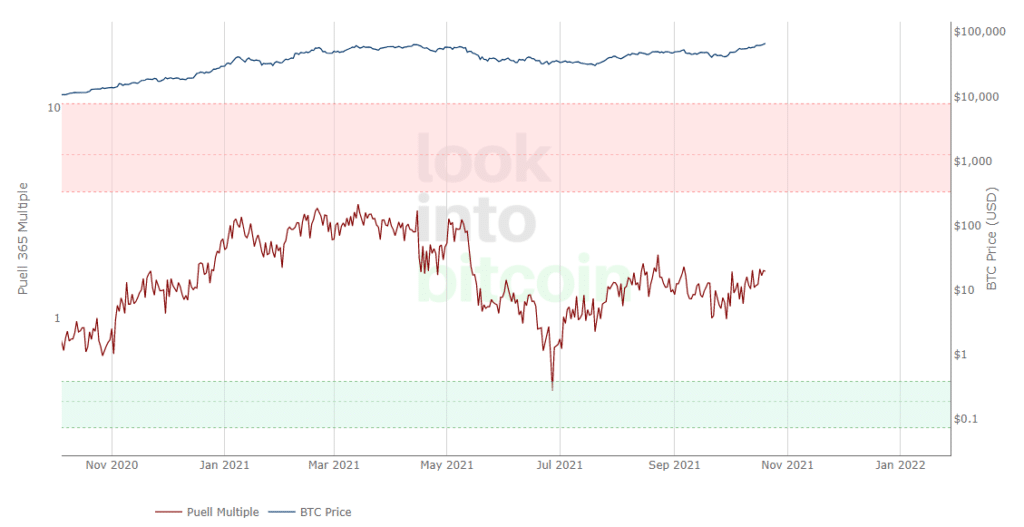 China expels miners and attacks Bitcoin from all sides
While all these good indicators show up in Bitcoin mining, China continues to ban cryptocurrency and this industry. And he does it not only with decrees and ordinances, but with concrete actions that seek to reduce this activity to the maximum in its territory and jurisdiction.
CriptoNoticias reported how the Chinese authorities continue to hunt clandestine miners, those who, instead of fleeing that country, decided to continue their operations outside of government supervision.
In this regard, we also report that, in Zhejiang province, China, it was discovered that 77 state entities used national resources to mine BTC, ether (ETH) and other cryptocurrencies without permission.
Therefore, they have been reviewing universities, government agencies and other institutions that could be committing this infraction, as well as closing operations and seizing the discovered equipment.
Manufacturers, pools and companies adhere to China's bans
Too, Bitmain, the world's leading manufacturer of Bitcoin and cryptocurrency mining equipment, announced that will no longer send products to domestic and foreign customers in Chinese territory, although it will continue in Hong Kong and Taiwan, CriptoNoticias reported.
The flight of miners from China impacts other countries as well, such as Russia. Bitcoin miners have migrated and settled in that country and now the Russian government is concerned about high power consumption.
So much so, that the mining of Bitcoin and other cryptocurrencies could be subject to special electricity consumption rates in Russia, reported this medium.
Stable mining pools, but fleeing China or banning their customers
On the other hand, some mining pools and manufacturers are imposing restrictions on customers from China. This is the case of Antpool, which is the largest pool in the world and contributes 17.5% of the processing power that Bitcoin currently has, and which has begun to restrict access to users in China.
However, this has not significantly affected the hash rate distribution among the major Bitcoin mining pools. Although some pools have come accelerating their growth, as is the case of Foundry, SBI Crypto and MARA Pool (and it is predicted that they will continue like this).
The groups Antpool, F2Pool and ViaBTC together contribute 45% of the total hash rate of the network, according to BTC.com.
US Gives Energy Options to Bitcoin Miners Displacing China
The United States is now the country with the largest number of Bitcoin miners, and processing power for this network, ending China's might in this sector.
Now, 30% of the hash rate is located in the United States, we report. According to the study published by the Cambridge Center for the Financial Alternative, by July 2021 there were more than 40 exahashes per second in the US This figure is presumed to have increased as of today, October 21, 2021.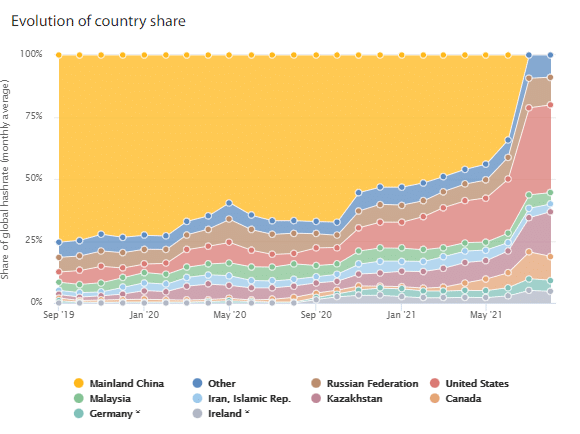 The positioning of the US as the home of Bitcoin miners has its main reason in the sources of renewable energy and cheap in its price. Texas is the main state to host Bitcoin miners, thanks to its natural gas sources distributed throughout its territory.
This was recognized by Senator Ted Cruz, representative of the State of Texas, in comments that were popularized in the ecosystem. Cruz thinks that Bitcoin may be a solution for Texas energy consumption, as it could alternate its energy supply and provide it back to the electricity grid in periods of high consumption demand.
Bitcoin miners thrive on business and innovation initiatives
While some fear that Bitcoin mining may now be centralized in the US, others propose to make it more decentralized and efficient from the perspective of a mining pool's clients.
Decentralized mining project Braidpool argues that the pool F2Pool (an existing decentralized pool) does not benefit smaller miners. This is due to drastic variations in its payments, its high number of orphaned or expired blocks and the exaggerated block space occupied by mining payments.
In the case of Square, a financial services company that has shown strong support for Bitcoin projects, it announced that it is considering undertaking a Bitcoin mining project from home, open source, and with electronic components made of silicon, an important mineral of the computer hardware industry.
North to South: Mining Companies Expand on Energy Deals
While these types of projects make their way, other mining companies continue to conquer markets with commercial agreements and expansion of their equipment fleet.
For example, Bitfarms, a global Bitcoin mining company, announced that I would be installing 55,000 miners in Argentina, we report.
The attraction in this case is also energy, as they would be paying 2 cents per kilowatt per hour (kWh) of consumption, a lower price than in other jurisdictions such as the United States and Canada.
Bitcoin mining grows with solid financial strategies
Bitcoin mining companies seem to understand that this industry will have a long period of existence, so they are assuming financial strategies according to their expectations.
As reported, 9 mining companies accumulate 20,000 BTC in their coffers, which are equivalent to USD 1,308 million, according to the CriptoNoticias price calculator.
To avoid selling your BTC, are getting bank loans to pay for your operations and thus leverage your savings.
We talk about the companies Riot, Bitfarms, Hut8, Greenidge, Argo, HIVE, Cleanspark and BIT Digital, which are already listed on the stock exchange like any established company in other traditional industries.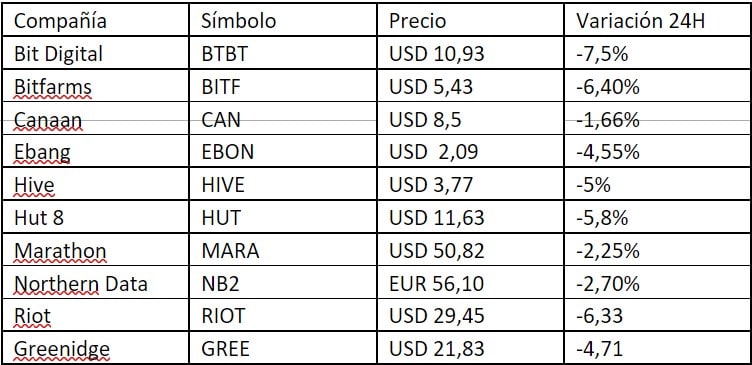 Specifically, Riot Blockchain stands out, of which we report quadrupled its production in September, managing to mine 406 BTC, an increase of 346% compared to the same month of the year 2020.
Mining from other networks or blockchains
Photo of the week
This week's photo was uploaded to the Reddit forum about Bitcoin mining r / BitcoinMining. It shows a set of miners in what appears to be a home basement, with traditional fans to dissipate heat. Simple solutions for complex problems.