Key facts:
Countries around the world are beginning to understand the potential of Bitcoin mining.

The health of the mining industry manifests itself in the security and strength of the Bitcoin network.
Noti Hash is CryptoNoticias' Bitcoin mining newsletter. It is published on our website every two weeks, being today, Sunday, November 21, 2021, the eighth edition to be published, at the height of block 710,715.
---
Bitcoin mining is not only an energy and technological activity, but also a phenomenon with a territorial impact. We say this insofar as physical facilities and adequate space must be available to house mining plants, which brings new socio-economic dynamics to the table.
Since Noti Hash began to be published we have followed up on this line of events that began with the migration of miners from China to other parts of the world. Thus, countries such as the United States, Kazakhstan, Paraguay, Argentina and Uruguay increased their share of participation in Bitcoin mining.
In recent weeks, events have taken place that anticipate that mining will continue to make its way into energy markets and territories. This will create an environment of commercial options and competition between various actors.
CriptoNoticias reported on November 6 on how the mining companies Bitdeer and Riot Blockchain seem to dispute control of the territory of Texas, USA.
In that state there are abundant gas and oil resources, which is why a good part of the Bitcoin mining companies have settled there.
Also, we learned that the Navajo Nation, a Native American reservation, they are mining Bitcoin in the American Wild West, seeking to regain their sovereignty and energy and financial self-determination.
This type of initiative was commented on by Daniel Frumkin and Ethan Vera from the Braiins company, who in a panel during a conference held this week expressed their desire for impoverished nations to mine Bitcoin.
To facilitate this, Braiins is reaching out to the Hispanic community by launching its suite of analytical and educational tools. fully translated into Spanish, we report in this medium. Frumkin said that mining should be encouraged in countries such as Venezuela, Angola or Zimbabwe.
New competitors appear for the US
However, the United States could face the emergence of other competitors in the world.
Laos, a country located between Vietnam and Thailand, started a pilot Bitcoin mining plan that aims to accumulate USD 190 million by the end of 2022. For its part, in Kazakhstan an agreement was reached between Bitcoin miners and the national government to operate without threatening the country's energy security.
And in El Salvador, which began mining Bitcoin at the Berlin geothermal power plant, Usulután, in September 2021, now they can send Bitcoin transactions "from volcanoes to space", thanks to the recent installation of the Blockstream satellite on November 17th.
This puts El Salvador one step ahead compared to other facilities that do not have this method to stream Bitcoin transactions without the Internet, fireproof.
To the south, in Argentina, where Bitcoin mining operations have worried some assemblymen, it was announced that the Bitfarms company would install a fully functional mining farm with a private power plant, outside the national public electricity supply.
The Bitcoin industry on the one hand, nations and states on the other
While countries not as developed as others take a firm stance in favor of Bitcoin mining (and also cryptocurrency), some regulators seem to line up somewhat against it.
Let's review the news we publish in CriptoNoticias about it:
Although Russia has received quite a few miners in the last year, its parliamentarians plan to design a tax payment regime for this sector.
The Bank of Canada, that country's central monetary entity, underestimates the use of Bitcoin, but ignores the growth of mining in that country.
The United States Stock Exchange and Insurance Commission (SEC) investigates Marathon, the largest Bitcoin mining company in that country, in relation to the installation of a mining farm in the state of Montana.
In Sweden, a government financial agency, and another dedicated to the environment, released a report that invites to ban Bitcoin mining in Europe considering that it does not comply with the global agreements on climate change.
In China, the authorities they have promised punitive measures against those who defy the prohibitions against Bitcoin and its mining.
Bitcoin increases its difficulty and accompanies the rise in its price
Meanwhile, the difficulty of Bitcoin mining increased for the ninth consecutive time since July 2021, on November 14 at the height of block 709,632.
As reported in CriptoNoticias, the rise in the price of bitcoin (BTC) frequently accompanies the increase in difficulty. This could suggest that, at least this time, the well-being of the miners drives the growth of BTC and its market.
At the time of writing this note, the difficulty lies in 22 T, according to BTC.com. While, the price of BTC is at USD 58,172, according to the CriptoNoticias price calculator.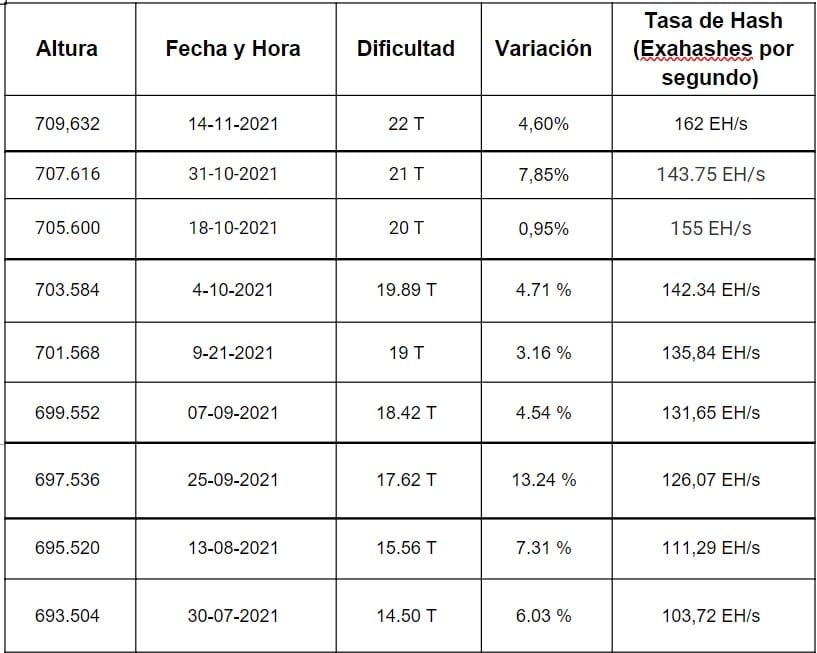 As for the hash rate or hash rate, the processing power of the miners, a similar behavior can be seen.
From November 15 until now, we have witnessed a decline in the price of BTC, a correction after a rise that brought it to its all-time high in price.
As can be seen in Glassnode, a negative variation in the hash rate in recent days has also accompanied this slight decrease in price, almost simultaneously and synchronized.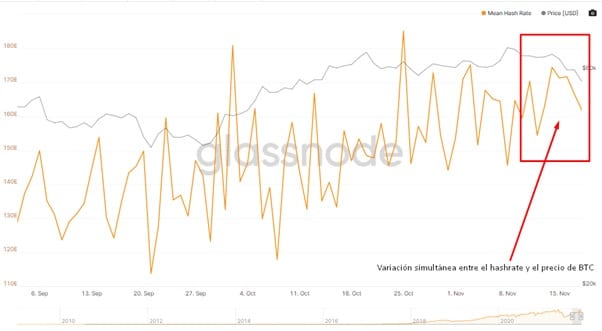 And, in relation to the good health that Bitcoin mining seems to enjoy, CriptoNoticias reported on the launch of the Antminer S19J, from the manufacturer Bitmain, one of the oldest in the world.
The miner itself is more powerful than the entire Bitcoin network in the early eras of its existence, so it was a launch that got fans excited from a conference in Dubai.
As we have highlighted in our previous issues of Noti Hash, mining companies are the main catalysts for Bitcoin's growth, in terms of hash rate, difficulty, and market.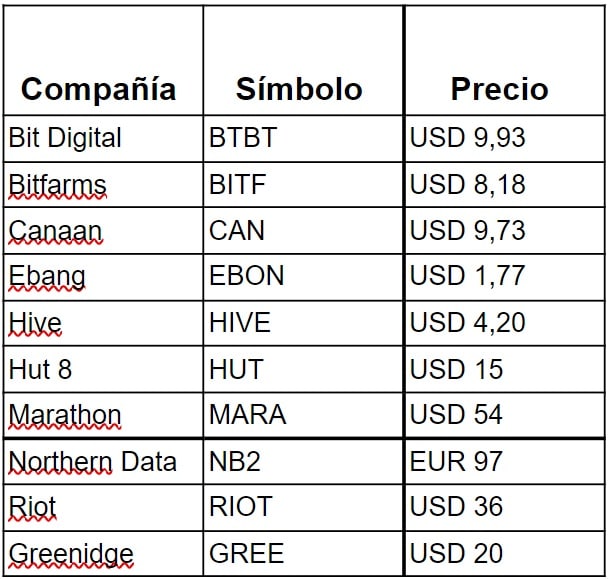 The ambition of these companies for the growth of their business does not seem to stop, as is the case of Canaan, manufacturer of ASIC equipment, which is seeking to increase its mining power 60 times in the coming months. The last quarter was the most profitable in its history, we reported in CriptoNoticias, achieving a turnover of USD 204.5 million.
Other mining companies have declined in their share prices on public exchanges in the United States and Europe, but have remained relatively stable after a rapid increase in recent months.
Mining pools compete between Bitcoin updates
In the previous issue of Noti Hash we highlighted how the percentage of unidentified mining pools have come to encompass more than 10% of the processing power of the Bitcoin network. Now, they have continued to increase their proportion and currently reach 14.2%.
In parallel, large mining pools such as Antpool (19%), ViaBTC (14.7%) and F2Pool (14.4%) They compete closely on their processing power, but the unknown miners together outperform the power held by other well-known pools such as Foundry USA and BTC.com.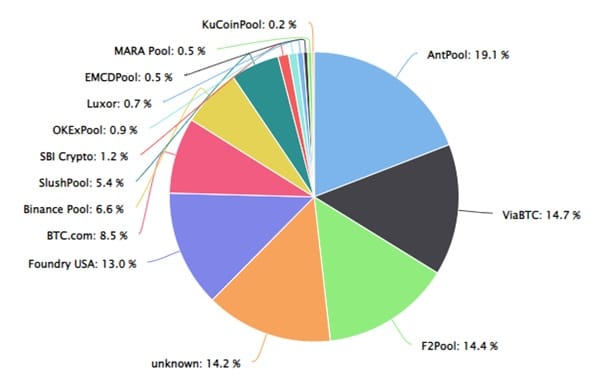 All this was happening while the activation of Taproot, an expected update of the Bitcoin protocol, was taking place.
Some major mining pools did not immediately jump in to confirm blocks that included Taproot transactions, but have subsequently joined this update.
Mining from other networks and blockchains
The price of Nvidia graphics cards, used in both computing and mining for cryptocurrencies like Ethereum, fell 60% in the last quarter.
Photo of the week
This time we share a video of Ricardo Carmona, co-founder of Biomining, who gives his son a new mining equipment.