Key facts:
It is no longer discussed so much whether or not to sell BTC, but how to obtain cheap energy.

A discussion about making Bitcoin issuance infinite stirred up the hornet's nest.
Noti Hash is CriptoNoticias' Bitcoin mining newsletter. It is published on our website every two weeks, being today, Thursday, July 28, 2022, the 23rd edition to be published, at block 746,947.
---
Over the past few weeks, Bitcoin mining has seen considerable changes in terms of miner share or total computing power.
For the first time in a year, recorded three consecutive downward difficulty adjustments, as a consequence of the drop in the hashrate to levels below 200 EH/s. This fact contrasts with the expectations formed by the miners at the beginning of the year and mainly due to the consequences of the bear market and the heat wave that affects several countries around the world.
From a positive point of view, it could be affirmed that these conditions are ideal to have greater profitability when mining Bitcoin, considering the fact that during the past week the price of bitcoin (BTC) also rallied to hit $24,000.
In retrospect, the 170% growth in hashrate in one year can be understood as an increase in the security of Bitcoin.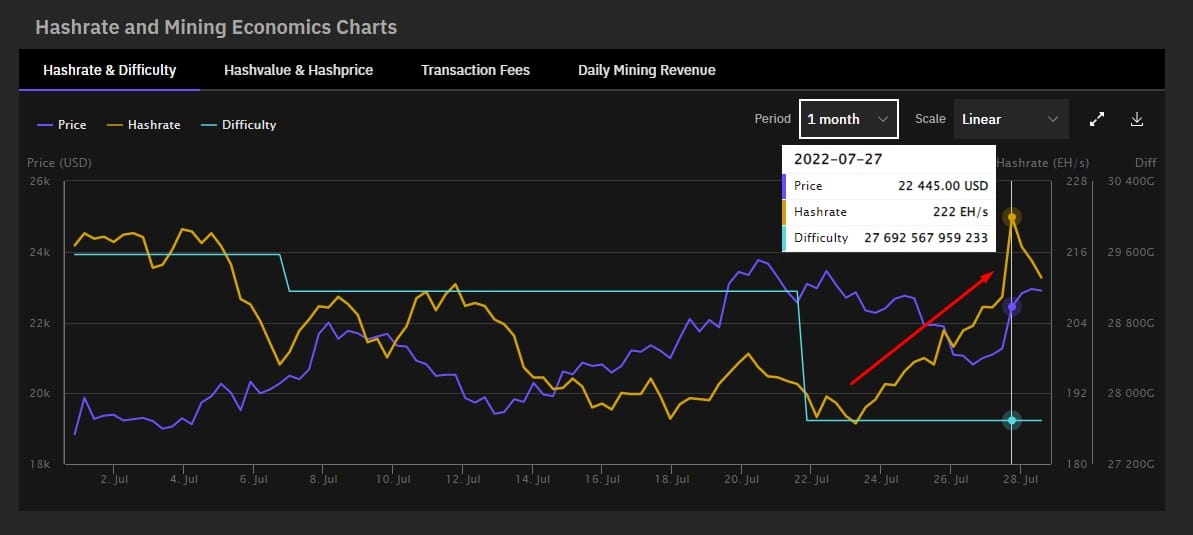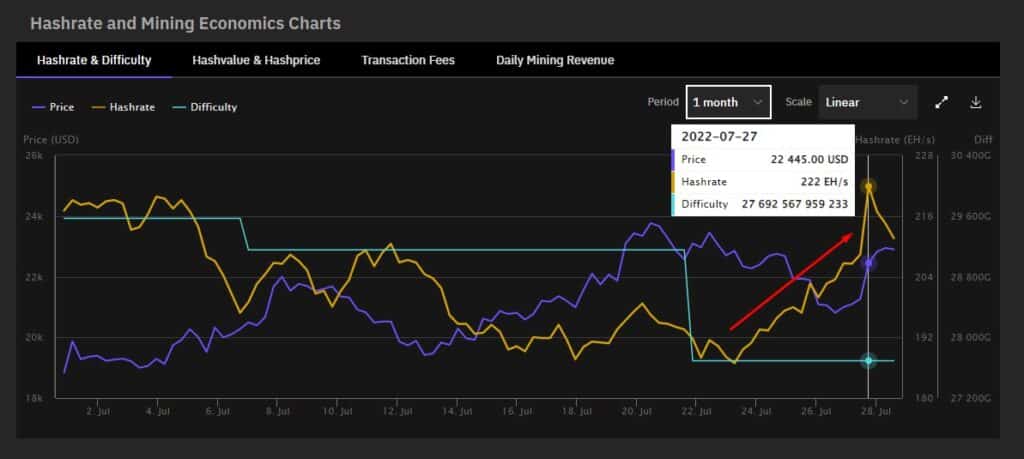 According to the graph above, Bitcoin hashrate seems to have made a considerable rally in the last two daysrecovering the values ​​prior to the fall, close to 220 EH/s.
In a recent report by Alfredo Oquendo, we compared the bear market conditions of 2018 and the current ones, which sheds some light on how Bitcoin mining could revive in a few months despite the adversities.
Disconnect and reconnect equipment to mine Bitcoin
During the bear market, and in the midst of a heat wave around the planet, The dilemma for miners has been whether it is worth staying connected to the network in the midst of the crisis.
For Fernando Grijalba, regional director of Braiins for Latin America, the answer is simple: "Bitcoin miners do not disconnect in the bear market," as he said in an interview with CriptoNoticias.

In contrast, a Hashrate Index report suggests that, since the year began, Many Bitcoin miners have made the decision to sell their equipment to pay off debts. This measure is part of normal market cycles; nothing to do with Celsius's timely sale of thousands of ASIC mining rigs before filing for bankruptcy.
A few days after this event, the same company declared that they would be building a farm to mine Bitcoin in the future, as part of their strategy to settle the debt with their clients, according to a justification they presented to a court.
In any case, most analysts agree that the bear market brings out the best in Bitcoin miners. One of the current strategies of these companies is to list mining shares on stock exchanges.
"This trend not only allowed for greater liquidity for these companies, but also offered greater transparency into the operational dynamics of Bitcoin mining," says Brandon Bailey, an analyst at Galaxy Digital.
The other side of the coin is represented by companies like Compass Mining, who reported that due to the heat wave and storms in the United States they had to shut down numerous mining equipment, distributed in various regions of that country.
The decline in demand for mining equipment could, in turn, be affecting the mining chip manufacturing industry. According to a report by CC Wei, CEO of TSMC, there is an excess of inventory among companies that manufacture Bitcoin mining equipment, which would make it more difficult in the following months to sell these components.
Clean energy is cheaper to mine Bitcoin
Jason Les, CEO of Riot Blockchain, another Bitcoin mining company, recently spoke about the aces that miners have up their sleeves to get around the current market crisis.
From the executive's point of view, the goal of every miner is to optimize the use of resources. So we see how Every day more miners join the use of energy from renewable sources, like solar energy. In addition to the installation of power generators of each Bitcoin mining farm.
An Ark Invest study agrees with this position. According to data from a recent report, the most profitable source of electrical energy to mine Bitcoin could be natural gas or waste methane which is located directly in the wells.
In this line of action is Stronghold, a Bitcoin mining farm that uses residual coal from old abandoned mines in Pennsylvania to power its operations, which also have their own electricity generators.
This trend could be the beginning of a revolution in the use of renewable energy, according to businessman Daniel Batten, who draws on the book Electrify Everithing (Electrifies everything) to support his opinion.
Not everyone thinks that the use of electrical energy from Bitcoin is justified
Despite evidence of a trend that Bitcoin represents an opportunity for the growth of the use of renewable and efficient energy sourcessome politicians insist on creating opinion matrices against Bitcoin.
According to Jared Hoffman, and six other United States senators, Bitcoin mining yields "disturbing" data on electricity consumption. For this reason they filed a report with the US Environmental Protection Agency (EPA) and the US Department of Energy (DOE).
A court in Beijing, China, has argued that Bitcoin involves a "waste of resources" in a ruling that annuls a contract between two companies. Obviously, we explain in this article why this statement is not true.
Optimism regarding Bitcoin mining
During the 2022 World Digital Mining Summit held in Miami, Steve Kinard, Director of Mining Analytics at the Texas Blockchain Council, said that Bitcoin mining will continue to be relevant and a value proposition.
On the other hand, the co-founder of Ripple, Chris Larsen, seems to have changed his mind and now says that eliminating Bitcoin mining would be a mistake. Comment that the mining industry goes beyond Bitcoin and its miners and that other sectors of the economy benefit from this activity. For example, in the field of entrepreneurship and hardware.
The controversy over increasing the emission of bitcoin
The discussion about the increase in bitcoin issuance has been in the discussions for years. On this occasion, Peter Todd, a Bitcoin developer, ignited the debate through the Bitcoin Talk forum and the Bitcoin Core developer mail. He proposes that the current system, limited to 21 million BTC, be replaced by an infinite emission.
One of his arguments is to consider the possible issue of extra coins as a replacement for those coins that have been lost forever.
Furthermore, it describes In the future, Bitcoin miners will only have the profits derived from the payment of commissions. and that these could be too unstable or scarce once networks like Lightning are established.
Therefore, he argues that an increase of 0.1% per year could allow mining to remain profitable for Bitcoin miners in the long term.
News about ASIC equipment to mine Bitcoin
In other news, mining equipment manufacturing company Whatsminer has awarded Venezuela-based Cryptominer an official certificate. So they become the first authorized technical service to repair miners of this brand in Latin America.
Also, Bitmain launched a program that gives bonuses to those who return old miners, such as S1 and S2. The campaign has the objective of reducing the emission of CO2 from the industry.
Mining from other networks
Crazypool Adds Cheap Ways To Withdraw Earnings From Ethereum Mining
Picture of the Week
Two major Bitcoin mining conferences were held in Miami this week, Mining Disrupt 2022 Y World Digital Mining Summit 2022.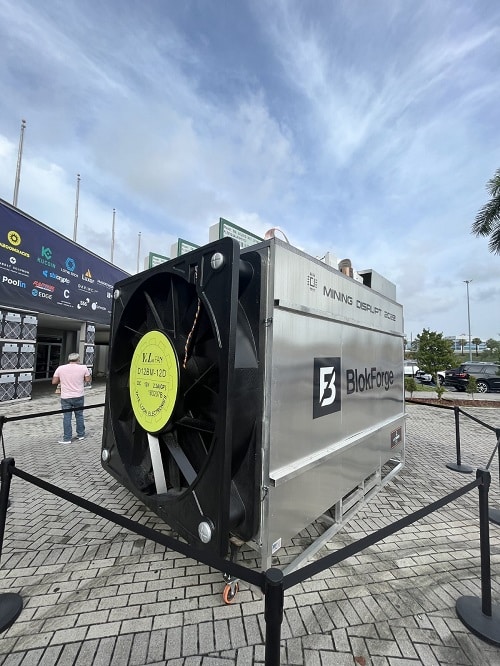 Previous editions of Noti Hash
Learn more about Bitcoin mining in our Cryptopedia: