Noti Hash is CriptoNoticias' Bitcoin mining newsletter. It is published on our website every two weeks, being today, Thursday June 16, 2022, the 22nd edition to be published, at block 741,072.
---
After our most recent Noti Hash mining newsletter, which was last delivered on June 2, the reality has not changed much for Bitcoin miners.
The miners continue selling their reserves and turning off their equipment due to the decline in the price of bitcoin (BTC), trying to pay your bills.
Advertising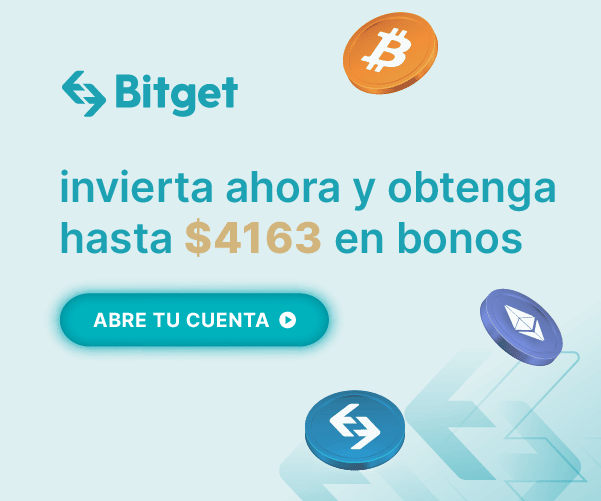 However, this has not severely affected processing power or hashrateso the upward trend of this factor that contributes so much to the security of the Bitcoin network has not been lost.
Even for 3 days this month, Bitcoin hashrate grew more than processing power that accumulates one of its most important pools or mining groups, such as Binance. Even so, in just 4 days the hashrate of Bitcoin fell 10% due to the aggressive price decline of BTC.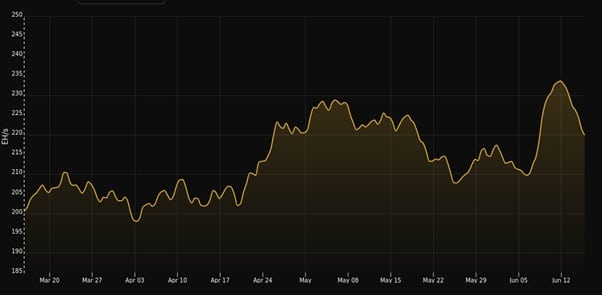 In several articles, CriptoNoticias explained how miners are selling their bitcoins through exchanges or exchange housesafter saving them for a long time and preferring to use them as collateral to access loans in dollars (USD).
Advertising

According to CoinMetrics, the volumes of bitcoins deposited on exchanges by miners amounted to USD 400 million during the month of May.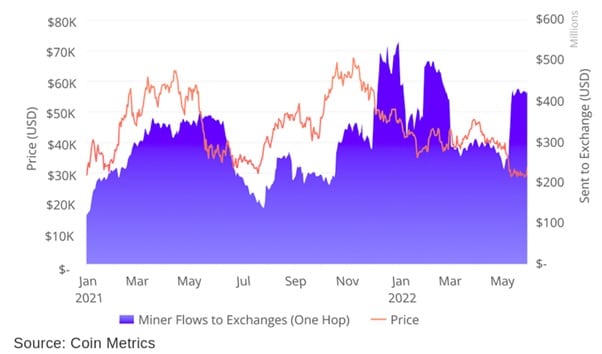 Likewise, we report that profits or profitability have not been very good lately, and that Bitcoin miners could be cornered by the cost of electricity and low BTC prices. Although in a macro view, since a year ago, this equipment and the mining activity itself is 17% more efficient.
Due to low profitability, and the need to cover costs, miners have been shutting down their equipment. In other cases, they have been forced to disconnect some miners such as the Antminer S9, because it is very old and not offer good performance with current BTC prices.
Others for their part have been turning off their equipment to balance the local power grid in the face of high weather temperatures, as is the case in the state of Texas, United States.
However, the miners do not give up, since some prefer to sell their ether (ETH) holdings to buy more Bitcoin mining equipment, in a strategic move that could bring prosperous results in the future.
Cost of electricity affects miners' performance
In relation to the cost of electricity, this reality is also palpable in countries like Colombia, where Bitcoin mining is not very profitable if you do not have priority and low-cost access to energy sources.
In the United States, the authorities will be reviewing the electricity consumption of Bitcoin miners, and will publish a report on the matter at the end of the year.
Picture of the Week
Econoalchemist, a specialist in home mining and self-custody (whom we interviewed exclusively on a past occasion) acquired an electrical transformer to give more energy to his Bitcoin mining operations.
Previous editions of Noti Hash
Learn more about Bitcoin mining in our Cryptopedia: