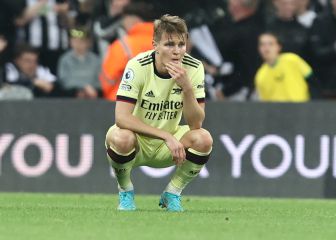 "Madrid scammed us with him, he is a star player worth 5 million… for Rayo Vallecano"was one of the angry comments from Arsenal fans in relation to Martin Odegaard after the defeat against Newcastle that practically left Arsenal out of the next Champions League. Despite having a wide advantage over Tottenhamin the final stretch they were squandering it and now they depend on a miracle to be able to recover the fourth place that was theirs for so long.
The six defeats in the last eleven games have had Odegaard as a common denominator. The Norwegian, brilliant for much of the season, in which he has managed six goals and four assists – his best figures ever -, disappeared completely in the decisive moments. He was not seen against Tottenham on the day that Arsenal could sentence his ticket to the Champions League and neither against Newcastle in the duel that almost completely buried his aspirations.
In the last ten games of the season he scored just one goal, against Brighton, and provided one assist, against Chelsea. Their participation, in general, was scarce. Especially poor was his performance in duels against teams from the lower-middle zone, precisely those against whom Arsenal's Champions League options really went: Newcastle, Southampton, Aston Villa, Crystal Palace…
According to data from Olocip, in recent games the Norwegian has penalized Arsenal with his offensive actions. In the match against Newcastle he was Arsenal's worst offensive player (-0.16) and in Tottenham's as well (-0.11), tied with Saka. In Leeds, the penultimate (-0.31), only worsened by Martinelli (-0.48)
In this way, what seemed like a year of growth for Odegaard at 23 years old can lead to a new season with a lukewarm ending. He was called to lead the 'gunner' assault on the Champions League, but he will surely have to settle for the Europa League. The ex of the Madrid does not finish getting rid of an irregularity that has also taken its toll on him at the end of this season.


[