This article contains referral links. Know more.
OKX added support for the Ethereum zkSync rollup. It is a scalability solution that will allow deposits and withdrawals with lower commissions.
The exchange of cryptocurrencies deposits via zkSync have been available since yesterday, June 23, and they promise to enable withdrawals by June 30.
There are 3 advantages of using rollups that OKX stands out in a release: reduction of transaction fees and waiting times; avoid Ethereum base layer congestion; and enable low-priced token swaps.
According to what it shows the L2fee portal, zkSync is among the rollups with the lowest commissions. At the time of this publication, while the main network pays an average of USD 0.90 per operation, this rollup pays USD 0.04.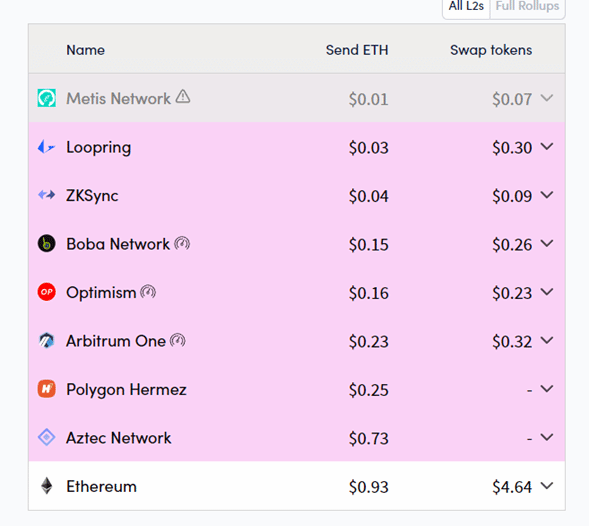 With the integration of zkSync in OKXthe exchange now offers options on the top 3 Ethereum rollups to make transfers.
It is worth clarifying that rollups are a technology that takes Ethereum operations to a second layer. Several transactions are encapsulated in a single transaction that is confirmed within the Ethereum network. This allows us to offer a reduction in commissions, but without losing the security of the Ethereum network.
OKX, formerly known as OKEx, is an exchange founded in 2017. It is currently in the top 20 of CoinMarketCap's most highly valued exchanges. Weekly receives visits from more than 1.5 million people.
More exchanges join rollup adoption
OKX It is not the first exchange to integrate this type of network within its options for ETH deposits and withdrawals. Industry giants like Binance or KuCoin, They already have these options enabled, although in those cases only Arbitrum and Optimism are limited. That pair of rollups already process 25% of all transactions in Ethereum, as reported by CriptoNoticias.
Unlike Optimism and Arbitrum, which are rollups classified as "full-EVM" (support all Ethereum decentralized applications), zkSync does not yet integrate this type of option. However, tocurrently working on an improved version (zkSync 2.0) which would make it full-EVM.