"Nobody in the Ethereum community, apart from miners, wants to stay in the proof of work (PoW)," said the specialist who, under the pseudonym Hasu, usually analyzes the cryptocurrency ecosystem.
On this occasion, Hasu stepped out of Rumors pointing towards a possible fork before the merger takes place ("The Merge«) in Ethereum. Its main proponent is the miner Chandler Guo, a Chinese national, who is asking for the support of the mining pools to maintain the original network without proof of participation (PoS), as CriptoNoticias recently reported.
"I forked Ethereum once, I'll do it again!" Guo has said, clinging to the possibility of keeping his PoW-dependent financial activity intact. Nevertheless, Hasu warns that forking would be "a giant trap", since the miners are trying to speak for their own interests.
The analyst adds that Maintaining an Ethereum network under the PoW system is an idea that does not have even 1% support from the community.
"I have studied the Ethereum Classic (ETC), Bitcoin Cash (BCH), and Bitcoin Satoshi Vision (BSV) forks, and saw that they were actually dividing their respective communities. In all cases, they were moved because they were real believers and not because of a short-term trade."

Hasu analyst on rumors of forking in Ethereum by miners.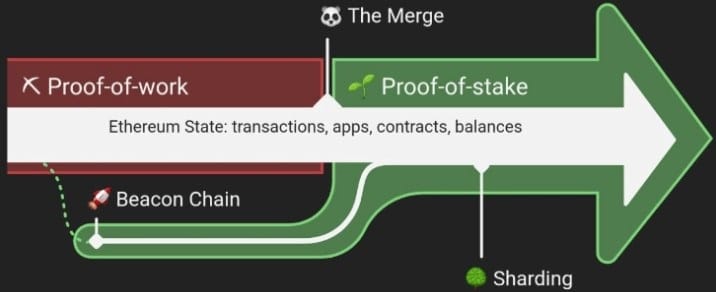 Is it worth forking the Ethereum network?
In his comments, Hasu points out that, ultimately, the proposal to fork the Ethereum network to maintain the PoW system, "is a completely stupid idea." Do it would be to throw another bad project into the ecosystem that only exist to be sold at retail, Like many that already exist.
Others in the cryptocurrency community agree with Hasu's point of view. In fact, Argentine bitcoiner Nicolás Bourbon manifests it in a series of tweets.
In them Bourbon points out that a project that has no community, no developers, and no one interested in participating, will only mine a cryptocurrency at a loss that won't make much sense other than a brief air drop to dump.
In the same Hasu Twitter thread, there are many members of the community who say they agree with the analyst, but there are also those who have a different view. Among them is Kendall Weihe, a software engineer at CoinMetrics, who manifest the reasons why he rejects the PoS system and defends PoW.
It notes that proof-of-stake is vulnerable to state influence, while proof-of-work is the only mechanism that allows resisting state influence. "So users of this 'decentralized' movement need to be aware of what they are voting for."
"If you are a true believer in Ethereum, then resistance to state influence is the highest priority user requirement. But clearly there are no true believers, and probably most users do not make resistance to state influence their top priority."

Kendall Weihe, a member of the cryptocurrency community.
Weihe then clarifies that he is not an anarchist, but he is. believes that the migration to PoS makes the Ethereum network an institution, and users should know about it.