The Honda Jazz has never been a best-seller on Spanish soil But due to its characteristics, it is one of the most interesting options in the segment, especially now that with the prices of all cars skyrocketing, the Japanese no longer distance itself from the rest as before.
If you are looking for a versatile interior, comfortable access and, above all, day-to-day efficiency, the Honda Jazz should be on your list of candidates. It is true that its design does not fall in love or turn heads but this small minivan will captivate you on a day-to-day basis with its spacious cabin.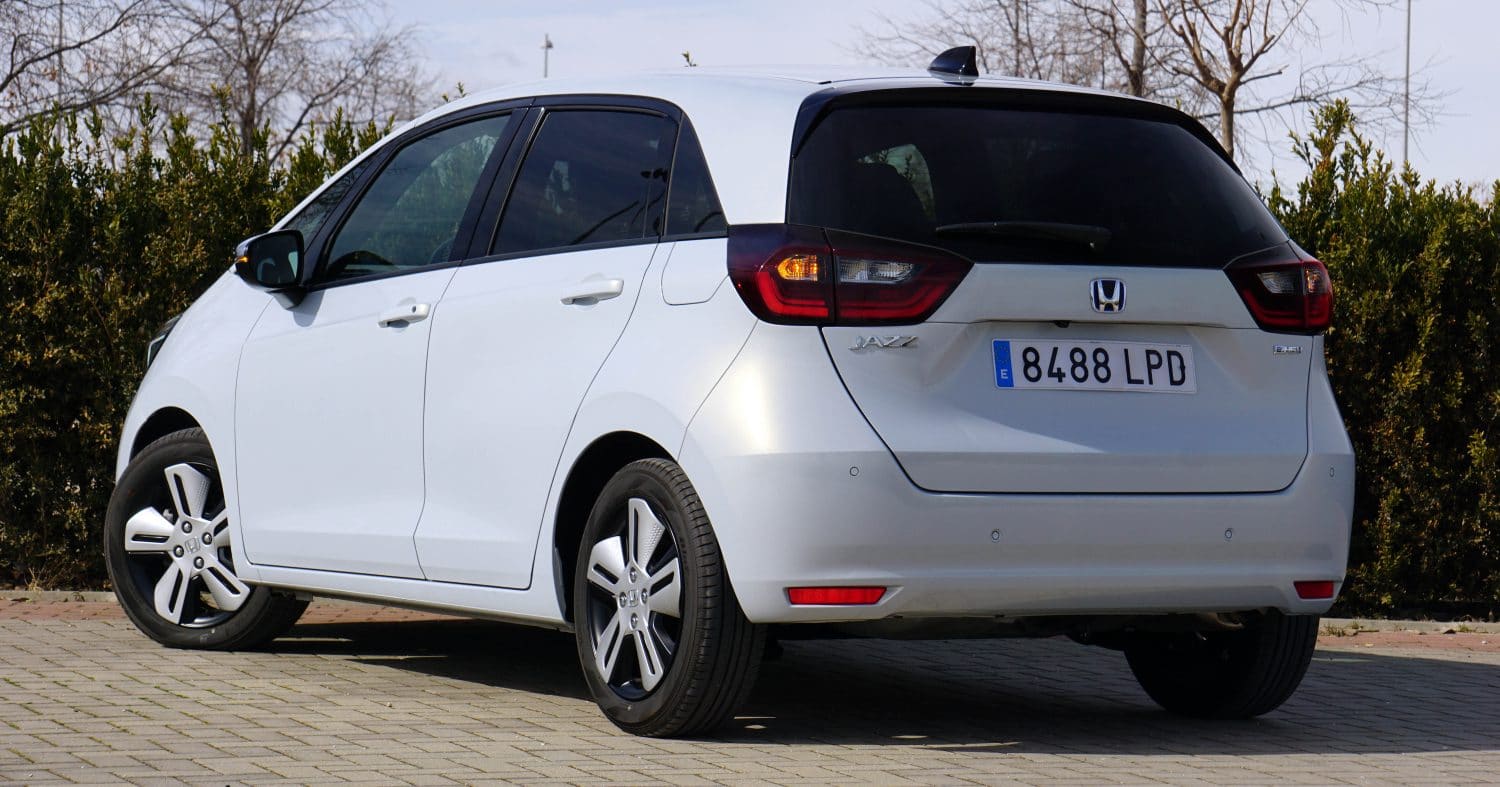 I have had the opportunity to test a Honda Jazz e:HEV Executive for a week and I must admit that it has far exceeded expectations. I think it is quite misunderstood in Spain and here part of the blame lies with the brand itself, which has not invested too much in making it known.
Design
The Honda Jazz is a stripped back car designed from the inside out. This implies a minivan cut body that may not be as cool as the latest crossovers but it can not be considered ugly either. If you want to approach the SUV world you can always choose the Jazz Crosstar Although I think you can save that money.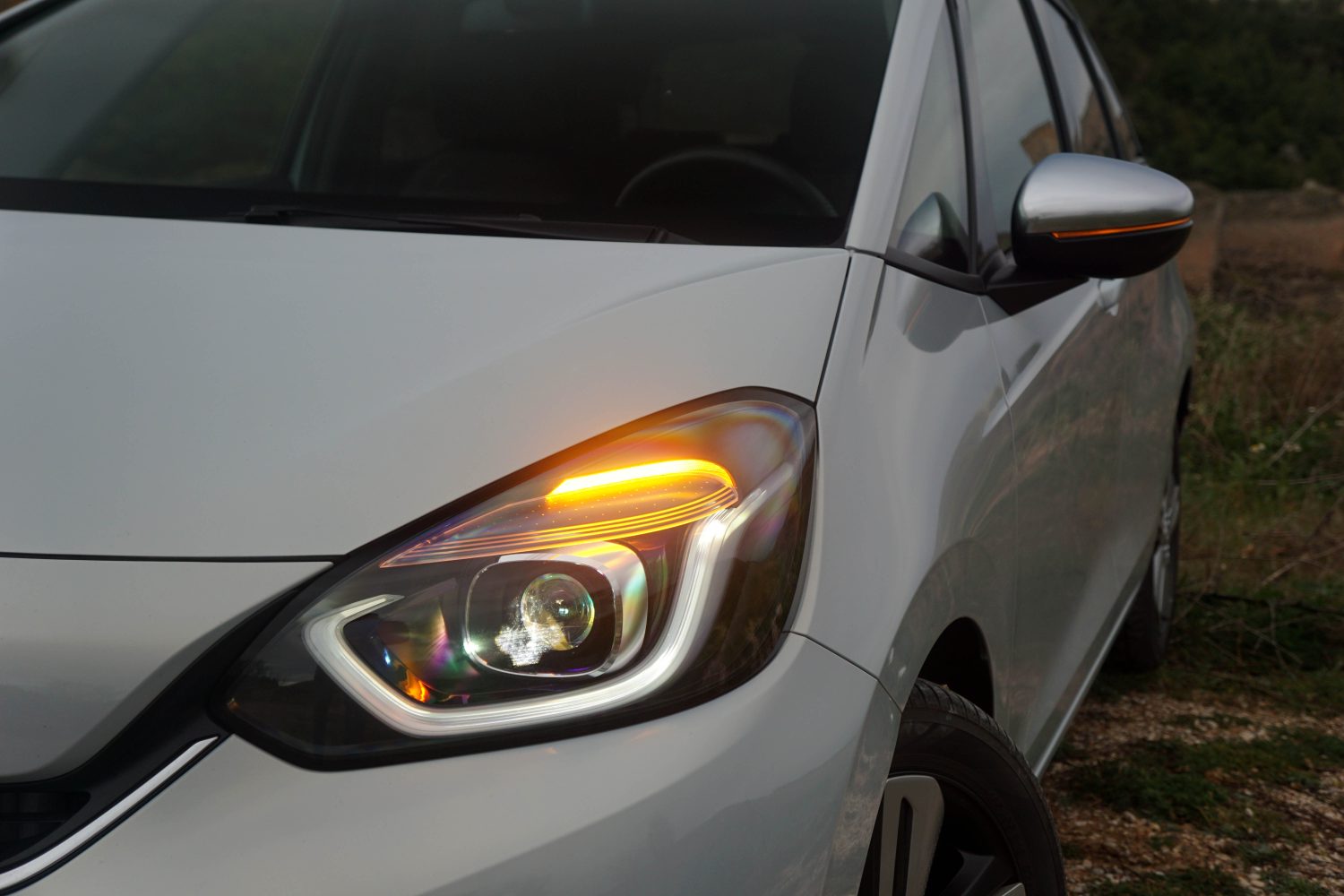 All Honda Jazz marketed in Spain have headlights with LED technologythe painted bumpers and in the case of the tested Executive unit it adds the chrome mirror caps, the "privacy" type over-tinted glass and the 16-inch alloy wheels specific design.
I think the Honda Jazz is interesting because of the solutions that are implicit in a minivan body, such as greater comfort in getting in and out of the vehicle, and generous door opening. From the driving position, the generous glazed area is also appreciated.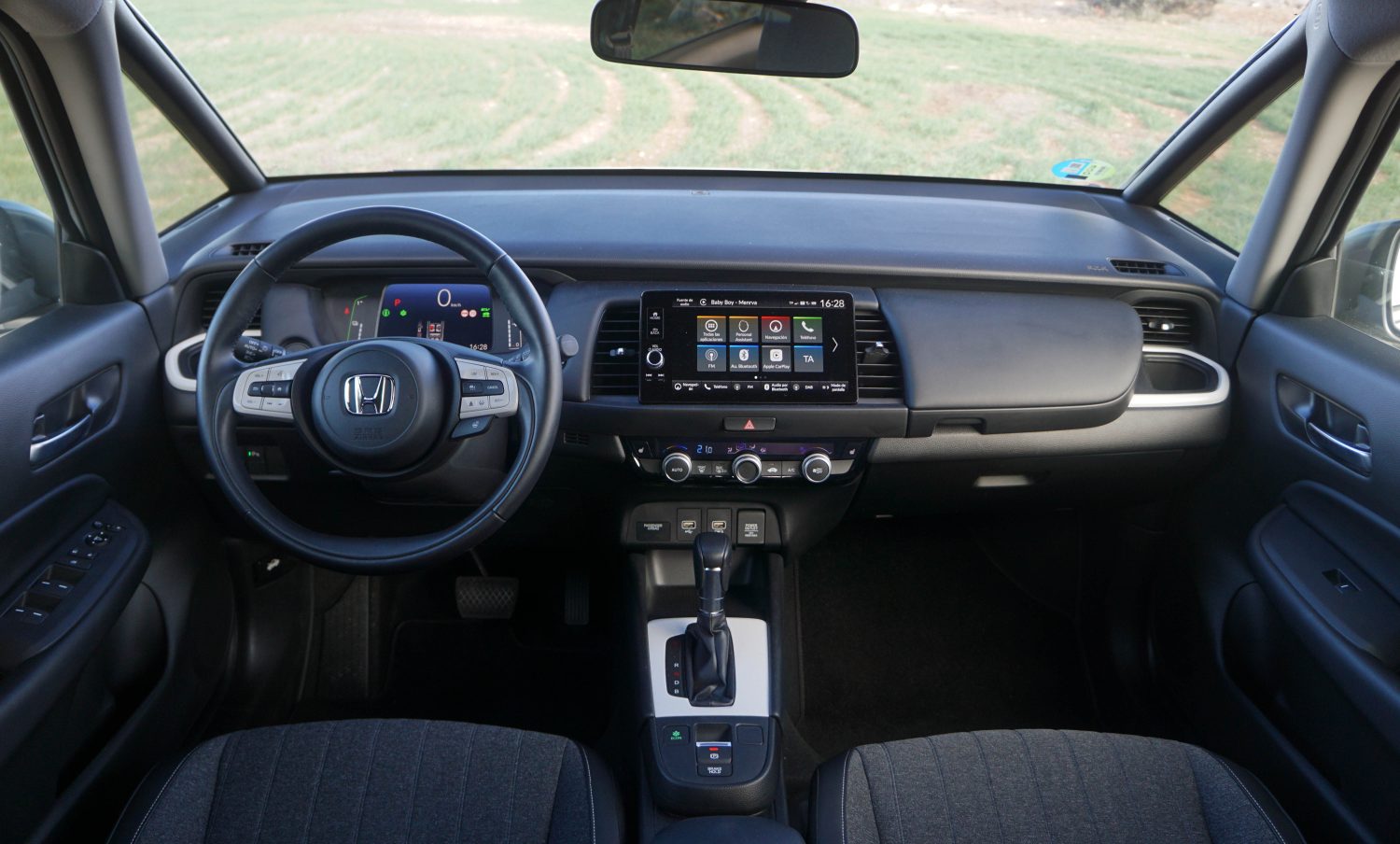 Inside
Once inside, the Honda Jazz stands out for a dashboard with a pleasant design covered with simple, mostly hard-touch materials. Despite this, they seem resistant, transmit solidity and do not produce uncomfortable or annoying parasitic noises. I think the pieces are well adjusted, something normal for the brand.
I love digital instrumentation. I think it is one of the best for quality and ease of handling or reading. It is true that during the first few minutes it is difficult to understand so much information at once, but you soon get used to it and it is appreciated to have what you need at a glance.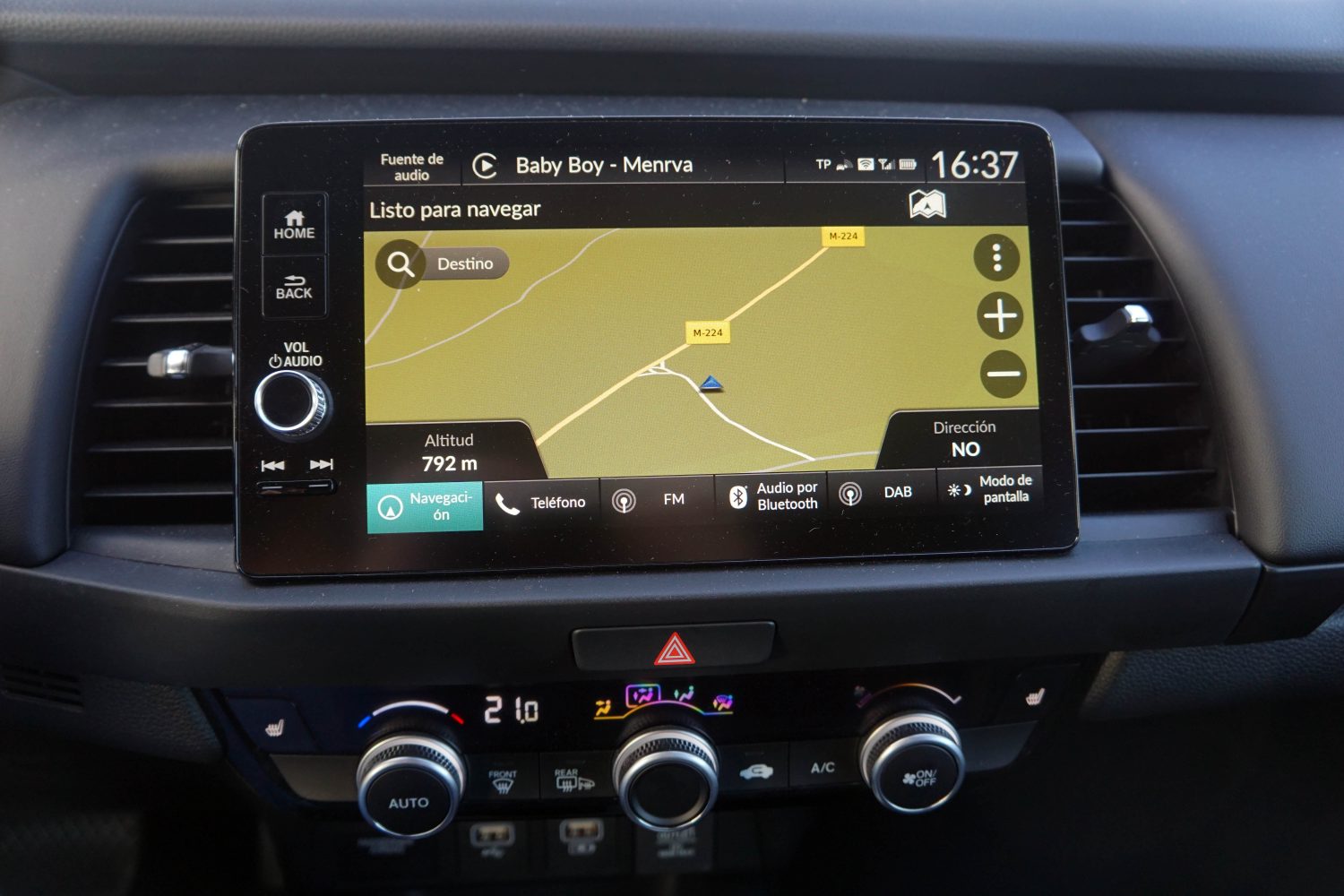 The multimedia system has also seemed very good to me due to the resolution quality of the screen and the simplicity of the menus. The quality of the sound system is another story, with speakers that should be more powerful. If you are an inveterate music lover, perhaps you should opt for the Jazz Crosstar, which has a more complete team in this section.
What I did like is that it has Apple CarPlay without cables, something that is not yet very common but that guarantees to be able to forget about the cables. The rear view camera has a correct quality and I also liked how the risk of impact with the parking sensors is shown on the screen.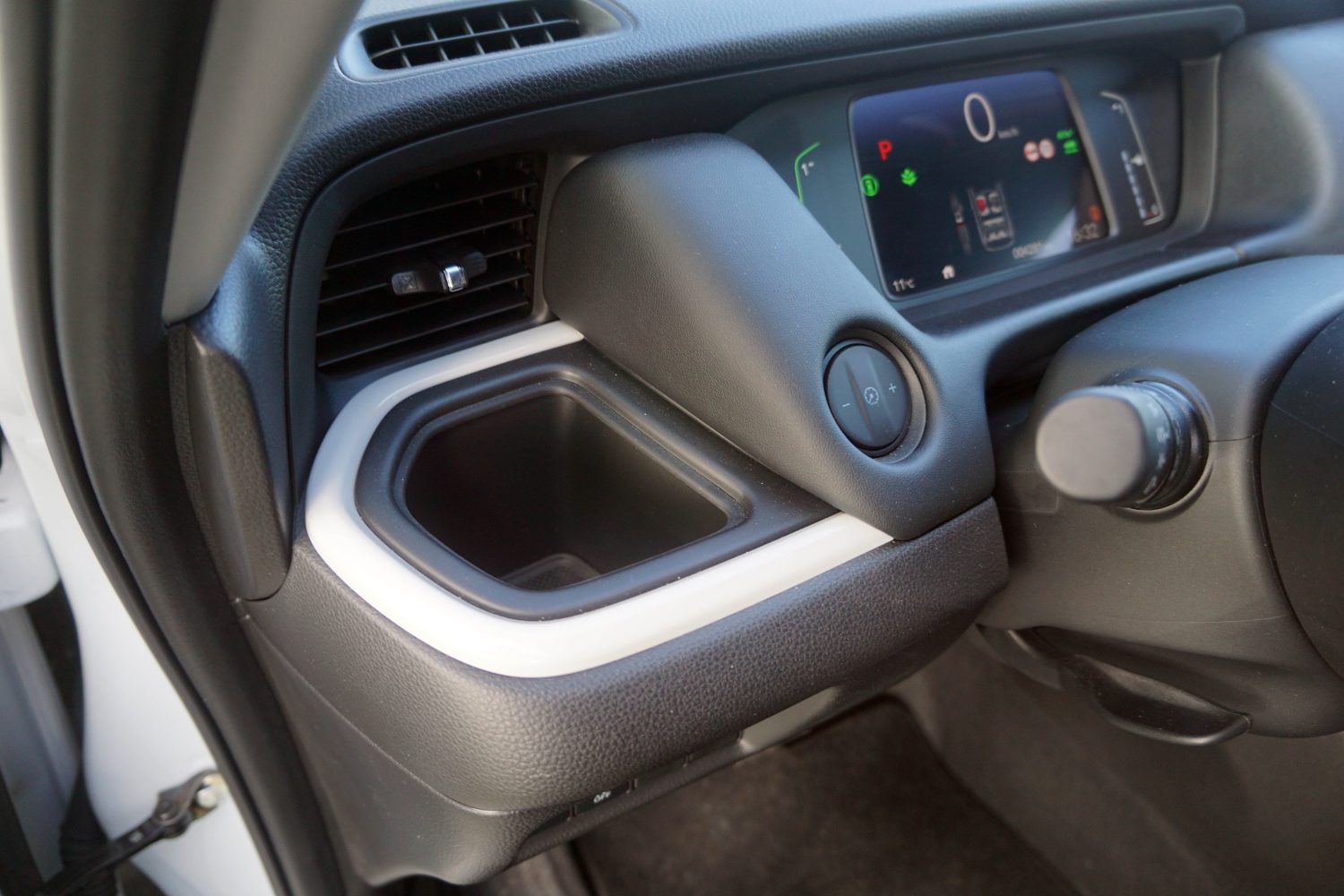 all over the inside there are several compartments for objects that are very useful. It is true that they do not usually have a rubber floor or a very careful finish, but they are practical. I liked having very comfortable can holders by situation and a double front glove box.
Habitability
The interior of the Honda Jazz I think is one of the best in terms of space or, rather, a sense of space. In the front seats there are enough centimeters in all directions, although the height is the most generous of all and it will be very difficult to rub against the ceiling.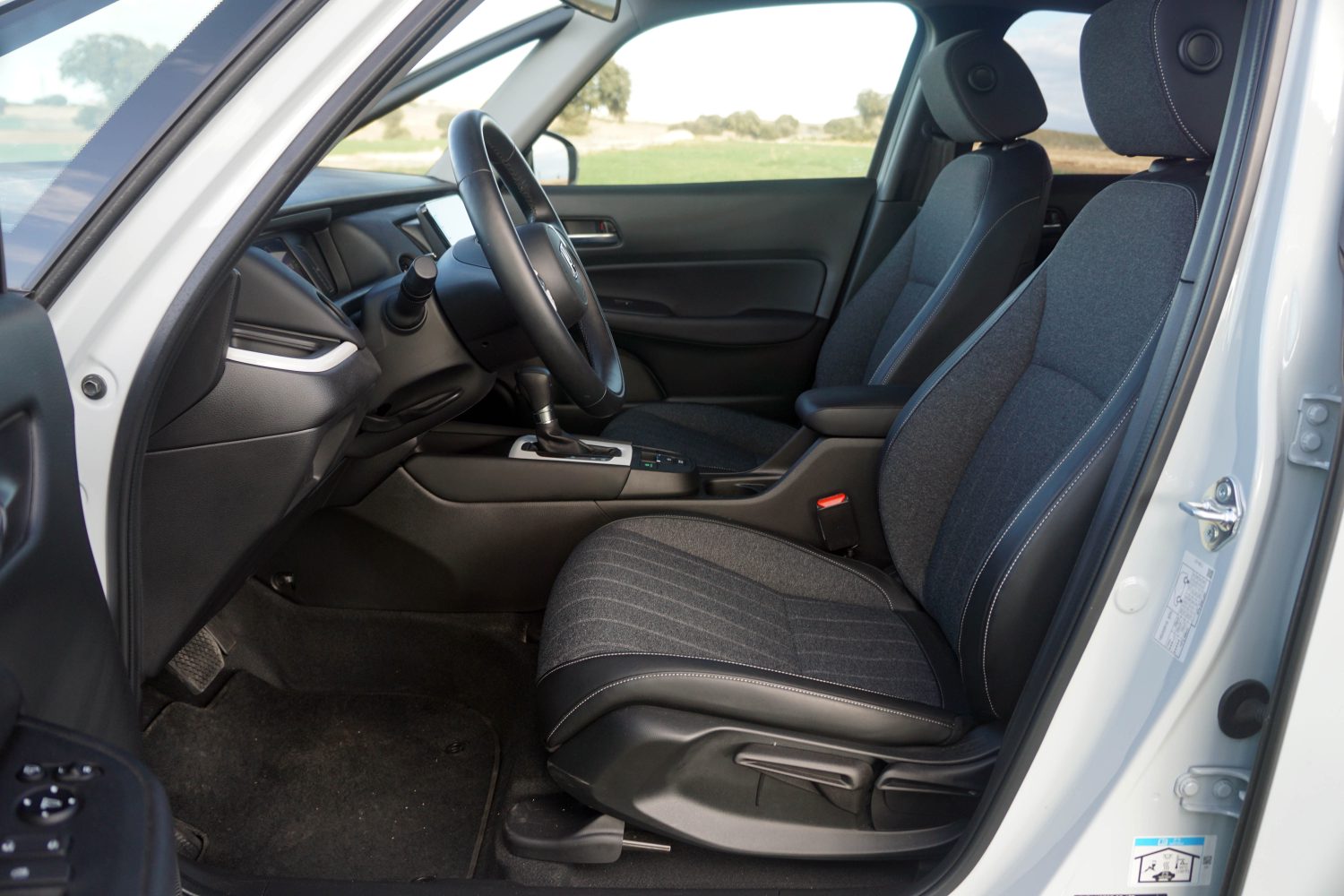 In the rear seats, the generous longitudinal space available even for adults over 1.85 meters is surprising. Also noteworthy is the wide access thanks to the generous opening of the doors while the bench, in an elevated position, will be especially appreciated by the elderly.
The boot capacity is correct with 304 liters and although it is not small, perhaps it is the least remarkable. This is due in part to the battery of the hybrid system that steals the usual double bottom, although here a small practical hole is maintained to leave some not too bulky objects.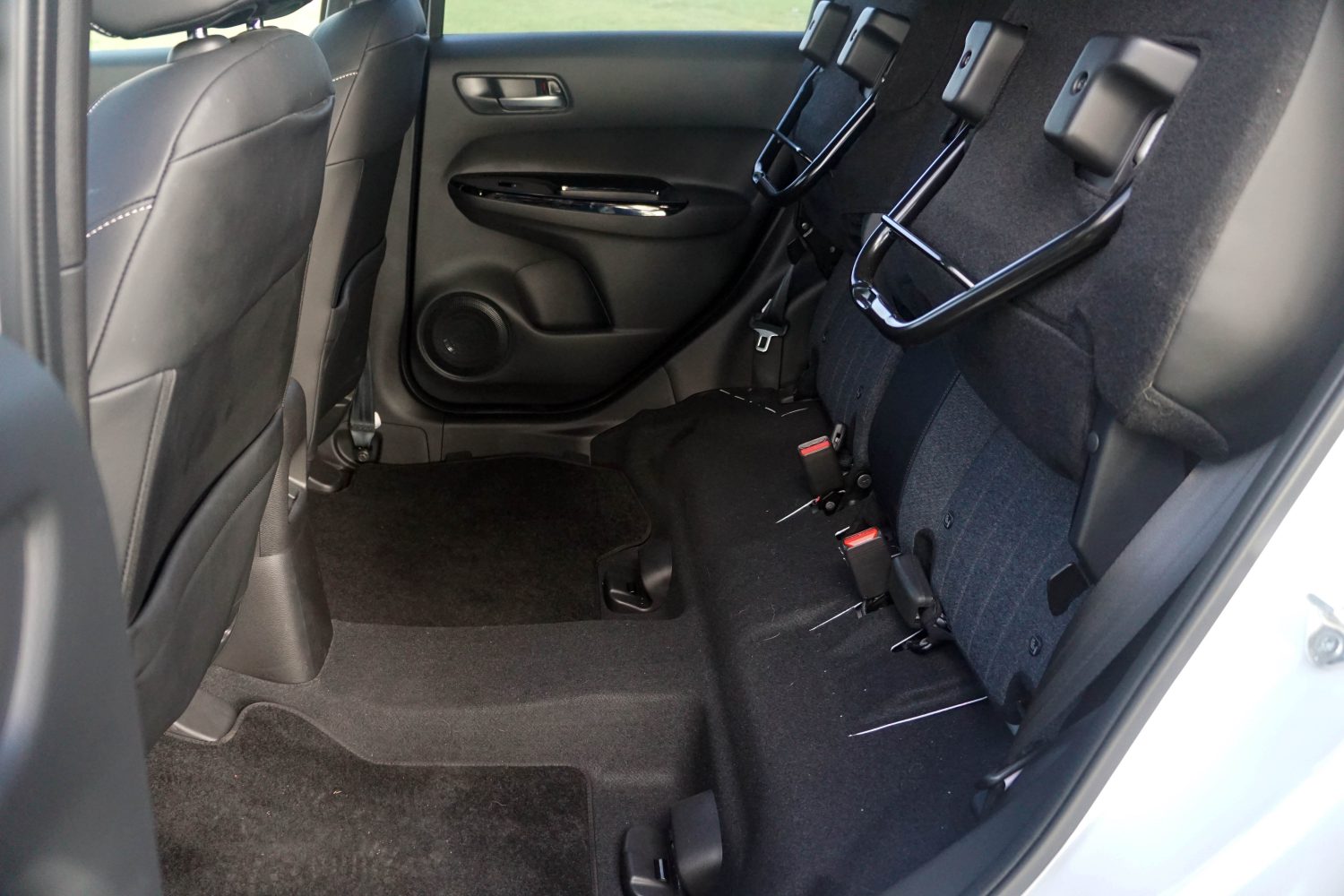 The modularity of the interior is another of the virtues of this model. Honda has with the Magic Seat system one of the best inventions to be able to maximize the practical side of the Jazz. This system allows the backrests to be folded down as in any car (a trunk with 1,205 liters is achieved) or the rear bench seats can be folded down to introduce tall objects that could not be carried without this system. It's definitely a smart thing.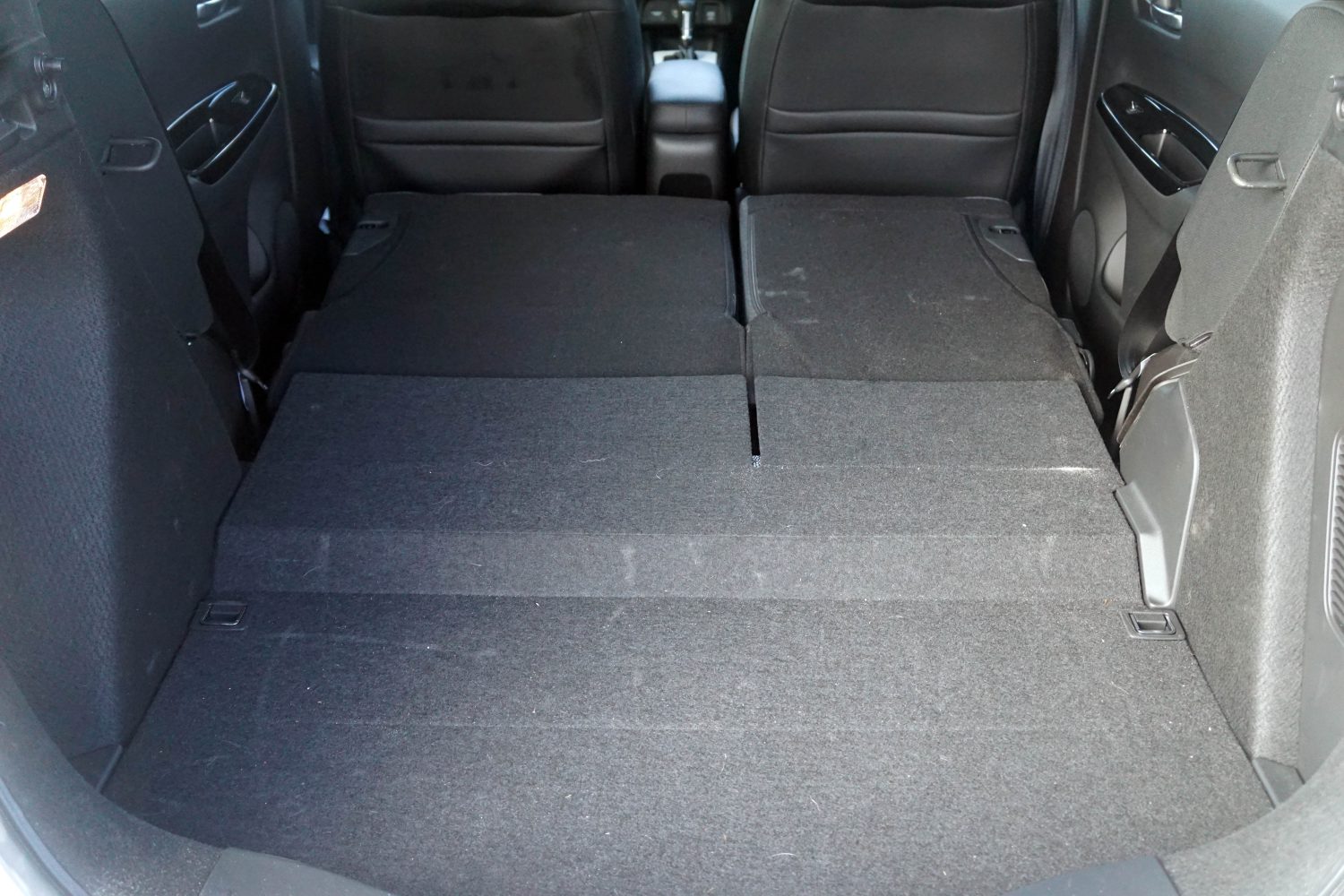 equipment
The current range of the Honda Jazz is made up of the levels of completion Comfort, Elegance, Executive and Crossstar. In all cases they have LED headlights, adaptive cruise control, Smartbeamlane alert and assistant, traffic sign reader, fatigue and pedestrian detector, intelligent speed limiter and front central airbag.
Other standard items on all Honda Jazz are automatic climate control, electric parking brake, electric and heated mirrors, heated front seatsrain sensor, sound system, bluetooth, DAB radio, USB, Magic Seat seats and trunk cover tray.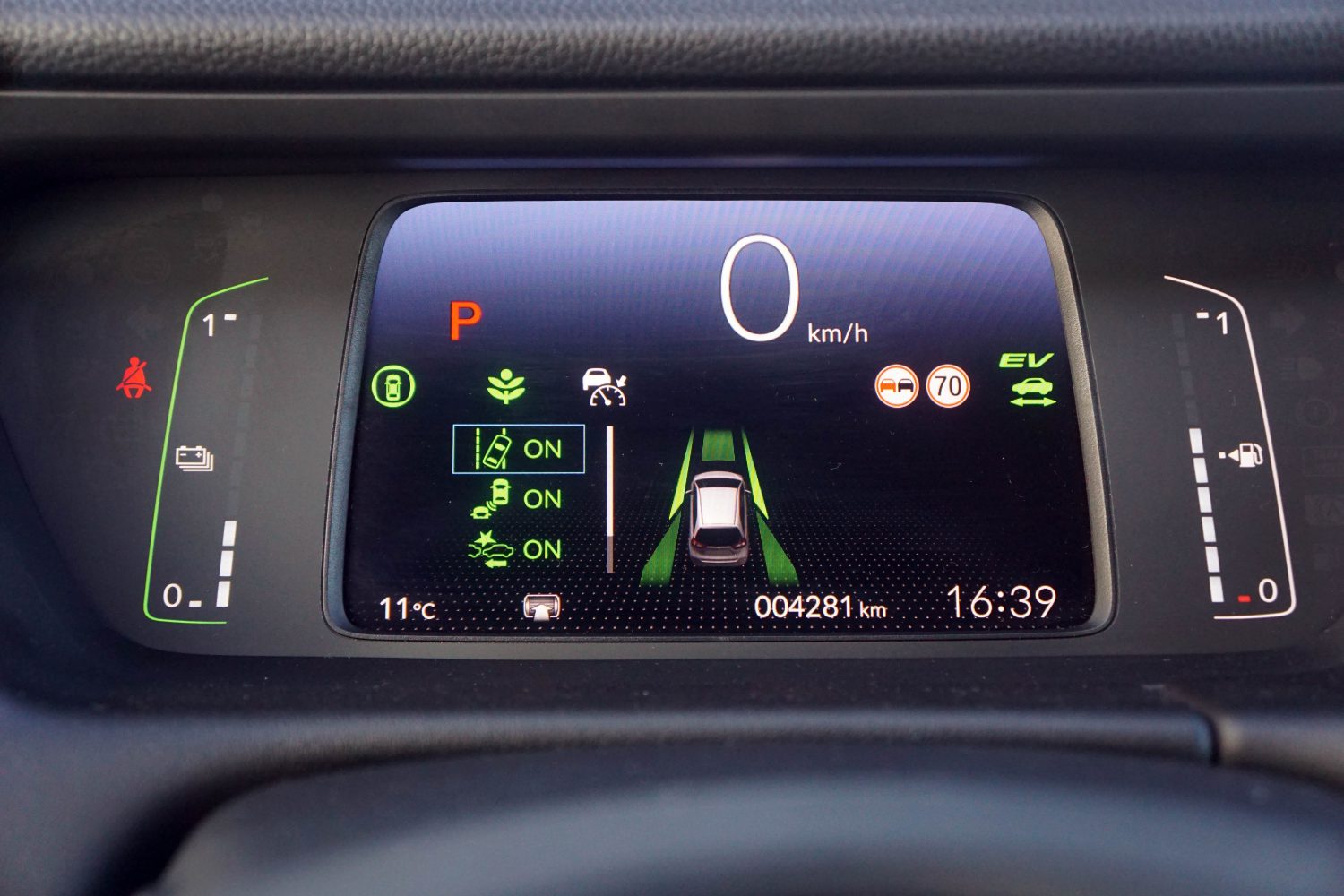 The tested level is the most complete. It stands out for adding an object detector in the blind spot, navigation system with 9-inch screen, wireless Apple CarPlay, rear cameralight alloy wheels, tinted windows, heated steering wheel, front sensors, keyless access, push-button start, mixed fabric/leather upholstery, LED fog lights, etc.
The recommended price of the Honda Jazz e:HEV 109 CV Executive is €26,800 although there is currently a promotion that places it at €25,850 without the need for financing. In other finishes, it is possible to reduce the price by €1,300 if you opt for the financing of the brand, so we advise you to consult a dealer for all the promotions.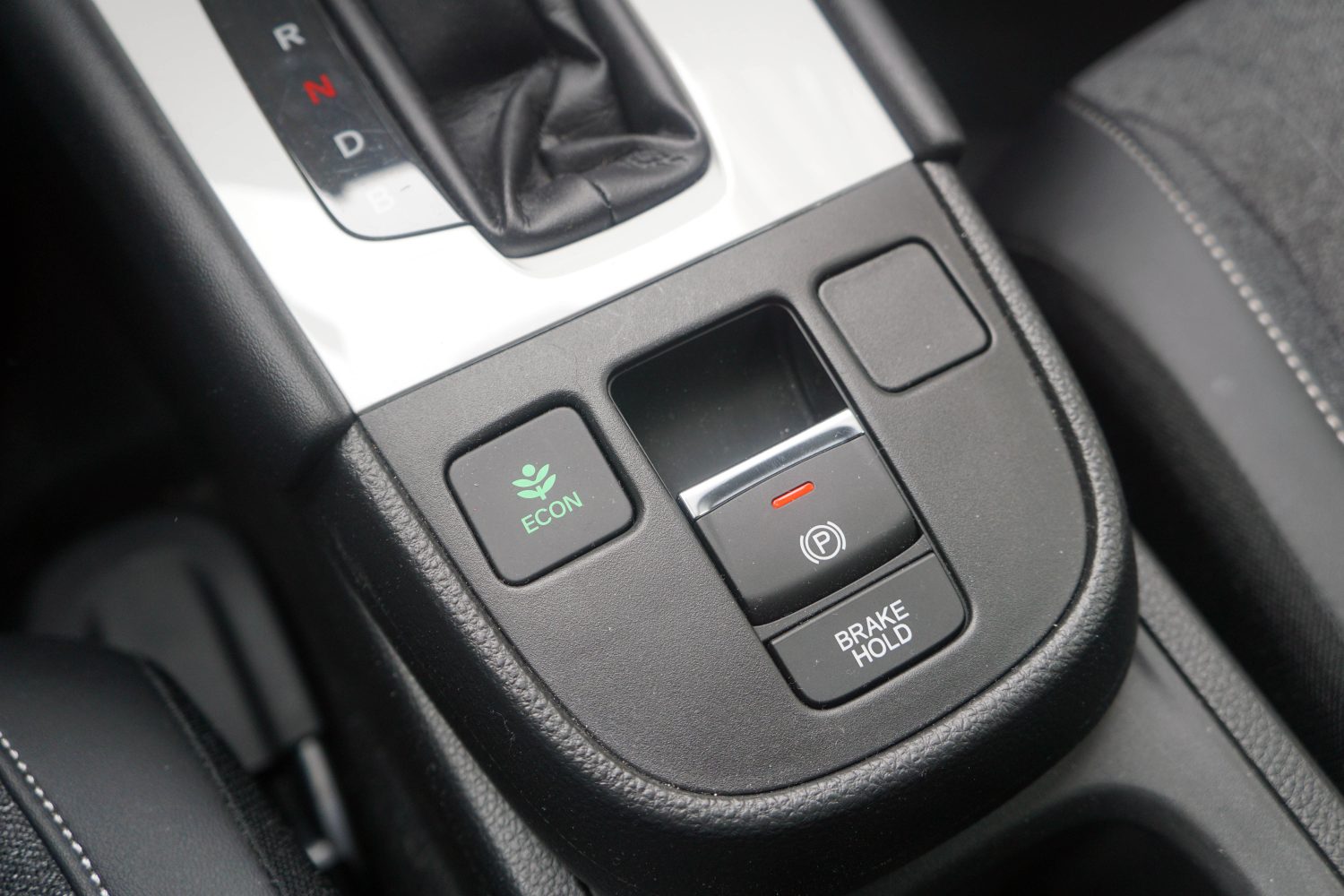 It is expensive? Since its launch it has always been, but now its rate is much more justified than before… and it is that a Renault Clio E-Tech 140 CV Zen has a cost of 23,342 € Meanwhile he Toyota Yaris 1.5 HSD Style Plus costs €22,150. Both are much less versatile and have interiors that are somewhat fair to travel with adults of a certain height.
Motor
With the latest generation of Honda Jazz the Japanese firm only offers a hybrid engine in the European market conventional. In Spain, this technology receives the ECO environmental label from the General Directorate of Traffic, so it adapts perfectly to the current market trend.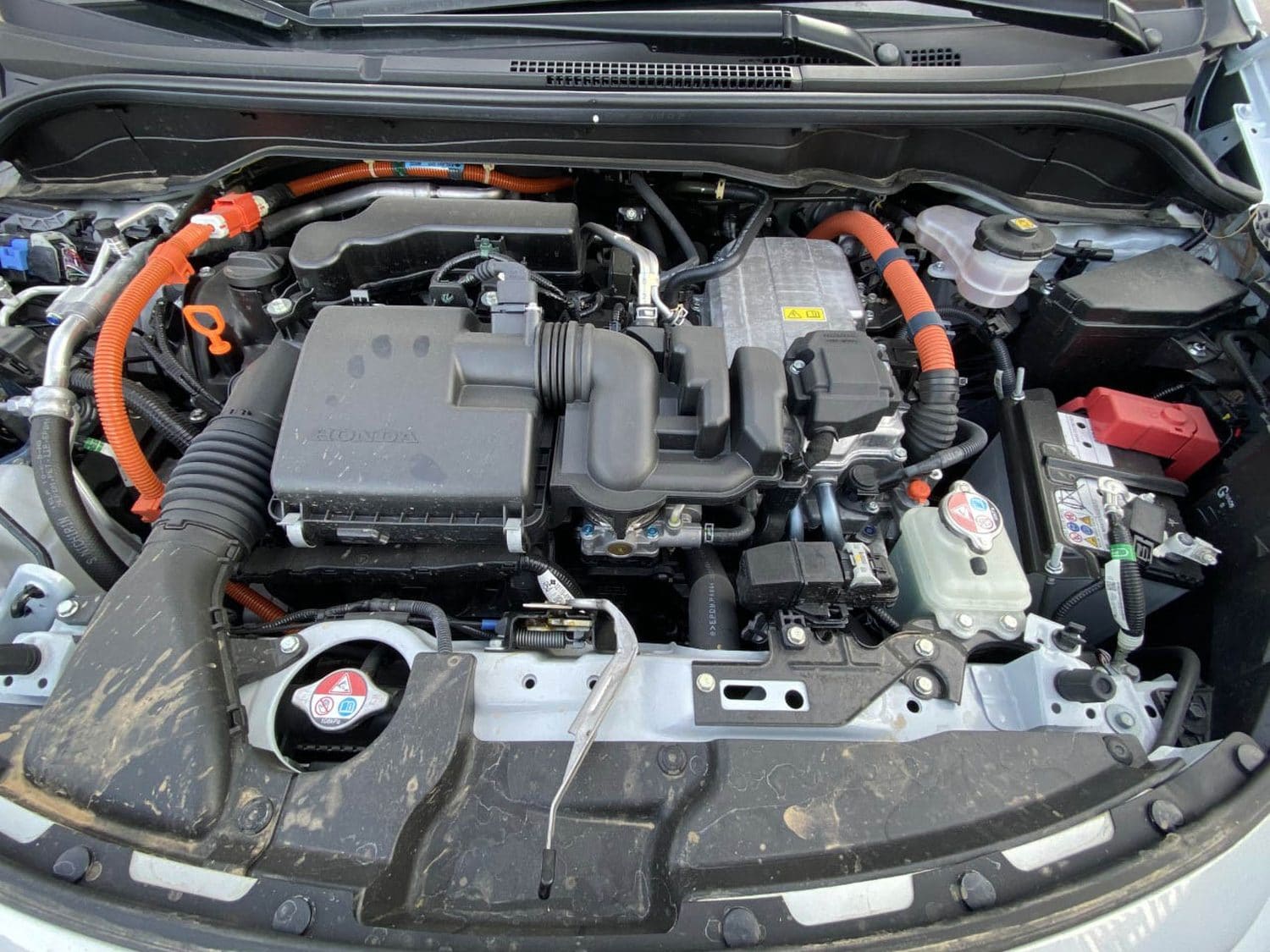 The mechanical set called e:HEV combines a 1.5 liter 98 hp petrol block with two other electric ones, one with 109 hp and another that acts as an electric current generator. The small lithium-ion battery serves to guarantee generous distances in electric mode that can reach 5 km in the most favorable conditions.
The best thing about this set is that precisely the hybrid system is very efficient and is also capable of recovering energy very quickly, making it difficult not to have a charge in the battery. Driving on the highway it is not perceived that the power varies excessively although it is true that the answer can be seen in some very specific situations, for example when climbing long slopes.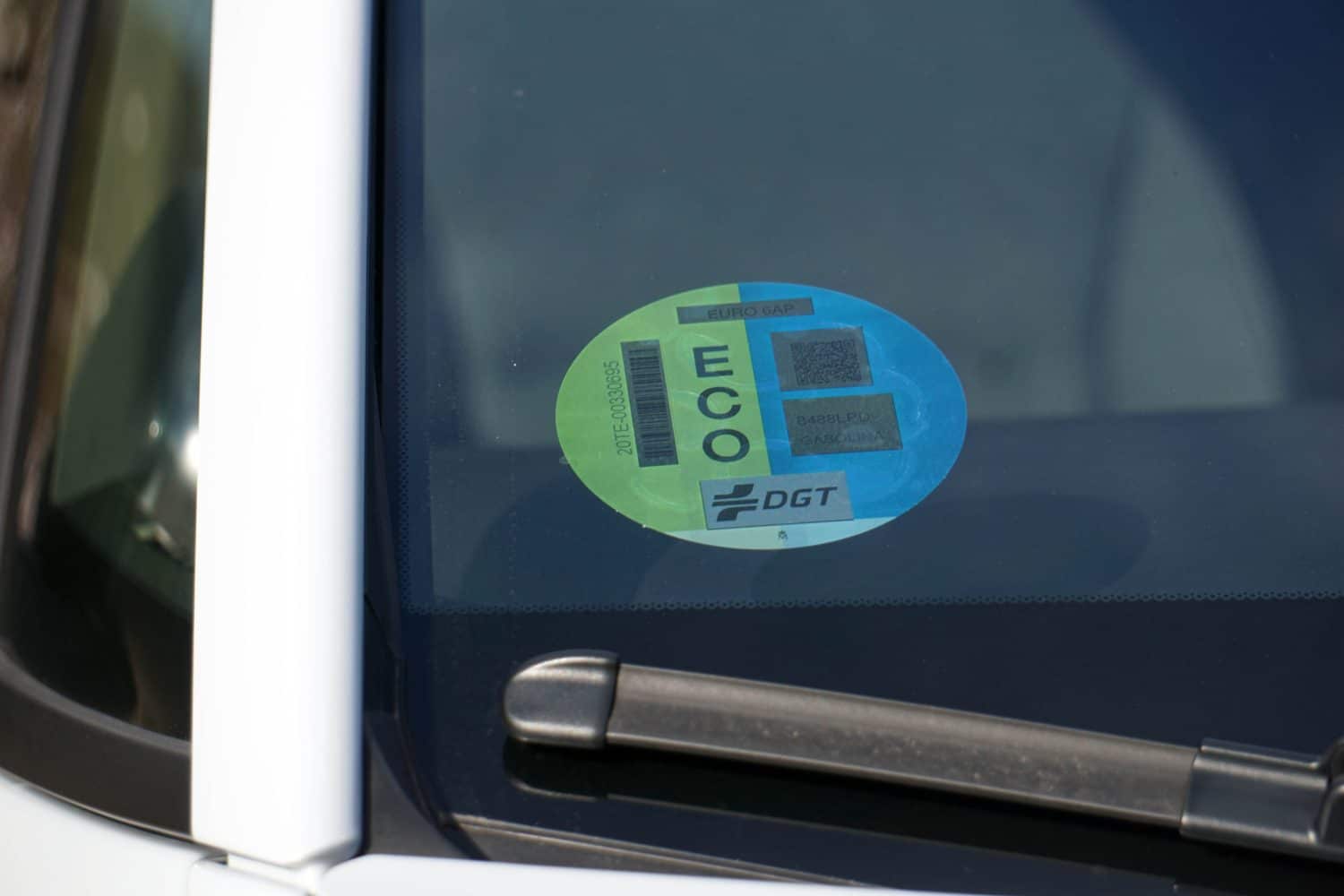 It has not seemed to me that the 109 CV available are fair. The operation of the CVT box has not bothered me too much either, despite the fact that it is not a type of transmission that I like; if you get used to it and play with the throttle you can reduce that feeling of going over revs.
The Honda Jazz can be considered a very quiet car when running in electric mode or with the gasoline engine running but at a sedate pace, or noisy if the transmission raises the speed. Perhaps in Honda they could also improve the insulation somewhat to prevent rolling noise and wind resistance from sneaking in.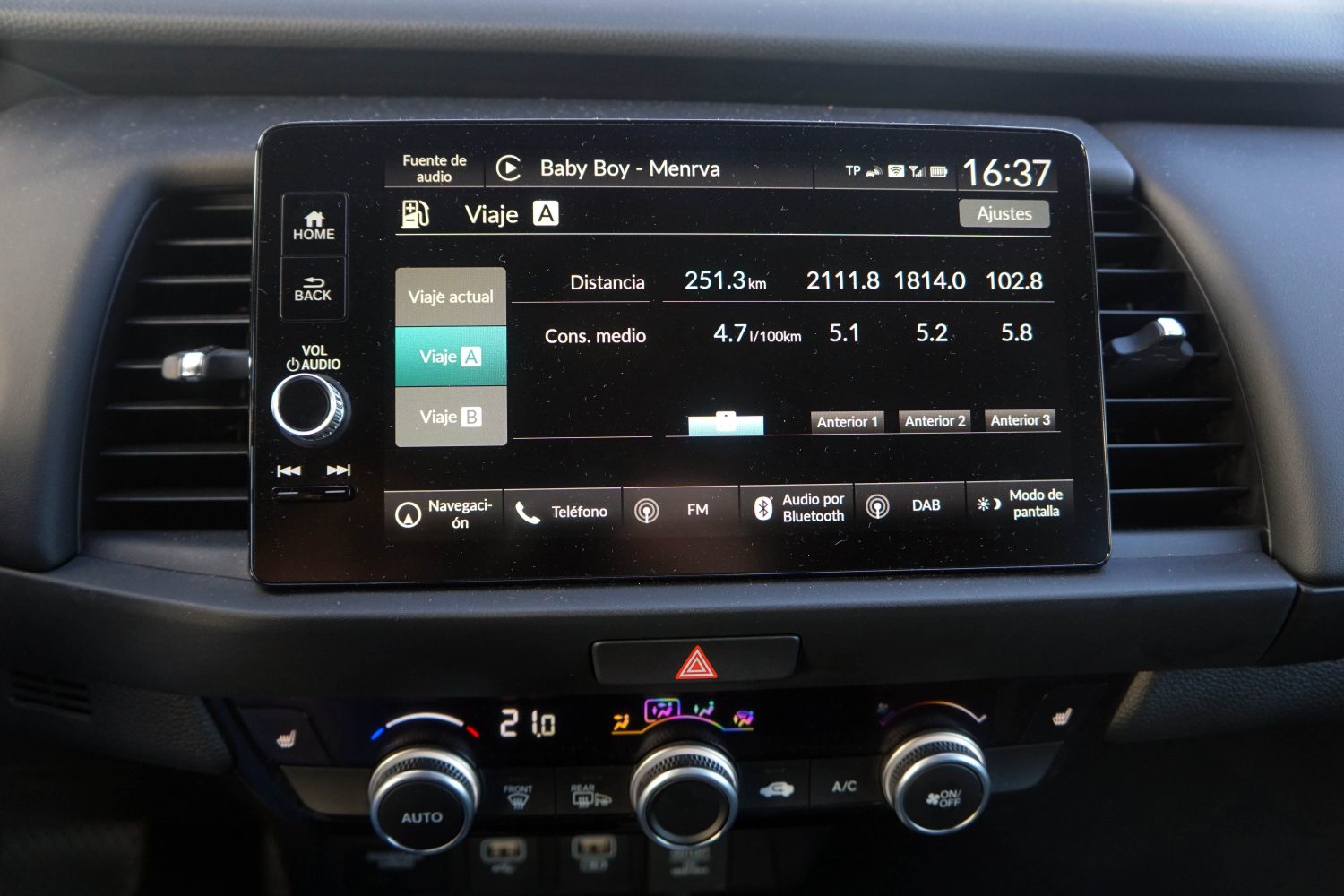 The best thing about Jazz, however, is the consumption. It is difficult to exceed 5.0 L/100 on a daily basis even pressing the accelerator given that although figures of 7 and 8 L/100 can be seen occasionally, as soon as the electric motor jumps they are considerably reduced.
On the motorway the average is about 5.0 L/100 or it can even reach 6.0 L/100 if you travel with a load, but as soon as you reach your destination or you can drive around the city a bit, the average will drop quickly. In the city, the registered average was 3.8 L/100 while on the road it also flirted with 4.0-4.2 L/100, leaving the average at 4.6 L/100 at the end of the test (800 km).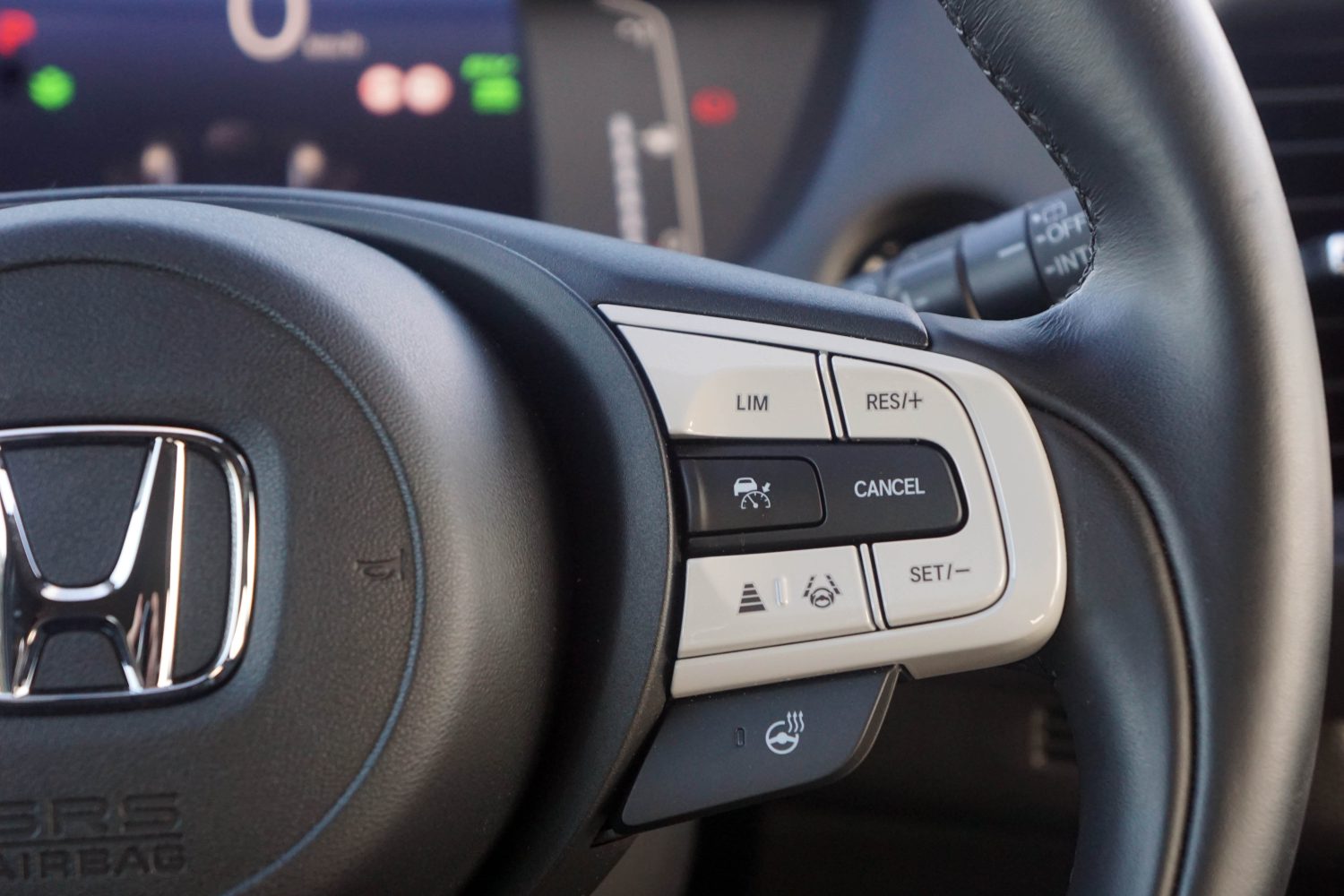 | | |
| --- | --- |
| Version | 1.5e:HEV |
| Displacement | 1,498cc |
| Power | 109 hp |
| Pair | 131Nm + 253Nm |
| Weight | 1,228kg |
| Dimensions L/W/H mm | 4044 / 1694 / 1526 |
| Trunk Volume | 304 / 1,205 liters |
| Acceleration 0 to 100 km/h | 9.5 sec |
| Recovery 80 to 120 km/h | 8.1 sec on D |
| Maximum speed | 175km/h |
| Approved consumption | 4.6L/100 |
| electrical autonomy | 2km |
| CO2 emissions per km | 104g |
| DGT sticker | Echo |
| starting price | €25,850 (Executive without all discounts) |
Behavior
The Honda Jazz is a family car that has a correct walk but does not fall in love or invite you to aggressive driving. It is indicated for those customers who are looking for, above all, a practical and easy-to-drive car that does not complicate their lives, and is especially comfortable.
I like how easy it is to handle all the elements. In the Honda Jazz you will only have to put the "D" and control the steering wheel, brake and accelerate. There are no more secrets or complex systems that alter driving modes (although there is an ECO function) or other «modernities». Driving has been simplified and I like it.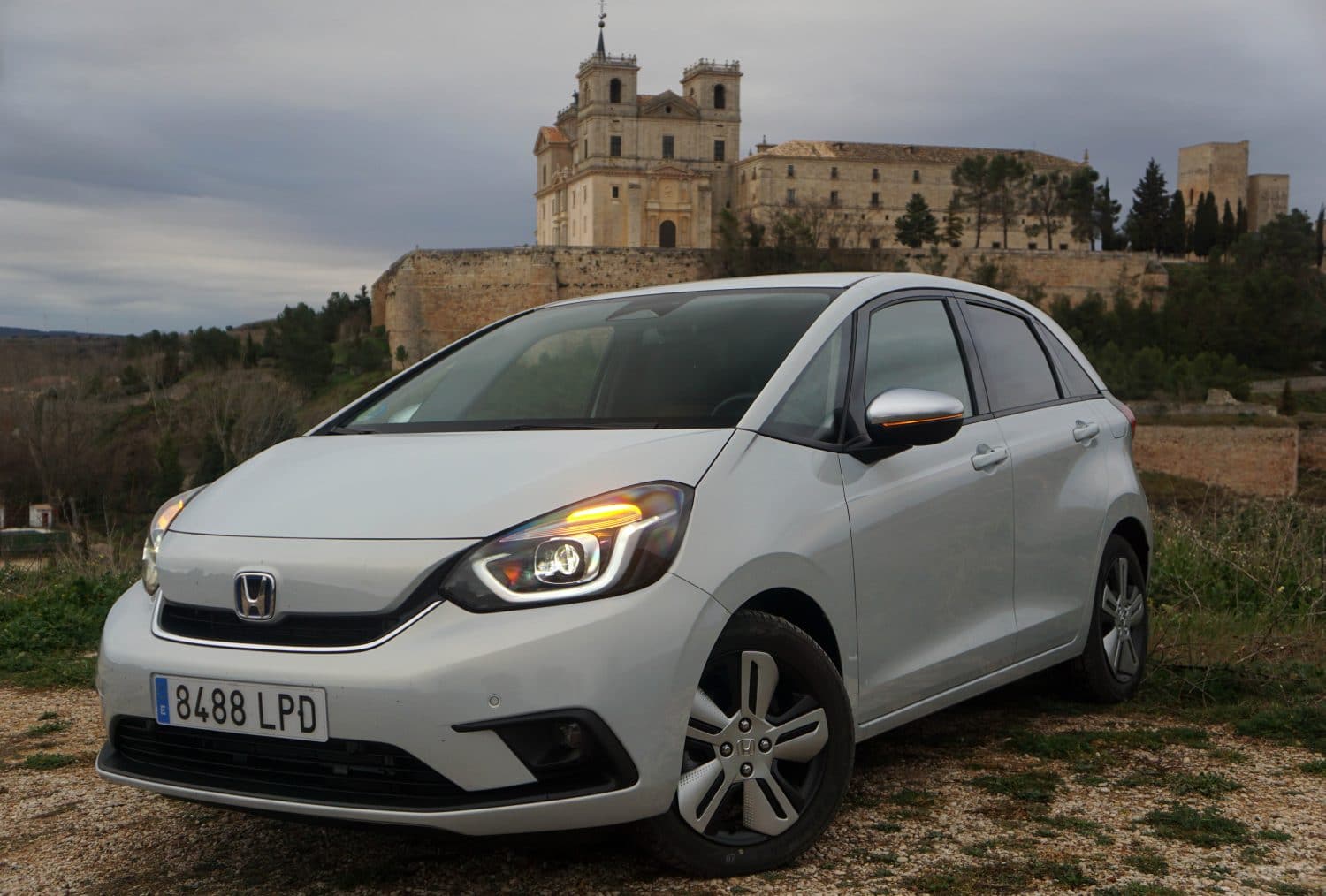 I think that the Honda Jazz responds very well to a public that does not want to do without a complete security package but at the same time wants to understand everything quickly, without the need to "study". For retirees and people with certain mobility problems, it also seems perfect for its easy access.
On the motorway you can travel without problems, with sufficient performance and always adjusted consumption. It is true that sometimes it can be noisy but as a general rule it is not once the cruising speed is stabilized. The slightly raised driving position is also appreciated.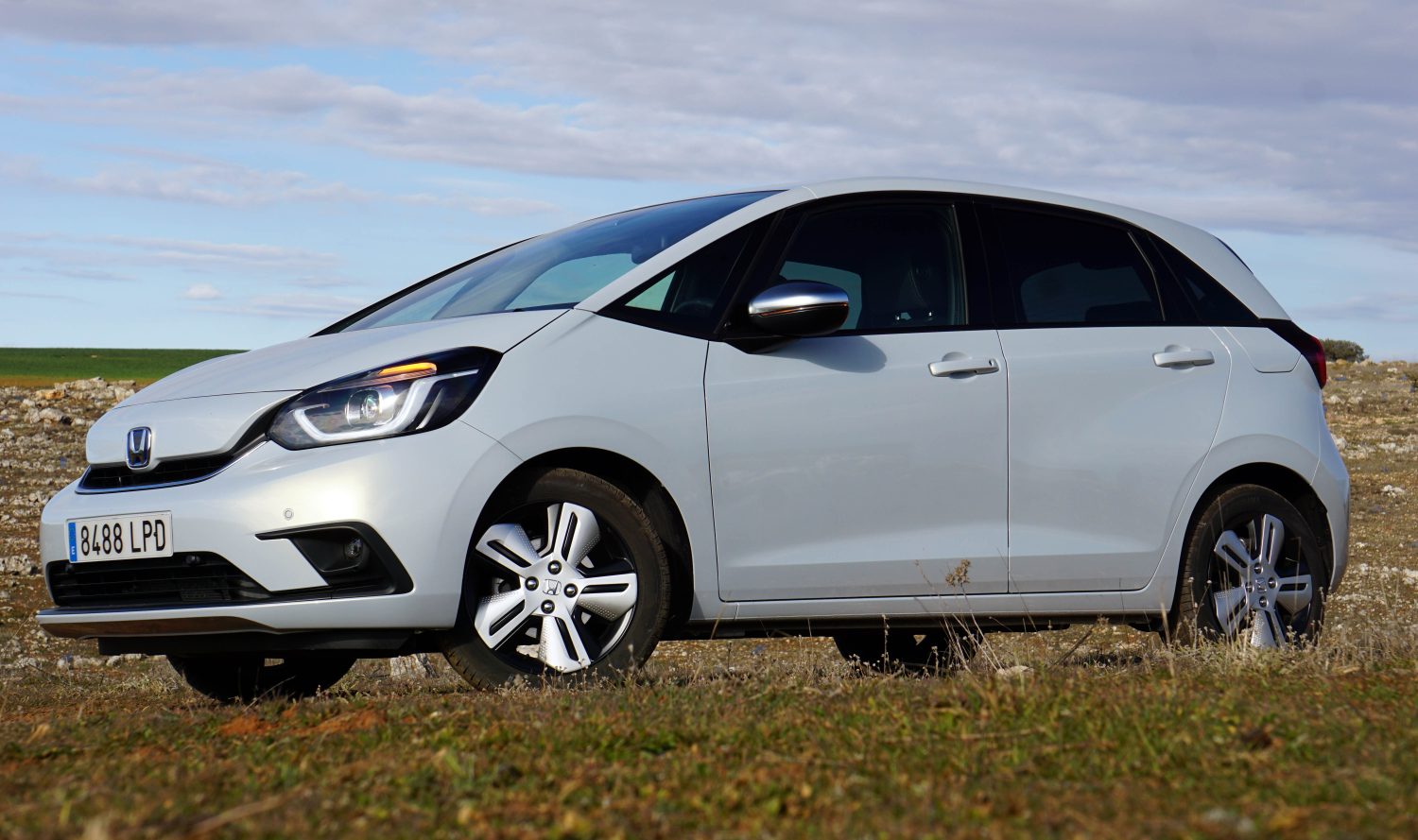 As for urban circulation, it seems to me that it is the best scenario to get the most out of it. It spends little, it is simple, easy to drive, with good visibility and the engine responds freely. As it is only 4.1 meters long, it is also not bulky and can be parked anywhere.
For all the above I think the Honda Jazz e:HEV is one of the best hybrids you can buy today. It is true that the Toyota Yaris plays with the trump card of a more pleasant aesthetic, but it is very far in versatility or amplitude, something that is extensible to the Renault Clio E-Tech. The more expensive Yaris Cross doesn't have as modular an interior either, and this is where the Honda Jazz is unbeatable.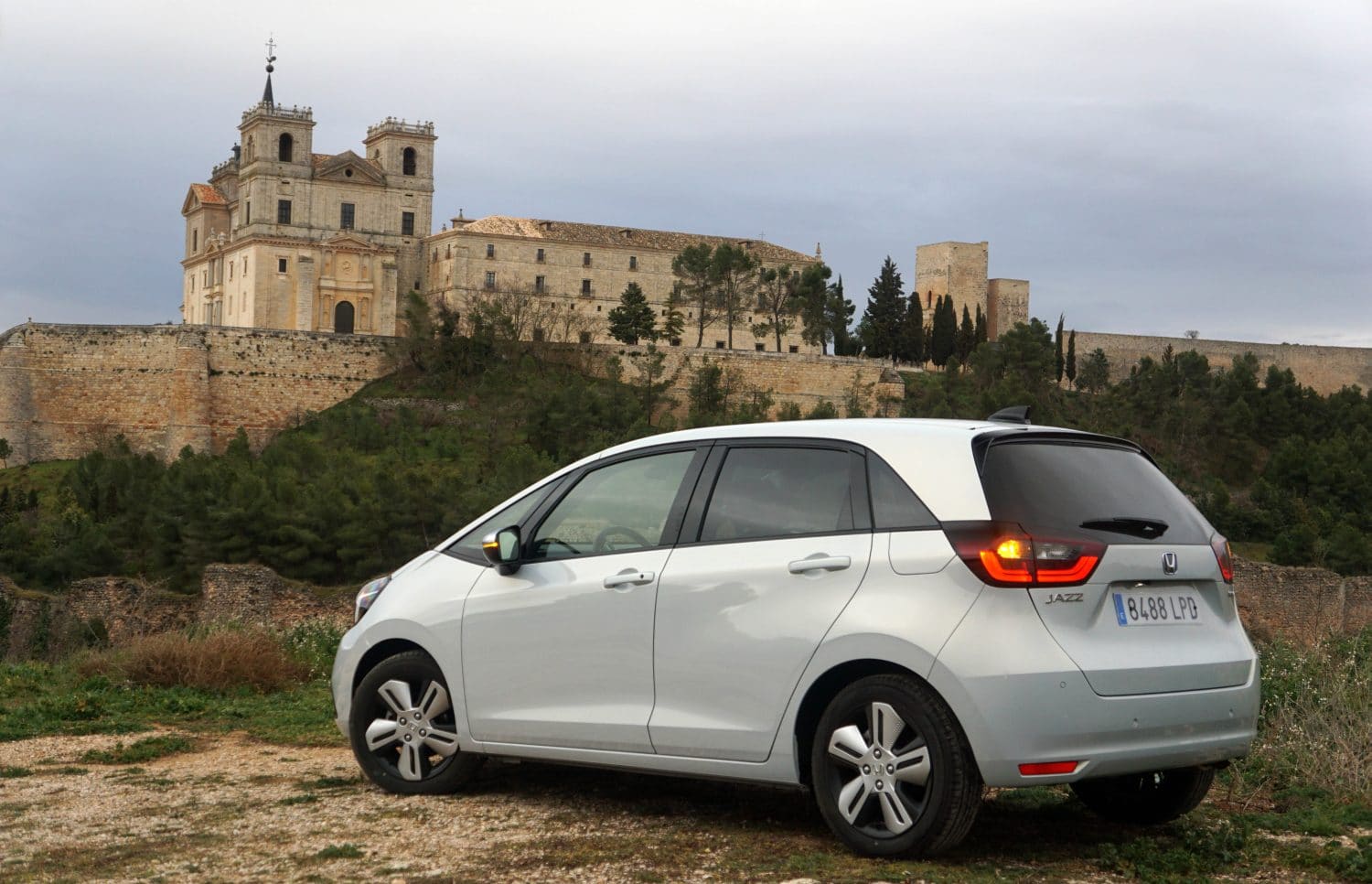 7.8
Remarkable
The Honda Jazz is a very versatile car that stands out for its versatile and modular interior, complete standard equipment and very tight consumption at all times. Play with the advantage of the "magic" rear seats to distance yourself from direct rivals. Its price is no longer as high as before in relation to the competition.
The good
versatile inside
Very low consumption
complete equipment
What can be improved
noisy gearbox
somewhat high price
Narrow rear center seat