There are fewer and fewer cars left to enjoy in the European market at an affordable price like this Hyundai i10 N-Line that we bring you today. With the urban ones already surpassing the barrier of twelve thousand euros in their entry versions, it is complicated and very difficult to justify the launch of somewhat more spicy alternatives that end up costing the same as many compact ones.
Currently only Abarth and MINI can afford the luxury of offering dynamic products. with sizes well below four meters at compact prices regardless of their sales. They are passionate cars that luckily still have a very faithful audience to the concept.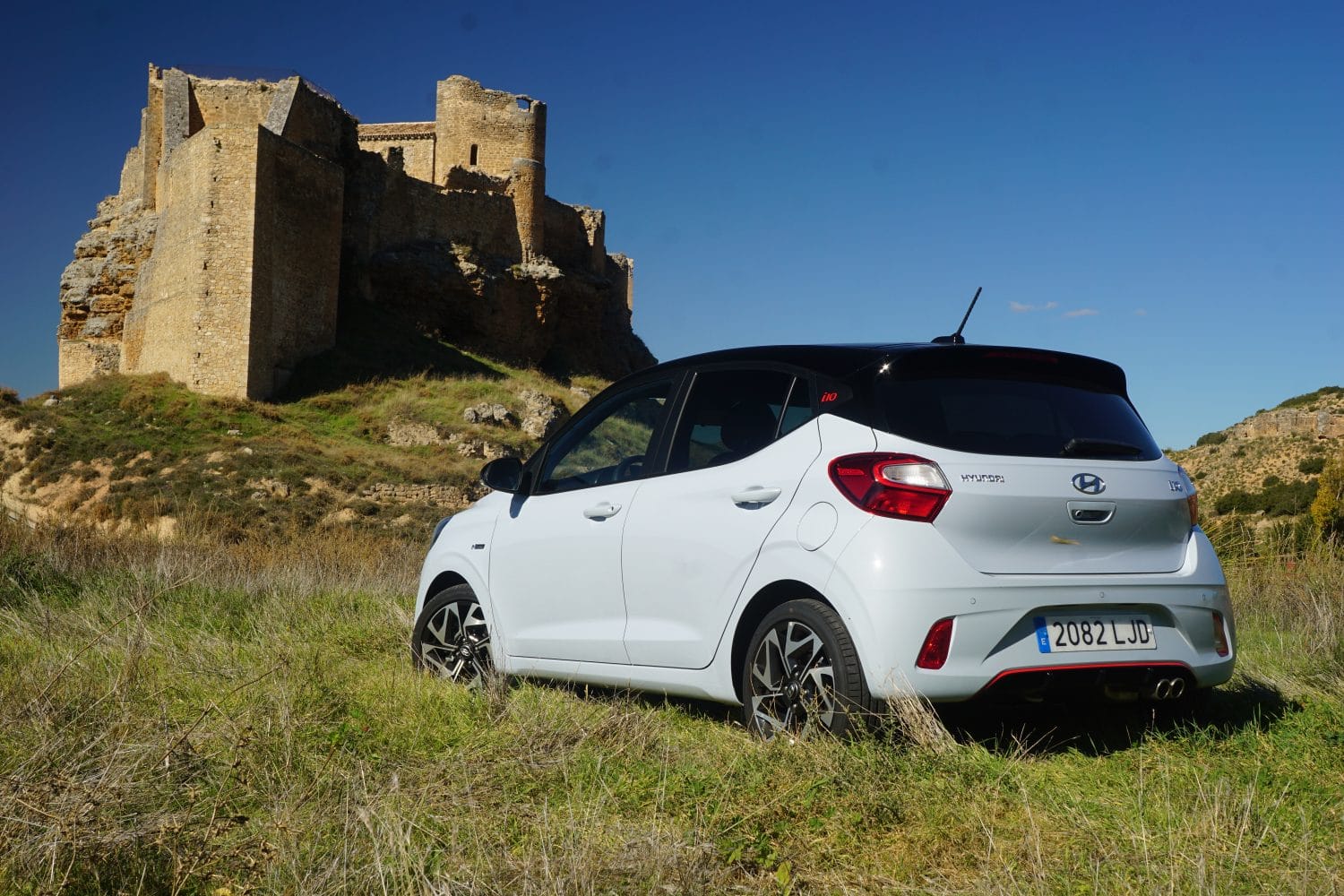 The Hyundai i10 N-Line, on the other hand, has it much more complicated and together with the Kia Picanto with its supercharged engine, it is the only car in segment A that offers an interesting level of performance with a "racing" touch … not sporty. And it is that the South Korean tries to be so confident that in the end he forgets to make you smile.
I have had the opportunity to test a Hyundai i10 1.0 TGDI 100 CV N-Line for a few days and I must admit that it will win you over with its aggressive and handsome appearance, correct performance and a footprint more typical of a larger car … even if you can't find fun anywhere.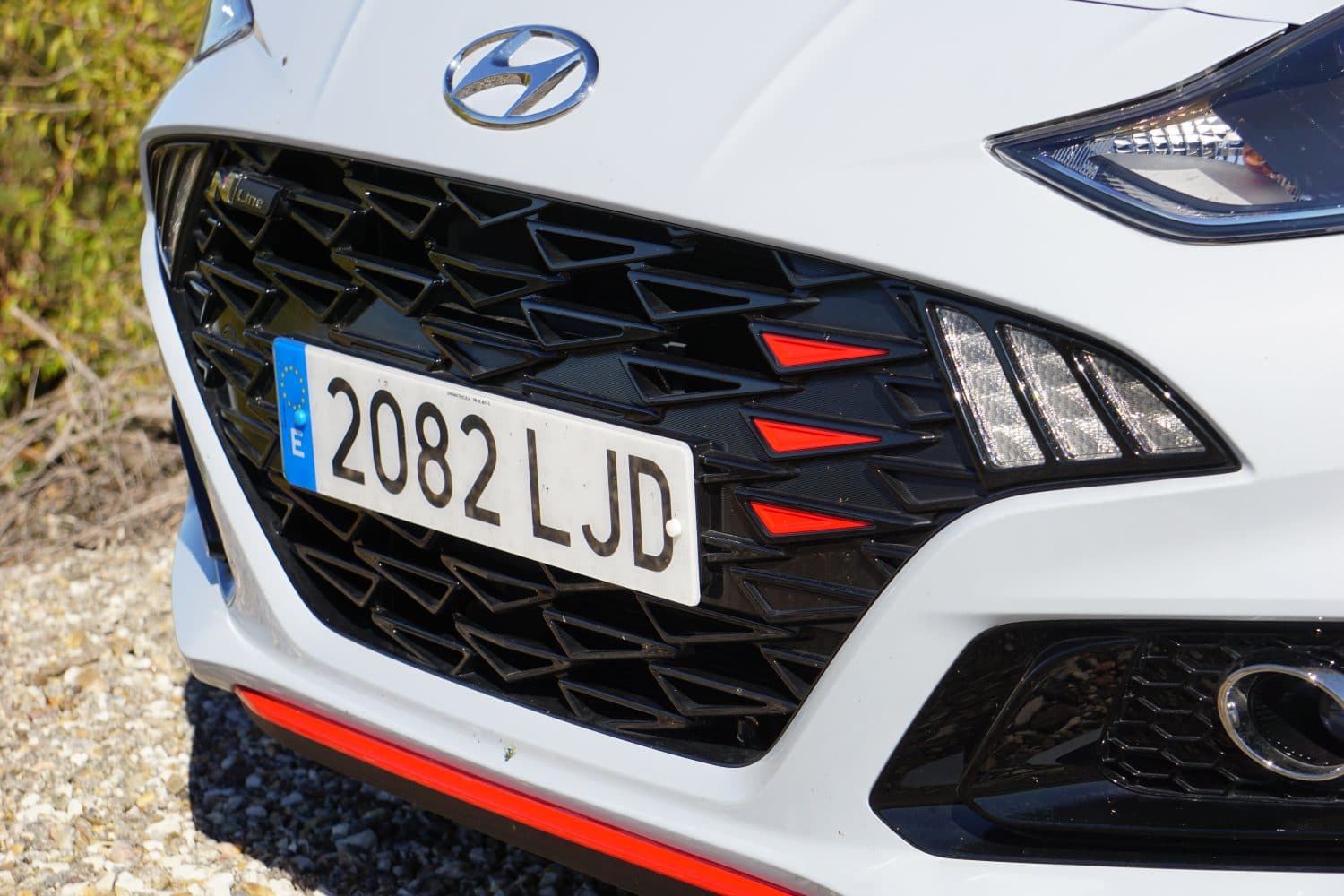 Design
Without a doubt, the Hyundai i10 N-Line plays the design card to drive users crazy. The sports package with the «N» stamp adds a fresh, youthful and dynamic touch that suits you wonderfully, highlighting the front with the very striking LED daytime running lights.
Users will like little or very little if it comes standard with halogen main optics and one with LED technology is not offered as an option. Today even the Dacia Sandero, the most affordable car on the market, includes this type of lighting at no cost. Hopefully Hyundai will take note and soon all its offer also includes this type of bulb.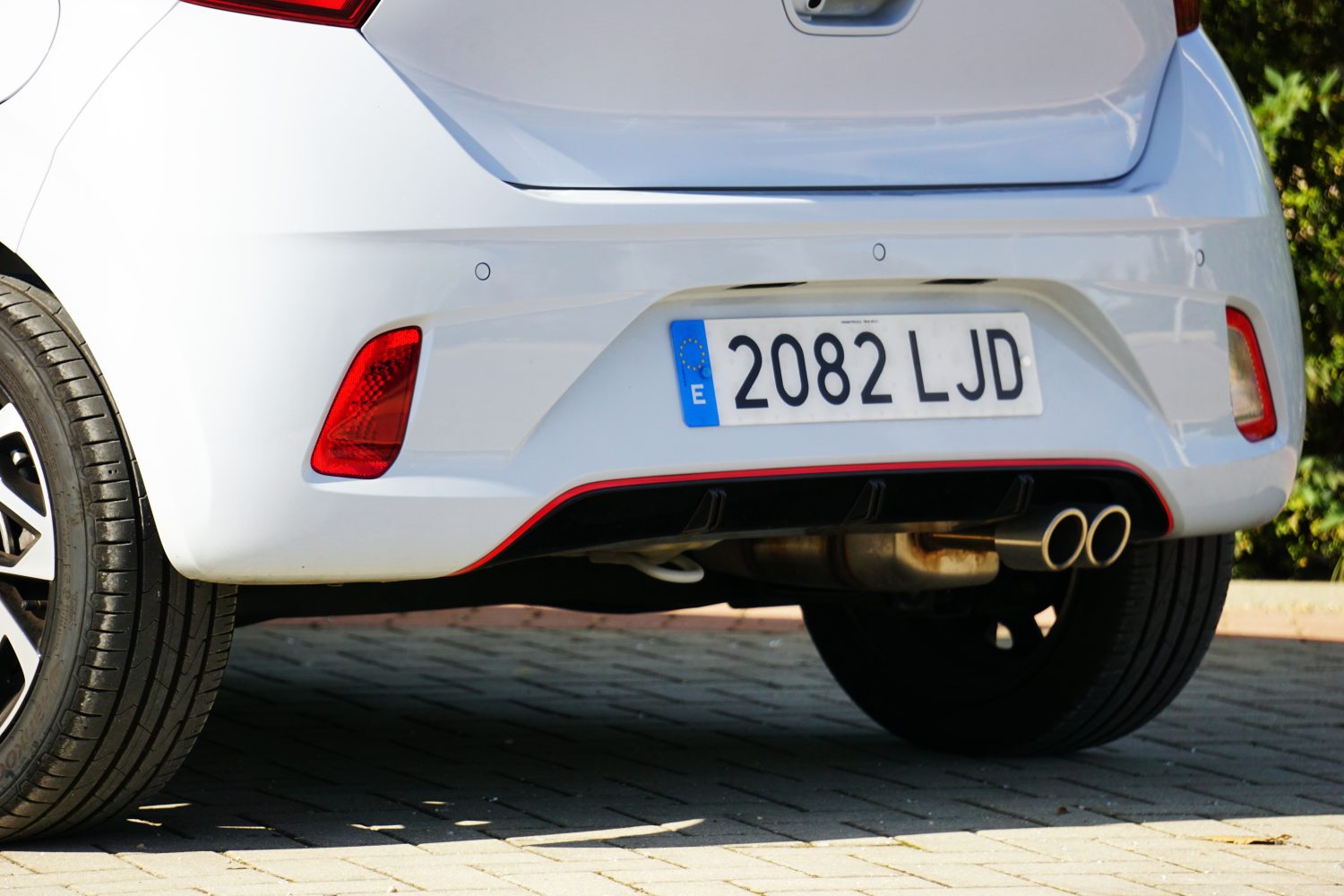 Continuing with the design, we must highlight the beautiful light alloy wheels that at 16 inches are not exaggerated and they look great. The two-tone bodywork, the rear spoiler, the chrome tailpipes or the tinted windows are other details that manage to print a tremendously attractive image to the urbanite.
Inside
Already inside any Hyundai i10 likes for the very correct arrangement of all the controls, a very careful presentation and materials that Although they are always hard, they convey solidity and good quality. Since the door panels have some problems, they could include some upholstery that improves the sensation to the touch, but it does not seem to me to be something decisive.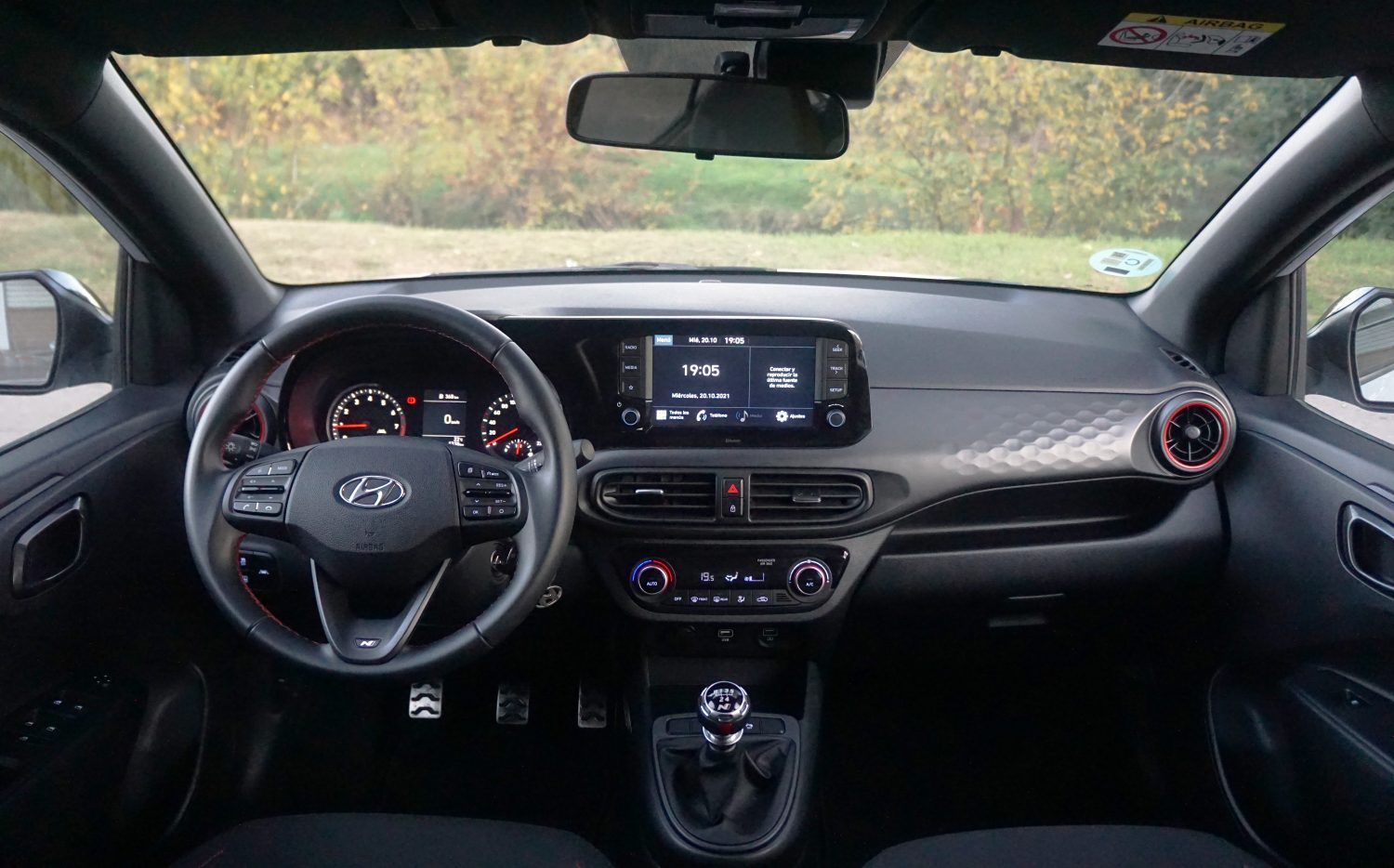 The conventional instrumentation surprises in this model with traditional style analog watches. They are very legible but for what it costs it would have been very nice to include the same configurable screen that the Hyundai i20s carry, very attractive, pleasant to read and more in line with current times.
It does include an interesting automatic climate control with physical controls that are very simple to use. They are at the correct height and accurate. A little higher up is the 8-inch touchscreen multimedia system, Apple CarPlay, Android Auto, DAB radio… and without a browser. Again seeing the price it would have been nice to include it as standard.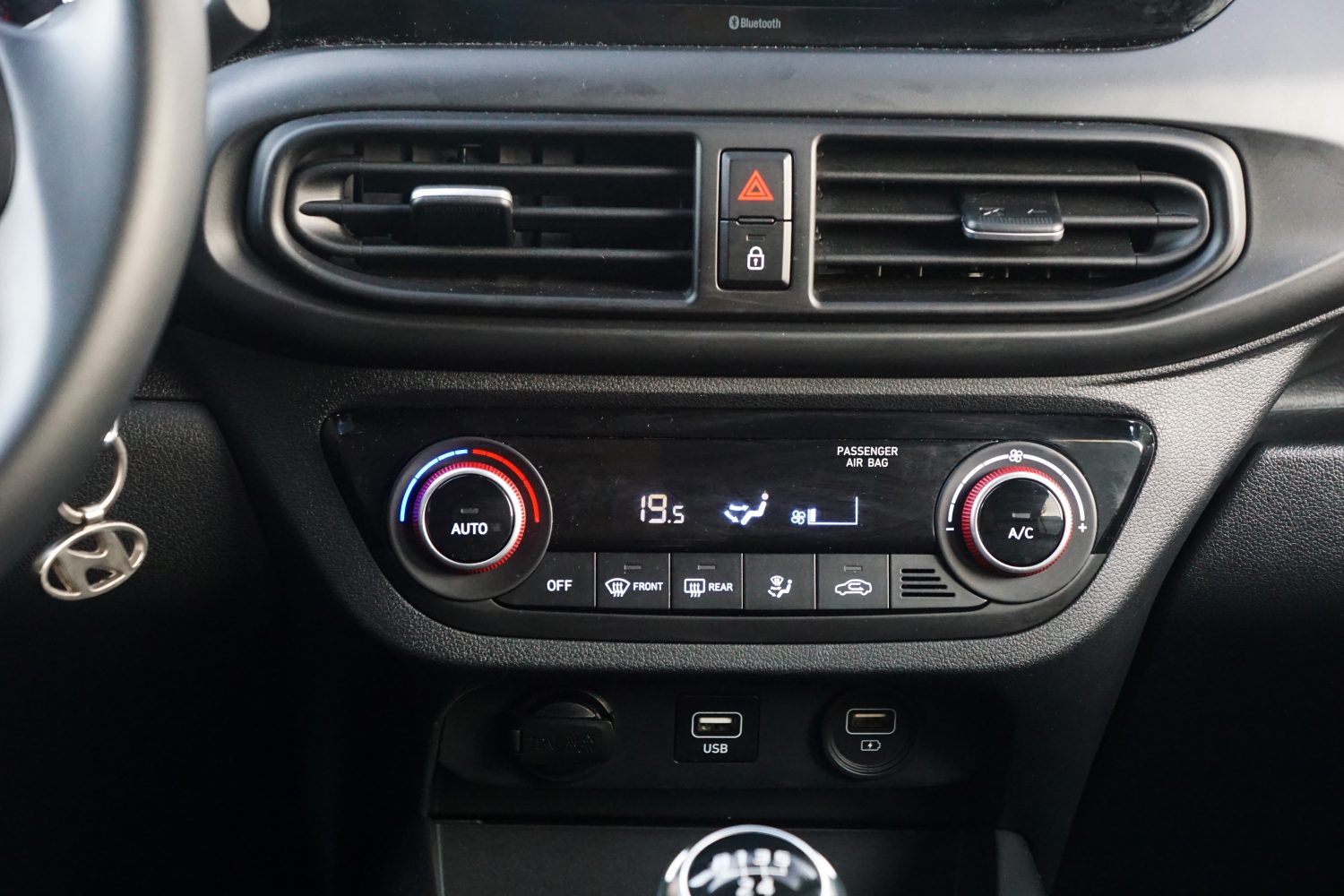 Scattered throughout the interior there are several holes to leave objects that make things much easier on a day-to-day basis. It is surprising that being such a small car it conveys such a feeling of space, although if you are large the seats could seem somewhat fair in width. The good news is that they are comfortable and support the body well.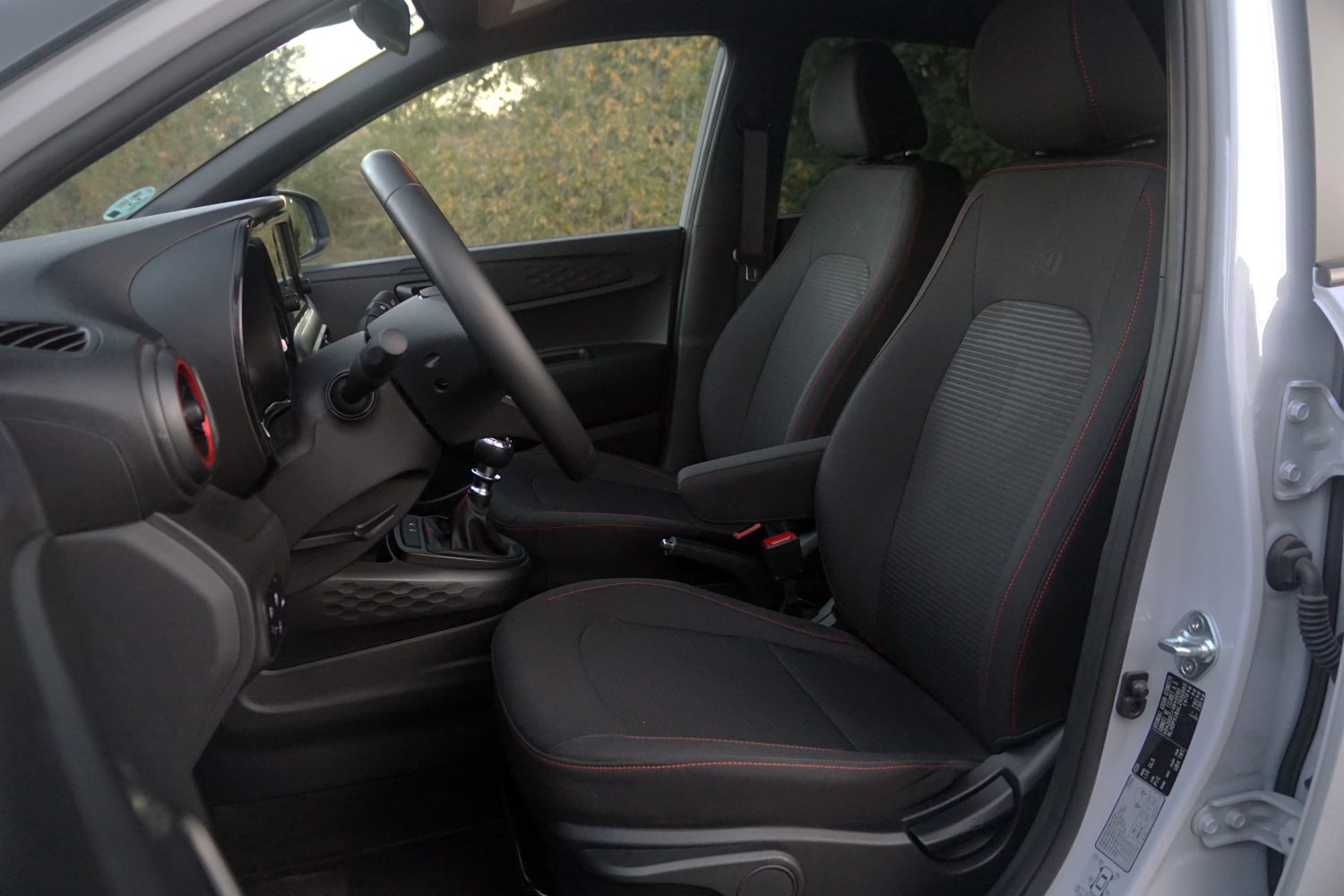 Habitability
The Hyundai i10 could not ask for more inches inside. It must be recognized that for such a small car it is very well used and four adults will be able to travel without too many problems. A fifth guest should be very small not to end up canned so it is best that it be considered as a four-seater.
In the front seats there are enough centimeters towards all heights so as not to feel overwhelmed. I liked the position at the wheel in general, although the more dynamic character of the car does not correspond to that position; It is an urban and it shows in everything. Of course, the aluminum pedals put the note racing to the whole.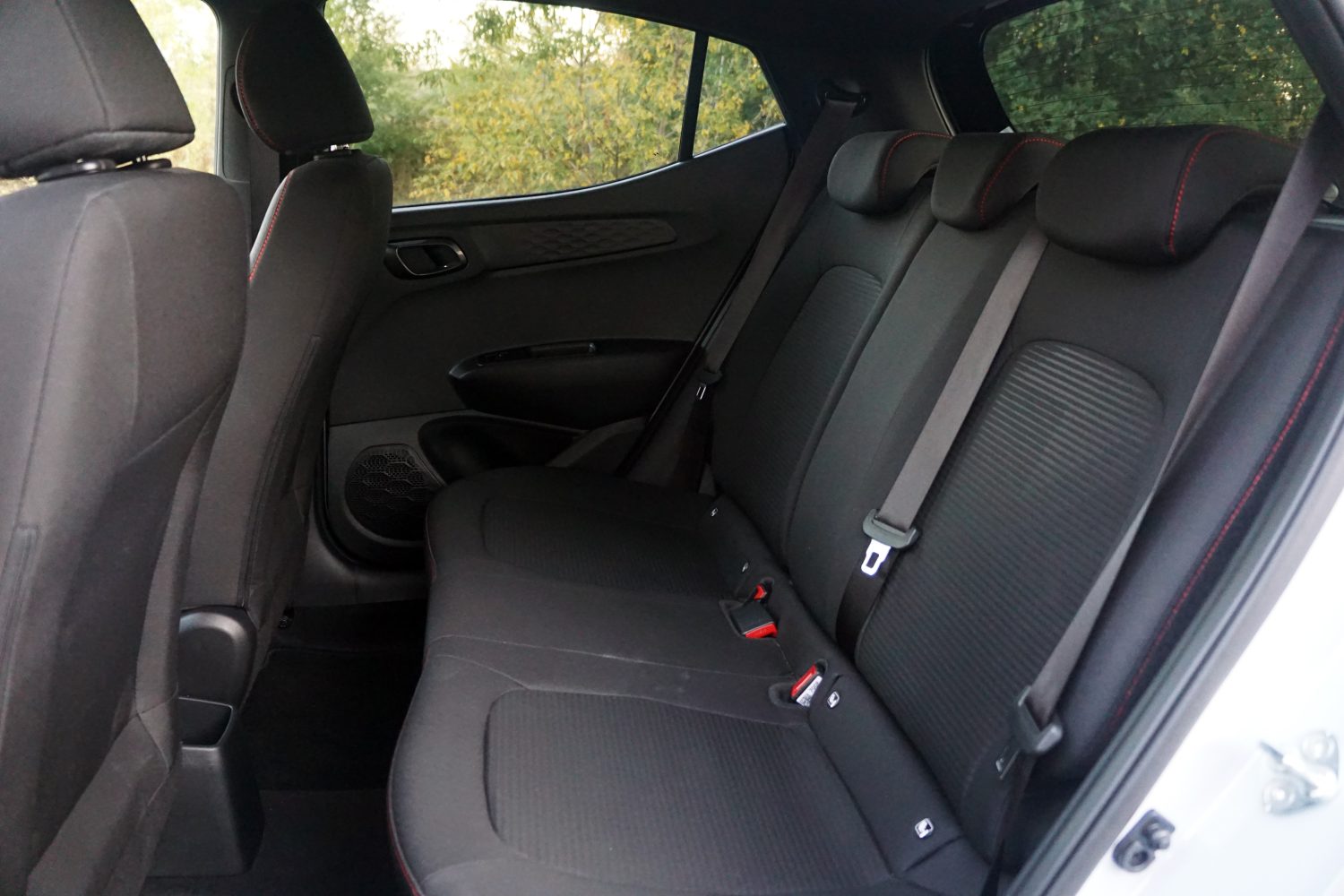 The rear seats They have electrically operated windows, the windows are darkened and there are some small bags on the doors to leave objects. What it does not have are direct air ducts and this is a shame given that the versions destined for India do include them.
Trunk capacity starts at an interesting 252 liters that can be expanded to 1,050 by removing the tray and subsequent backups. If we take into account that it measures 3.67 meters in length, it is a very good figure. Of course I have found it useful and sufficient for weekend getaways or to carry out the weekly shopping.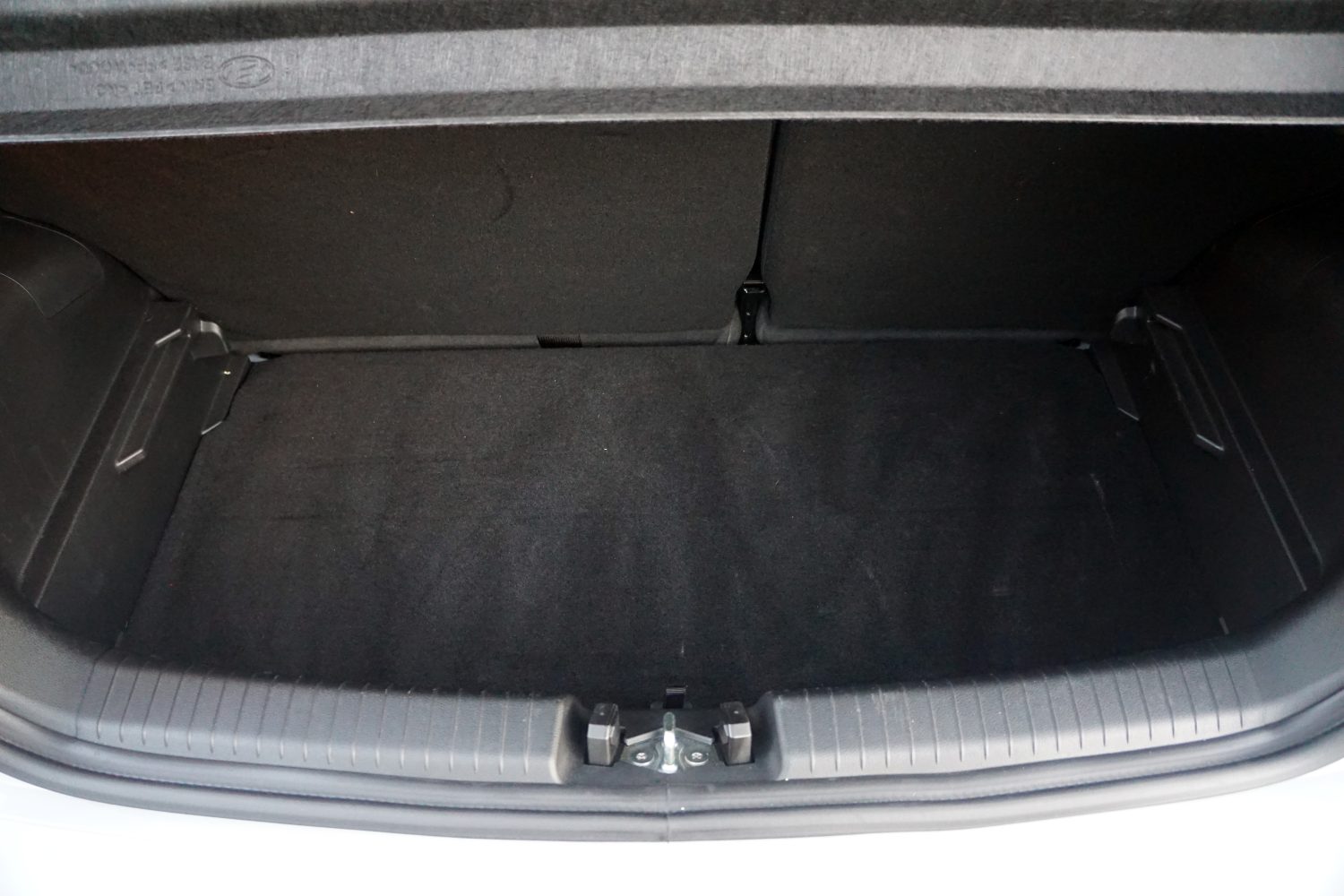 equipment
The N-Line trim level is the only one that can be combined with the 1.0 TGDI 100 hp engine. It is a finish that seeks above all sportsmanship in its appearance, playing with the exterior aesthetic package that, being frank, feels great. The wheels, LED lights or details in red manage to transform this little one.
In safety, the i10 N-Line includes the involuntary lane alert and assistant, traffic sign reader, rear view camera, automatic headlamp, Smartbeam, fatigue detector, LED taillights, fog lights, cruise control with limiter, rear parking sensor and Hill Assist.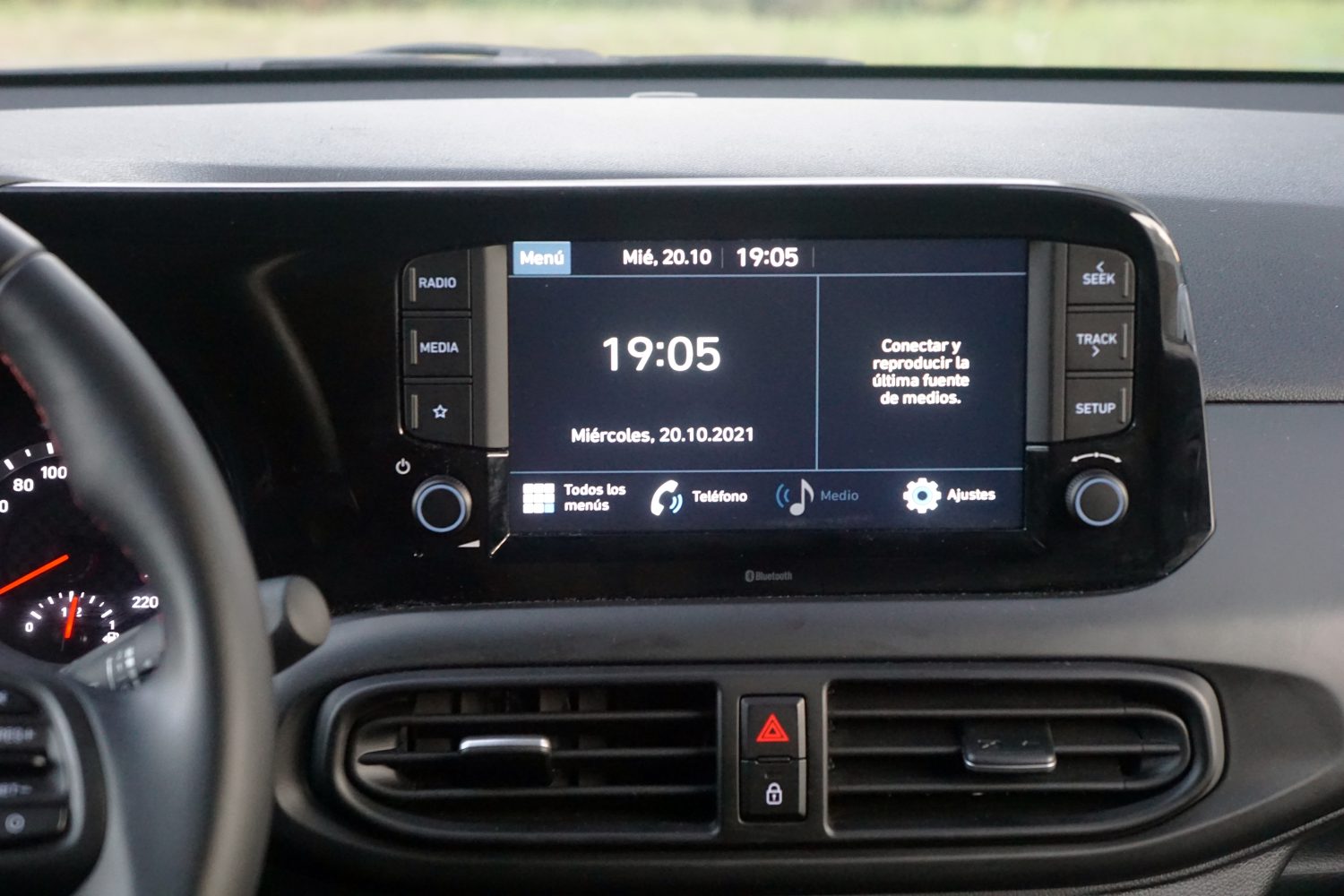 Other elements included as standard are the automatic climate control, trip computer, heated mirrors, four electric windows, closing with control, front center armrest, rear seat folding by parts, tinted windows, multimedia system with 8-inch screen, Apple CarPlay, Android Auto, bluetooth, DAB radio, etc.
The starting price of the Hyundai i10 1.0 TGDI 100 CV 5MT N-Line has been set at € 20,220 which is a priori an exorbitant delay. If discounts apply can be reduced to € 16,920 which are still a lot of euros. This is why during the upper lines the equipment has been criticized; for what it costs it should have LED headlights, navigator and keyless access among other things.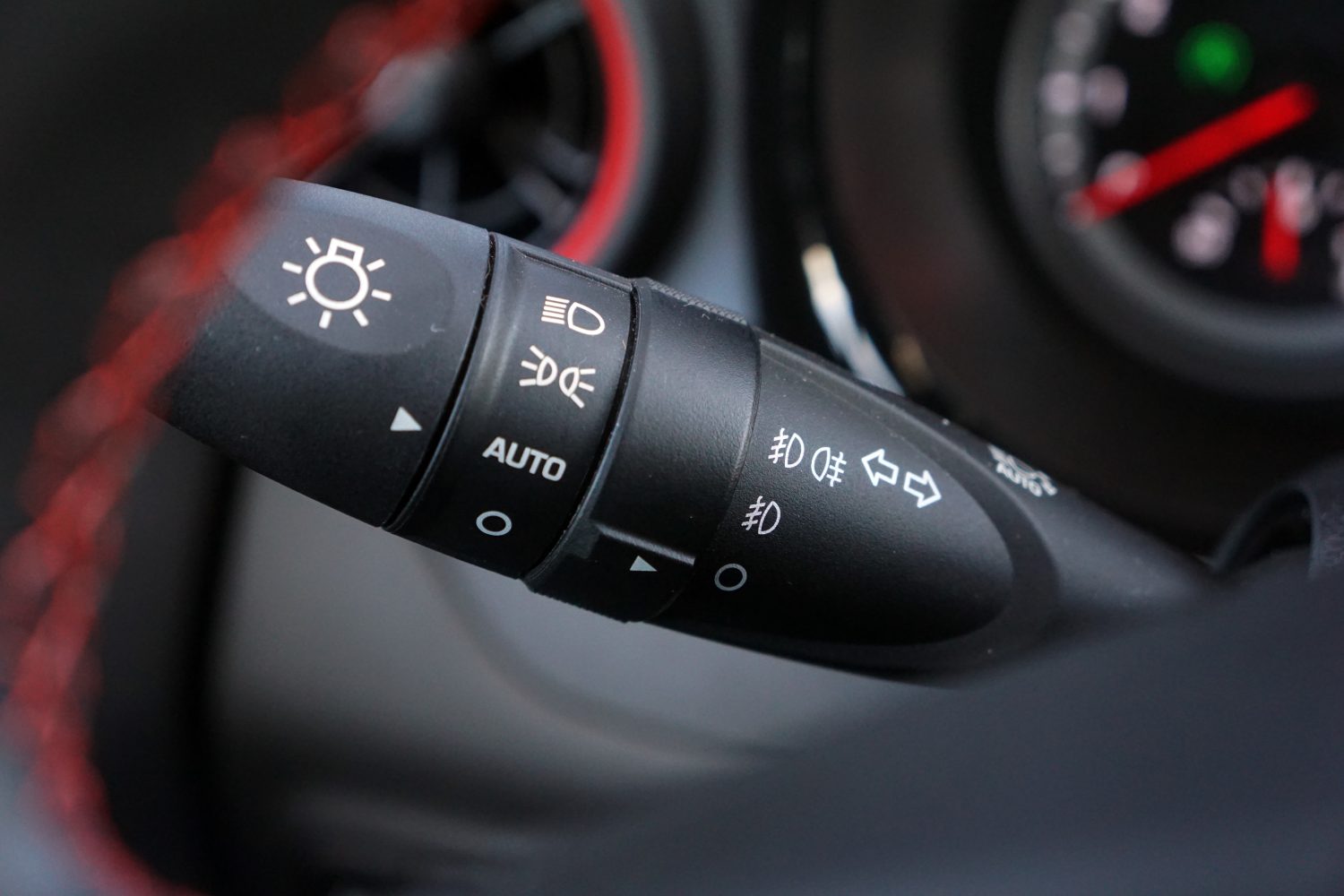 However, and despite the fact that it is expensive, it is not badly located in the current market that has such inflated prices that it gives a few scares. At the time of writing this test, November 2021, the semiconductor and chip crisis has managed to put the prices of new vehicles into prohibitive, and also having to wait many months to receive it. It is the law of supply and demand, and today there are no cars available.
Knowing this and if compared to the rest of rival vehicles we can see that the Kia Picanto comes out better off with which it shares motorization and many other elements. The 100 hp engine here can be chosen with the GT-Line finish (from € 13,991 with promotions) or the X-Line camper (from € 14,312). If we look at a Suzuki Swift Sport with its 129 hp it goes beyond 22 thousand euros, that is, crazy.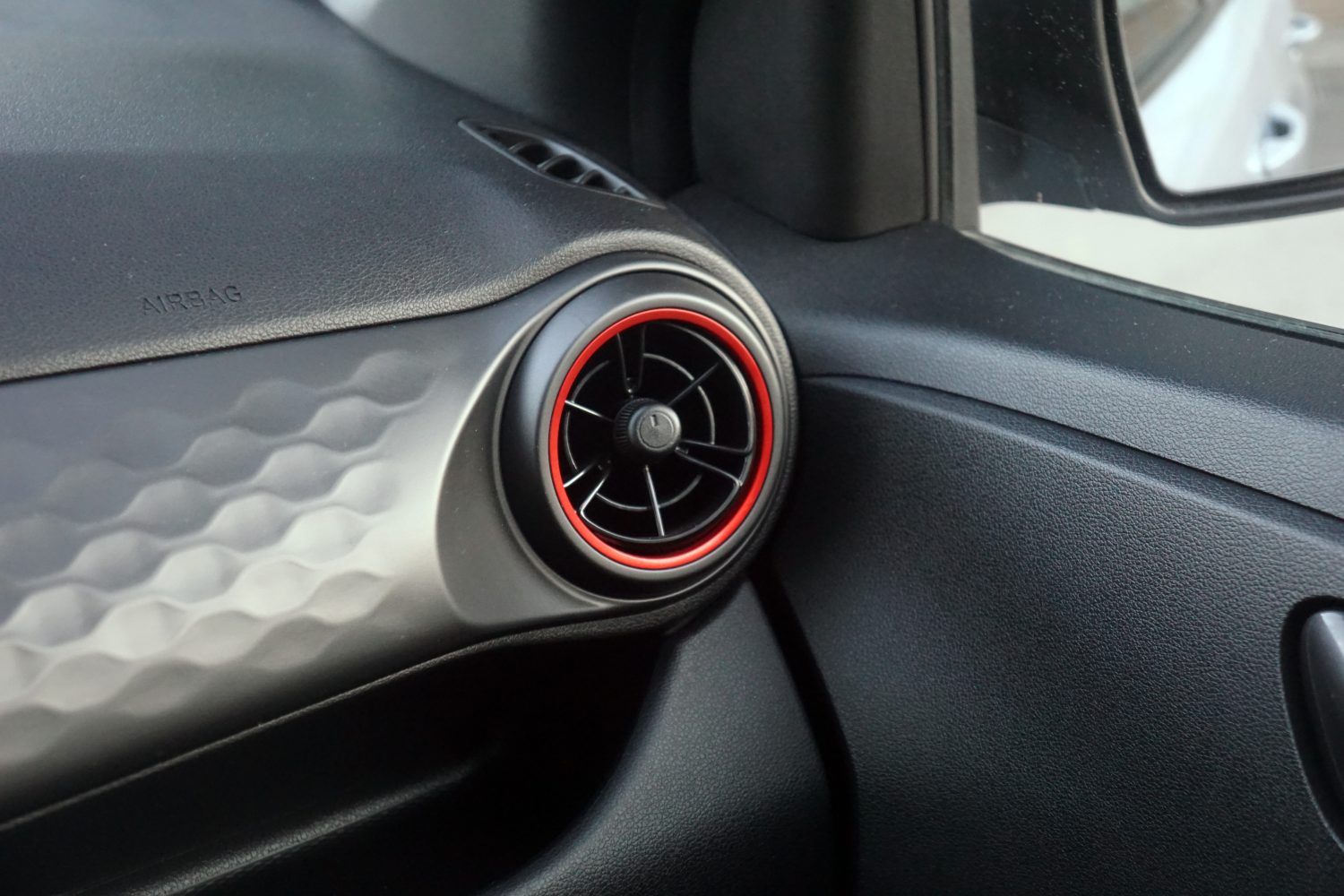 Motor
Under the hood the small i10 N-Line hides the well-known and widely used in the Hyundai-Kia alliance three-cylinder block with one liter and 100 hp of power in combination with a five-speed manual transmission. Positions to order would have been great to include light hybridization (which is available on the i20) and / or a six-speed manual gearbox. However, space or economic problems have not allowed it.
This one-liter engine moves frankly the 1,099 kg of weight of this little guy. The 100 CV spread very well at all times although the five-speed transmission could improve its developments in the first two gears; they are very close and it is somewhat uncomfortable to start the march.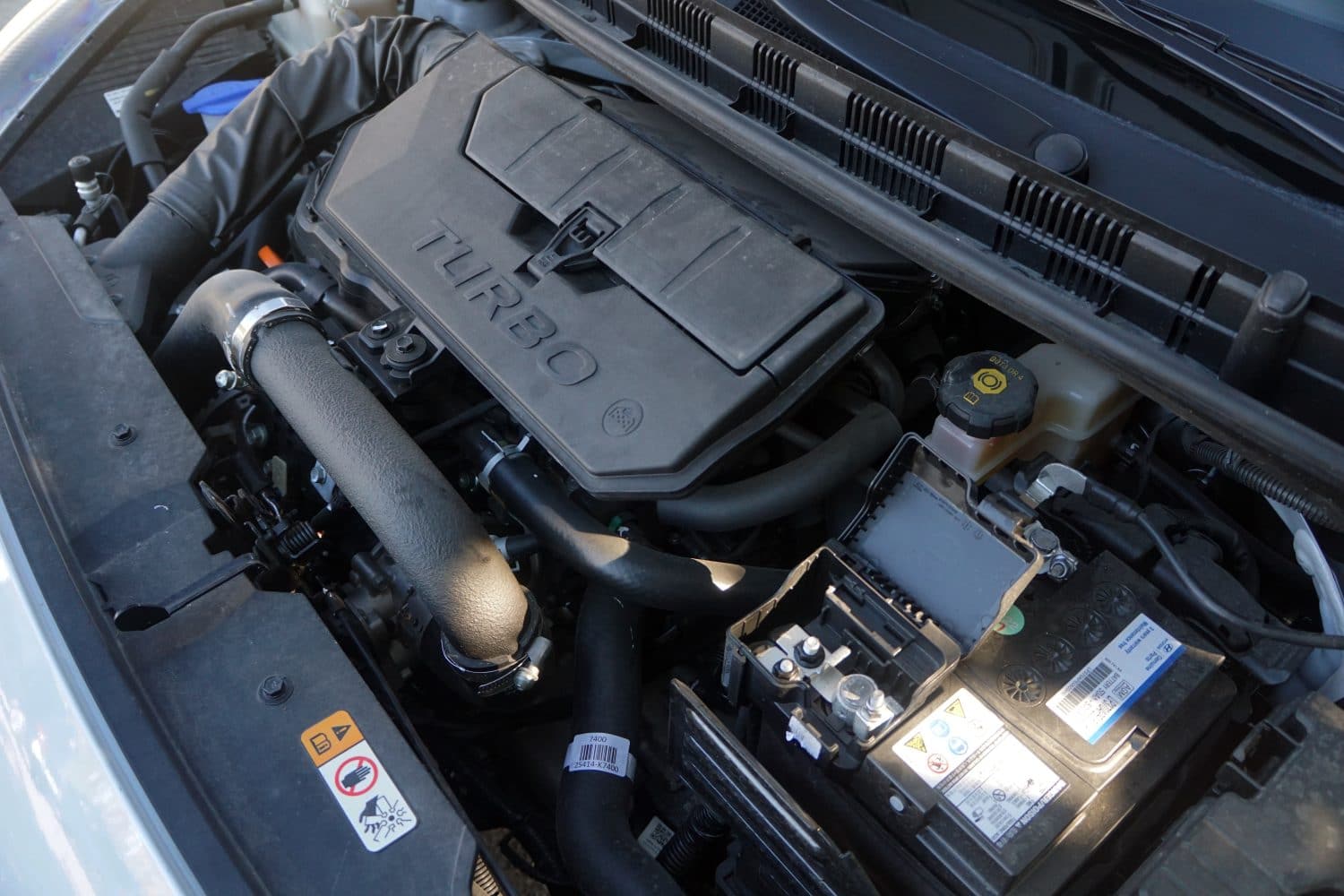 Both the ability to overtake and any other recovery maneuver is quite good even in fifth gear, always managing to maintain a remarkable amount of energy to respond quickly. If you forget to look at the speedometer you may find yourself with fines the kind that take away half your card in one sitting … and even jail time.
Precisely that agility with which the i10 moves can be the main claim point of this urbanite. It is used to make long trips without problems, maintaining the speed of the road with total naturalness and even dares to gain speed in ports with steep incline… and traveling four. It spreads much more than the 1.2 of 84 CV but it will not always be worth the extra outlay.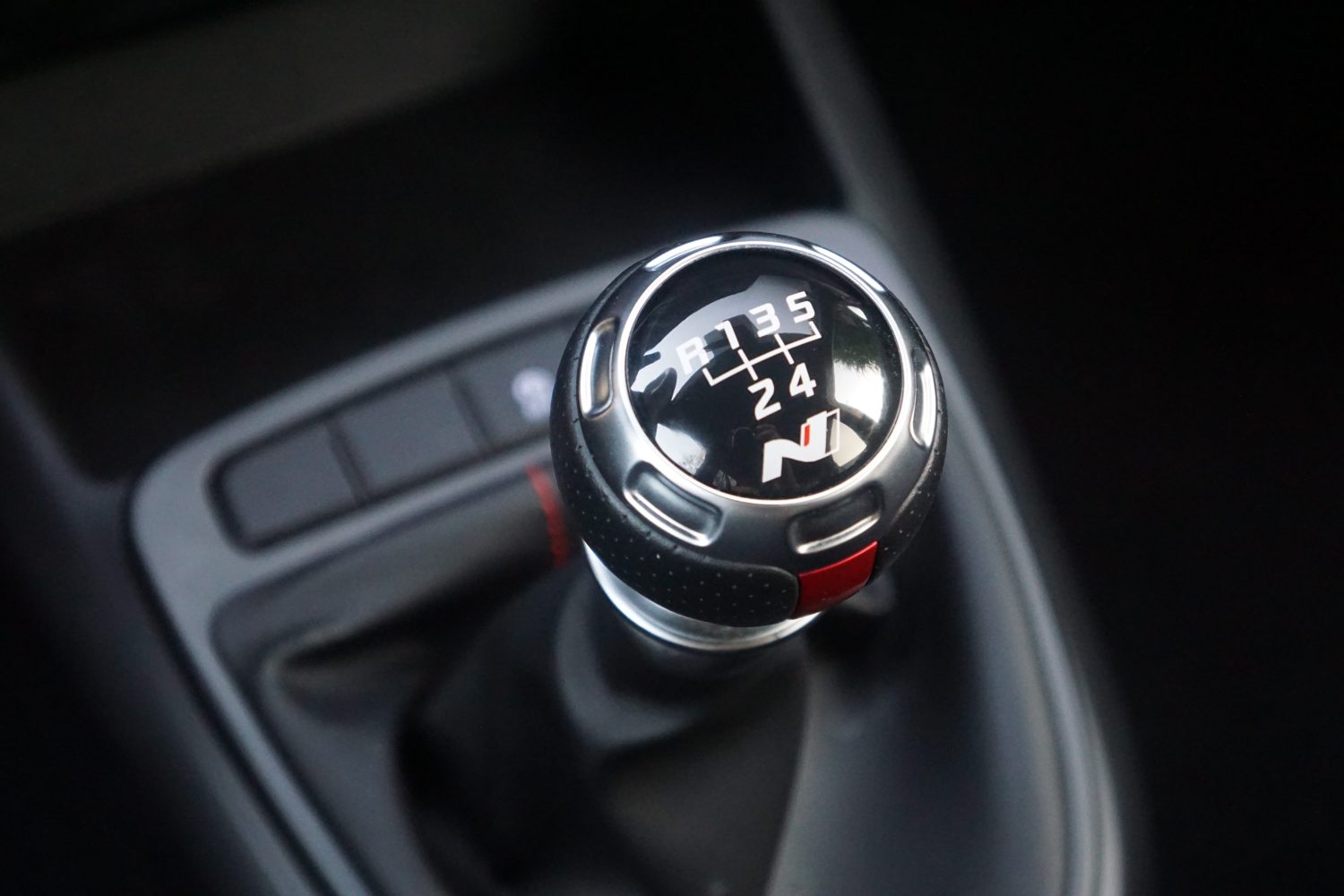 The consumptions recorded during the test are correct but not surprising. The normal is around 6.0 L / 100, a little less if a particularly determined driving is not carried out. When the urban cycle is played it rises to about 7.5 L / 100 and can exceed 10.0 L / 100 if you start playing with the red zone of the lap counter. In short, nothing out of the ordinary in a car of this type.
| | |
| --- | --- |
| Version | i10 N-Line |
| Displacement | 998cc |
| Power | 100 hp at 4,500 rpm |
| Pair | 172 Nm at 1,500 rpm |
| Weight | 1,099 kg |
| Dimensions L / W / H mm | 3675/1680/1483 |
| Trunk volume | 252 / 1,050 liters |
| Acceleration 0 to 100 km / h | 10.5 sec |
| Recovery 80 to 120 km / h | 7.4 sec |
| Maximum speed | 185 km / h |
| Approved consumption | 5.4 L / 100 |
| CO2 emissions per km | 123 gr |
| DGT sticker | C |
| Starting price | From € 20,220 without discounts |
Behaviour
The Hyundai i10 N-Line has seemed a very interesting little if you want a car that is easy to park and drive in the city, and that can be used for other types of travel without problems. Many urbanites should not be forgotten, they are very fair to face long trips and here the benefits with 100 CV are very solvent.
On urban roads, the greater stiffness of the suspension does not take too much of a toll on comfort. TOAt least I have not noticed that it is especially dry or abrupt; I did like the fact that the bodywork is more controlled in roundabouts and sharp turns, considerably reducing rocking.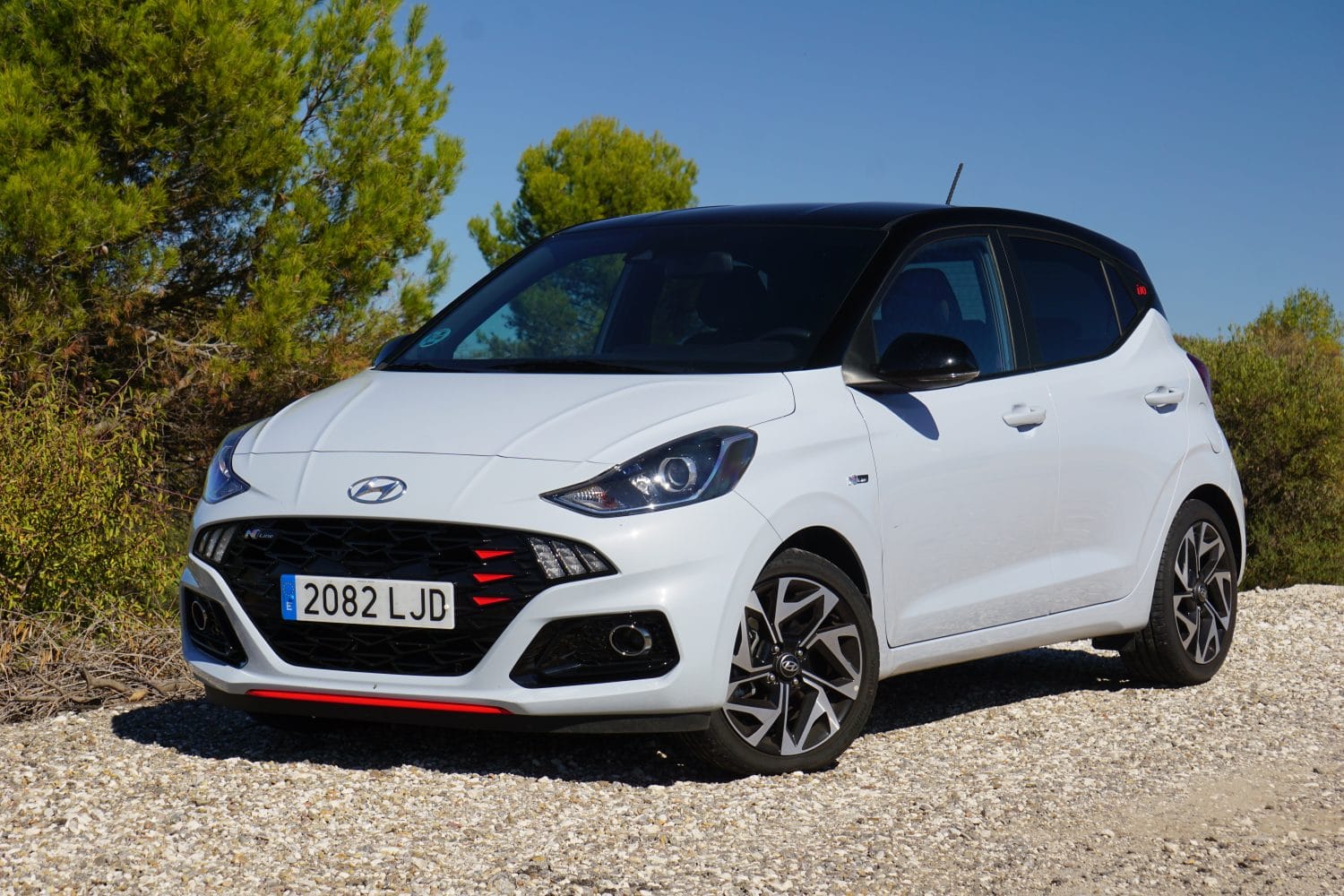 The important thing in this case is that despite having the initials "N" in its name, do not think that it is a sports car; its set-up guarantees a very good footprint, it is well supported and it swings little but it is not fun. It is understood that Hyundai has not taken risks with this car since getting a more cheerful manners would have compromised safety and that cannot happen.
It is therefore a car with which you can travel fast and grip well. It also swallows corners much better than any other Hyundai i10 but do not expect the sensations that a Suzuki Swift Sport can give you or even a basic Abarth 595. This car is far from those two in everything … although I think it is not a bad thing.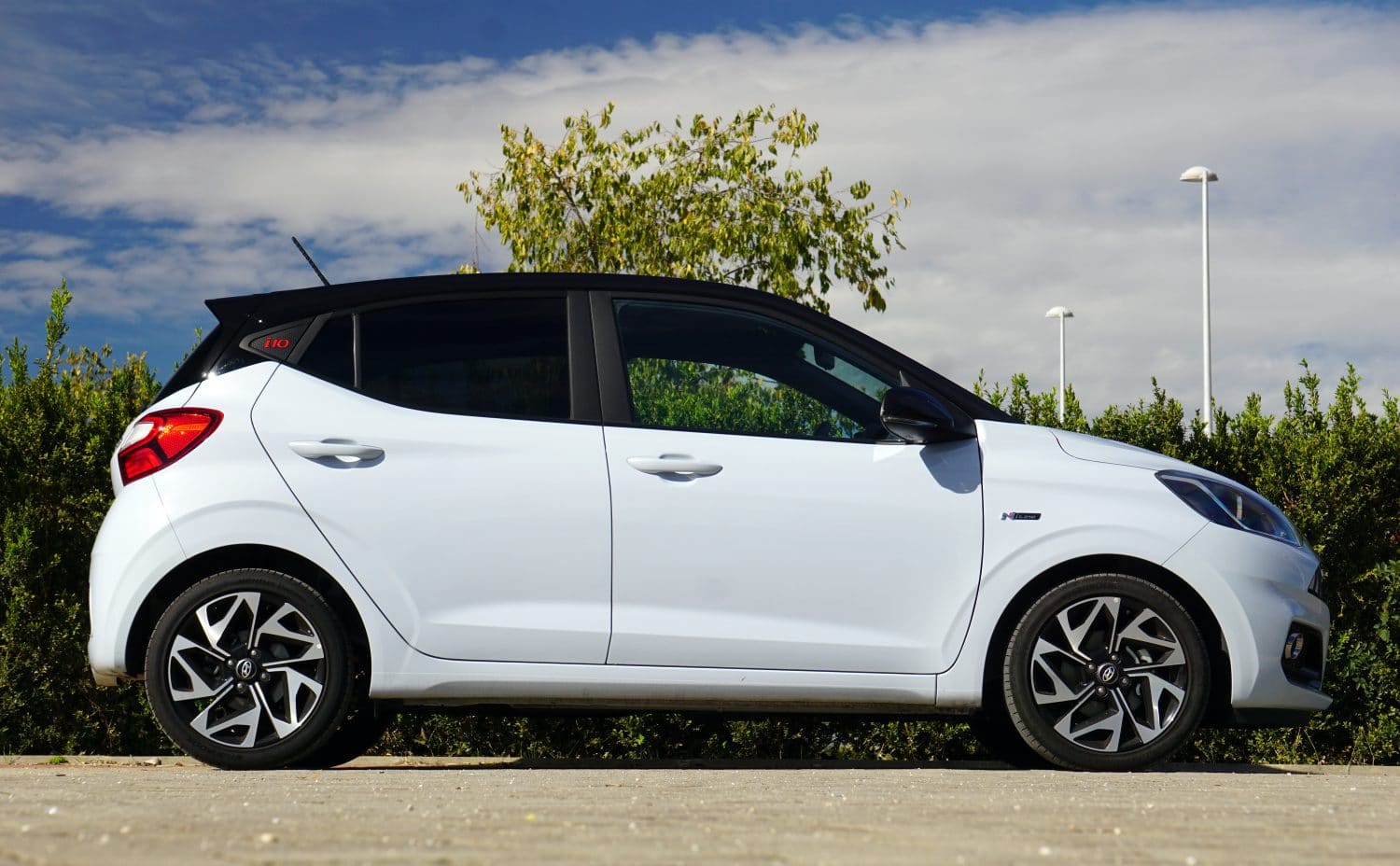 The market needs urban products that can also be used to make other types of journeys beyond the usual ones on a day-to-day basis. If you add a nice body to this, you can win the favor of a minority. Anyway I think Kia's offer with the Picanto is more appealing and at a more reasonable price.
I think the Hyundai i10 N-Line is an expensive but necessary car on the market. Not everyone needs more space; Nor carry a heavier body continually. There is a part of the population that highly values ​​these A-segment cars and although it must be reiterated that it seems expensive to us, next to the new Toyota Aygo it is almost a gift … and you cannot forget that the Japanese will land with 70 CV for € 15,750 financing.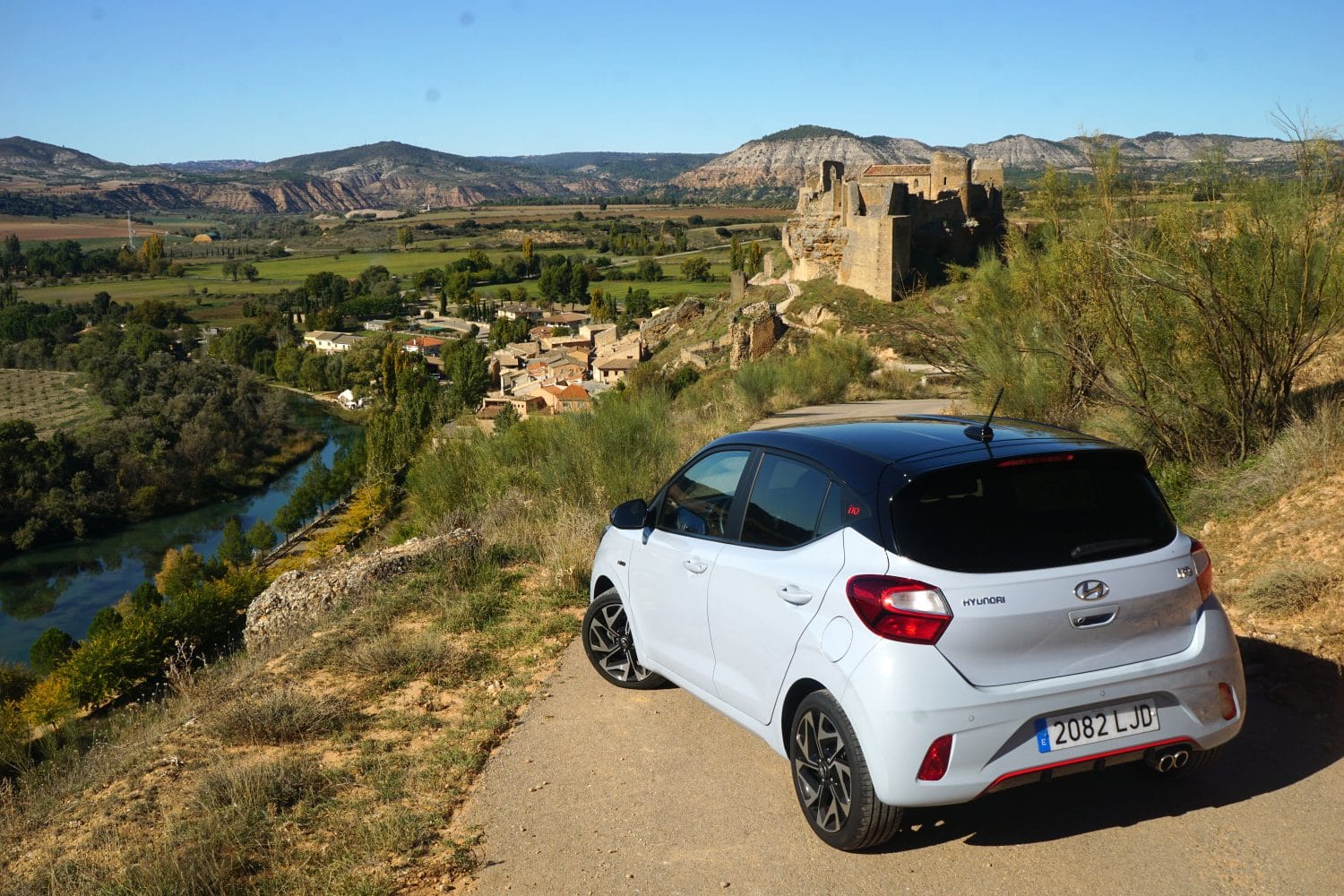 7.4
Remarkable
The most performance option of the Hyundai i10 range lands with a solvent engine that is used for any type of displacement and a very correct gait. The downside is that it has a very high cost and certain equipment details are missed. What does not admit criticism is its attractive and very picturesque aesthetics that will especially appeal to the youngest.
The good
Good performance
Attractive aesthetics
Very manageable
The improvable
Halogen headlights
Narrow seats
High price