The Mercedes GLC is one of the vehicles in its segment most in demand worldwide and also one of the most successful cars of the brand. Its main asset is design but it has many other arguments to win over users.
To achieve success in Spain, it has been key to offer a range of engines very well adapted to the needs of users, not leaving out either diesel or plug-in hybrids that have an increasing pull thanks to the advantages of the ZERO environmental label.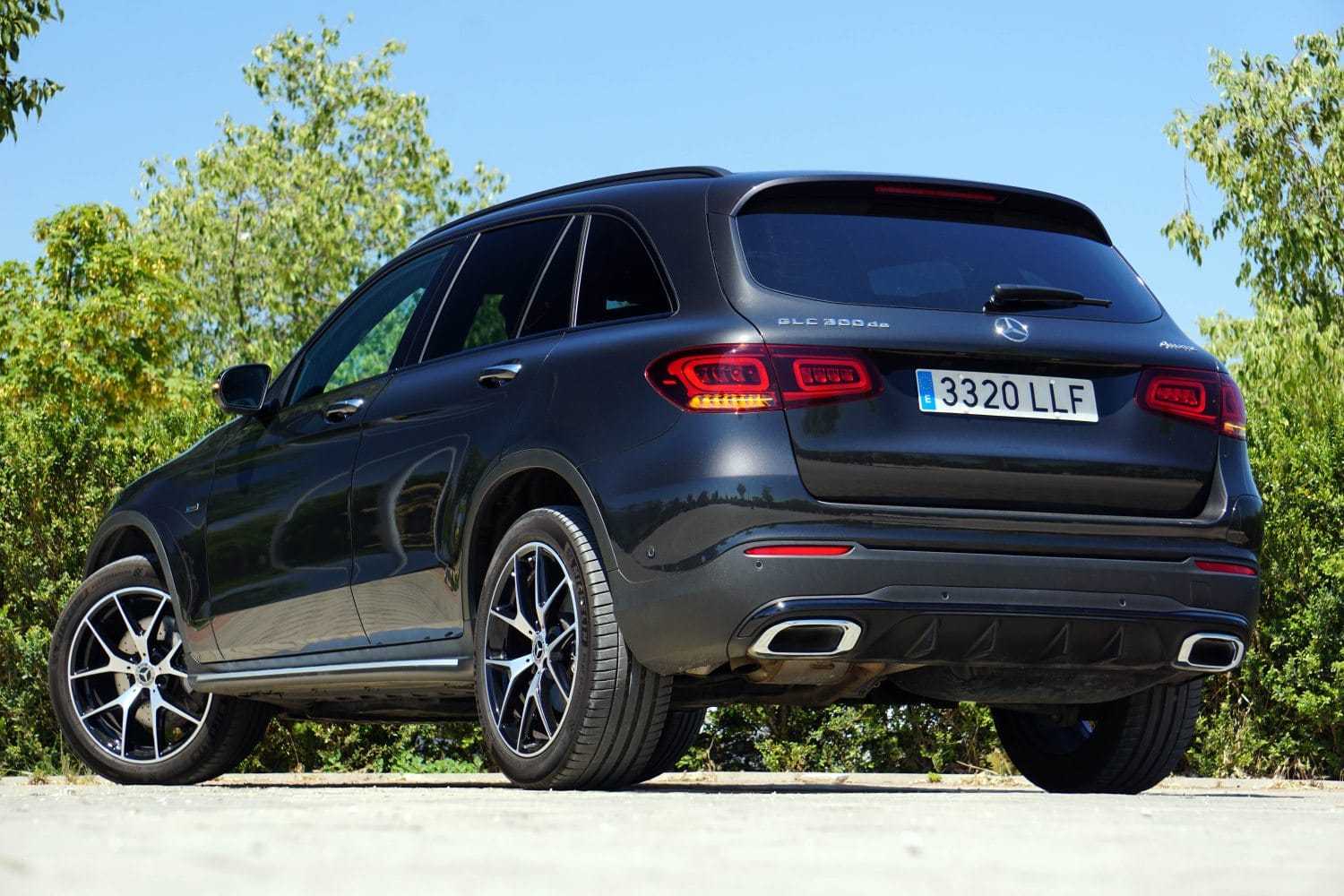 I have had the opportunity to try a Mercedes GLC 300 by 4Matic and I must admit that for many users it may be the most desirable option thanks to the combination of a diesel block with the plug-in hybrid system. If you want to know it more in depth, you just have to keep reading.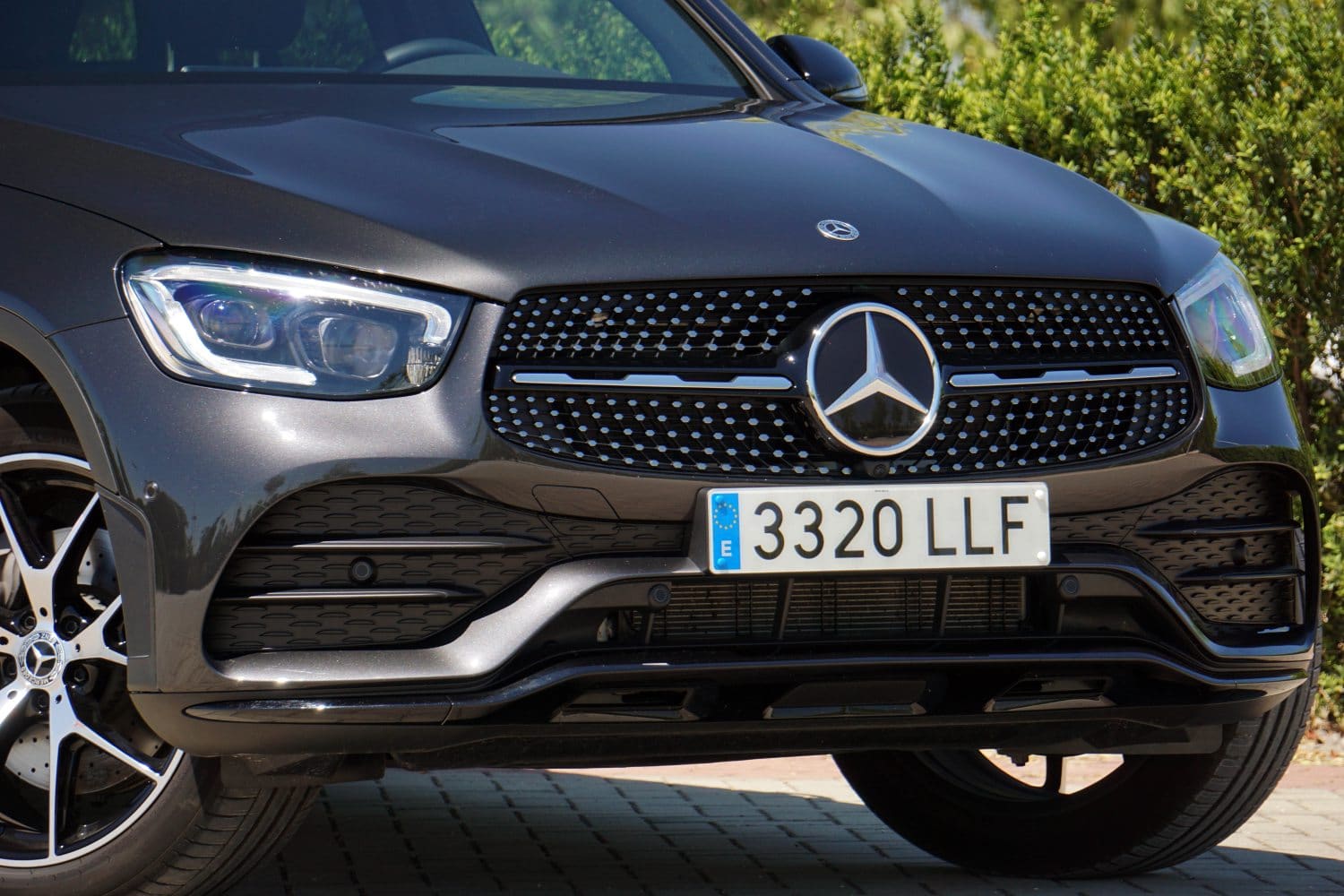 Design
Despite having been on the market for a few years, the Mercedes GLC is aging quite well thanks in part to the latest redesign that has slightly updated its front end that now includes LED optics, a larger grille and other small changes.
The rest of the modifications to the exterior have not been particularly large but as a whole they have managed to modernize some balanced and attractive lines. For those looking for a more sporty aesthetic, they can choose the GLC Coupé bodywork. which has a steeper roof drop.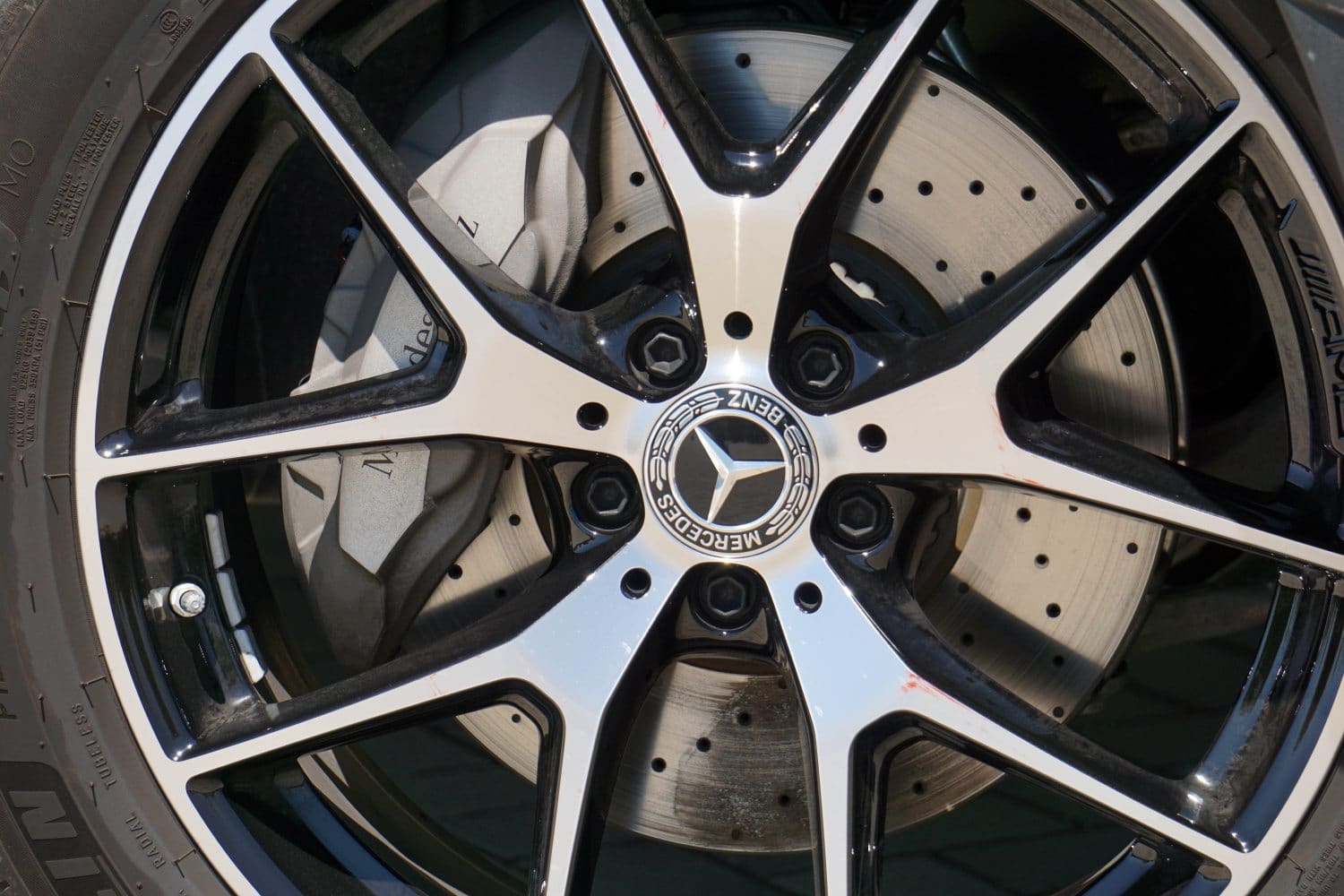 As a good high-end vehicle, the customization possibilities are very high but it can also increase the cost of the car considerably. In the case of the unit tested to the AMG pack, the exclusive rims must be added, the panoramic roof or the tinted windows that together with the dark gray paint ensure that it enjoys an impeccable image.
Inside
Once we went inside the Mercedes GLC shows a dashboard similar to the one we knew in the previous generation of the C-Class that although it is still in force, the years are already showing. With the update, a new instrumentation and a more complete multimedia equipment have been introduced.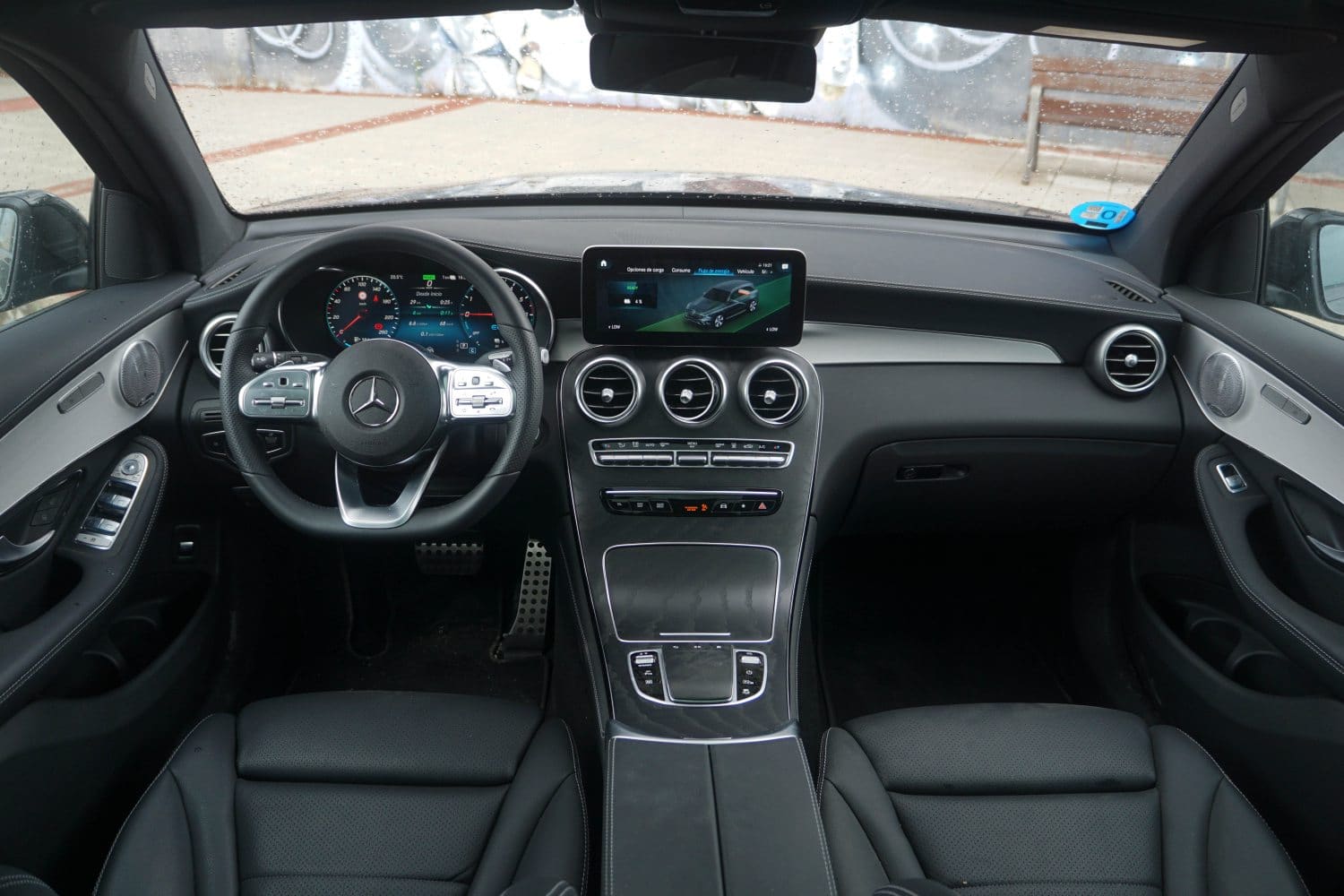 Precisely the multimedia system is the main protagonist of the update. It now features cable-free Apple CarPlay and a larger screen with better quality and touch control that is easier to use. The lower control is not very practical when driving so many times it will be easier to go directly to the icon on the screen.
For those who do not want to lose focus, there is voice control that works very well and accepts voice commands regarding air conditioning, navigator, sound system and other functions, sometimes resulting faster than manual mode. I like that it accepts conventional phrases and does not have to follow a fixed pattern.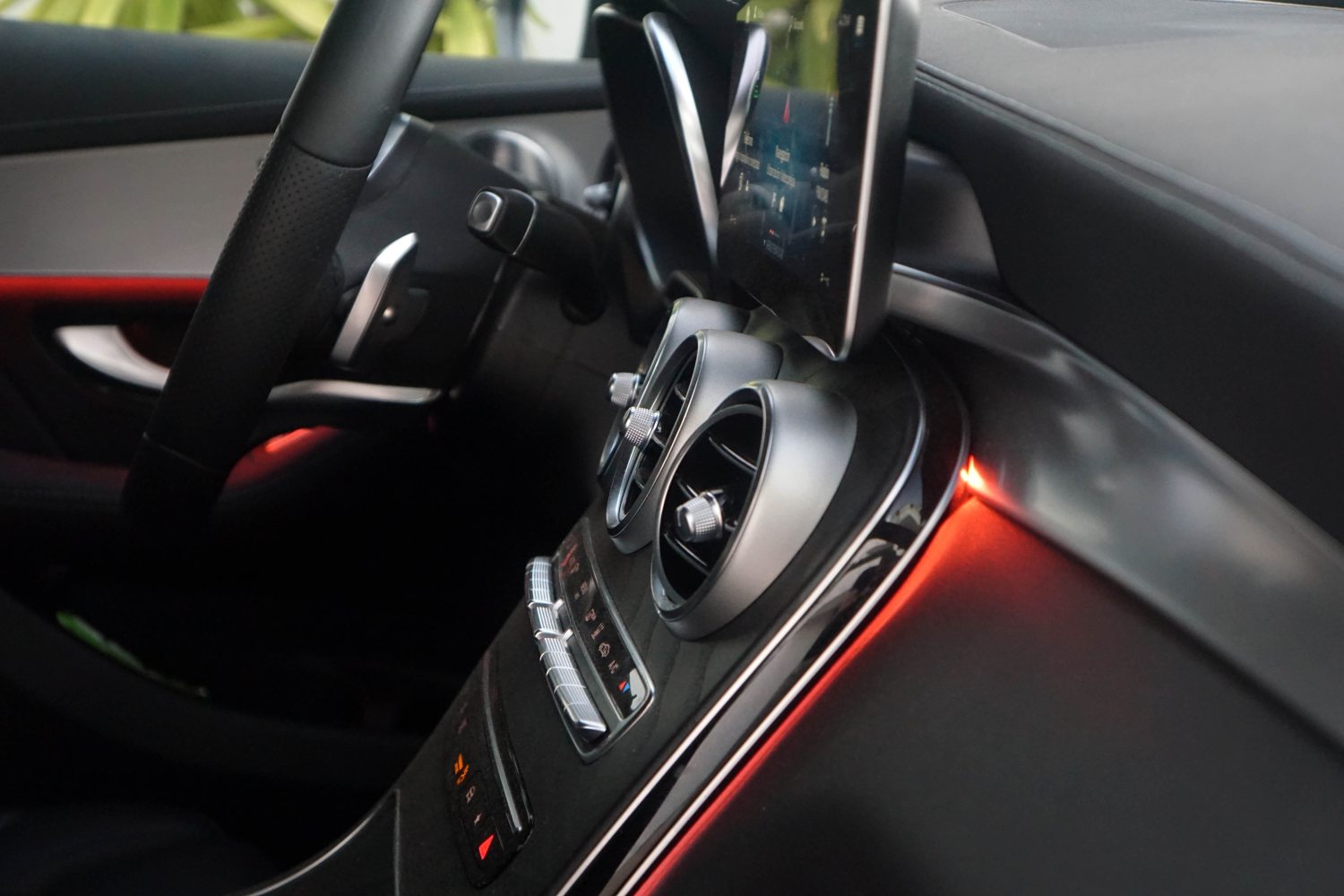 The quality of plastics is at a good level but in no case can it be considered a reference in the segment, lagging behind the Audi Q5, BMW X3 or the Lexus NX itself that has just released a generation. In the Mercedes there are details that could be improved especially in lower areas that are not very visible.
Scattered throughout the interior there are several storage compartments that are practical. Most have a rubber floor to prevent them from slipping and they are usually coated to guarantee a more pleasant sensation to the touch. This also happens in the main glove compartments. The LED interior lighting is another of the points reviewed that users tend to like.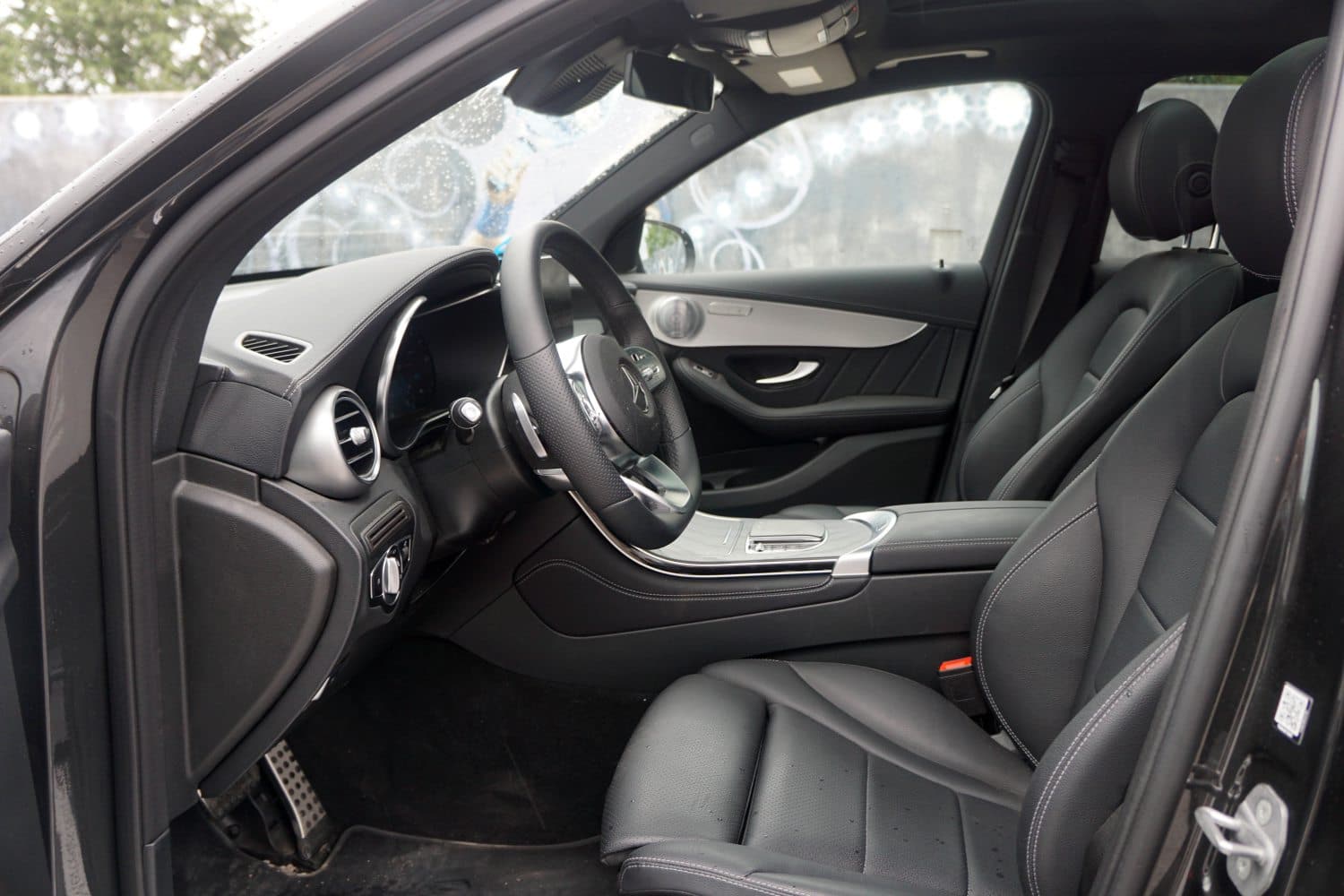 Habitability
The Mercedes GLE I think is correct for interior space and trunk although in this plug-in hybrid version it cannot boast of a very high capacity due to the gap that the battery steals from the system, considerably raising the floor of the charging area.
In the front seats the feeling of space is generous, with good heights in all directions even in this unit that equips the double panoramic sunroof. I like that all the controls are at hand and good general visibility. The optional sports seats are comfortable and support your back well.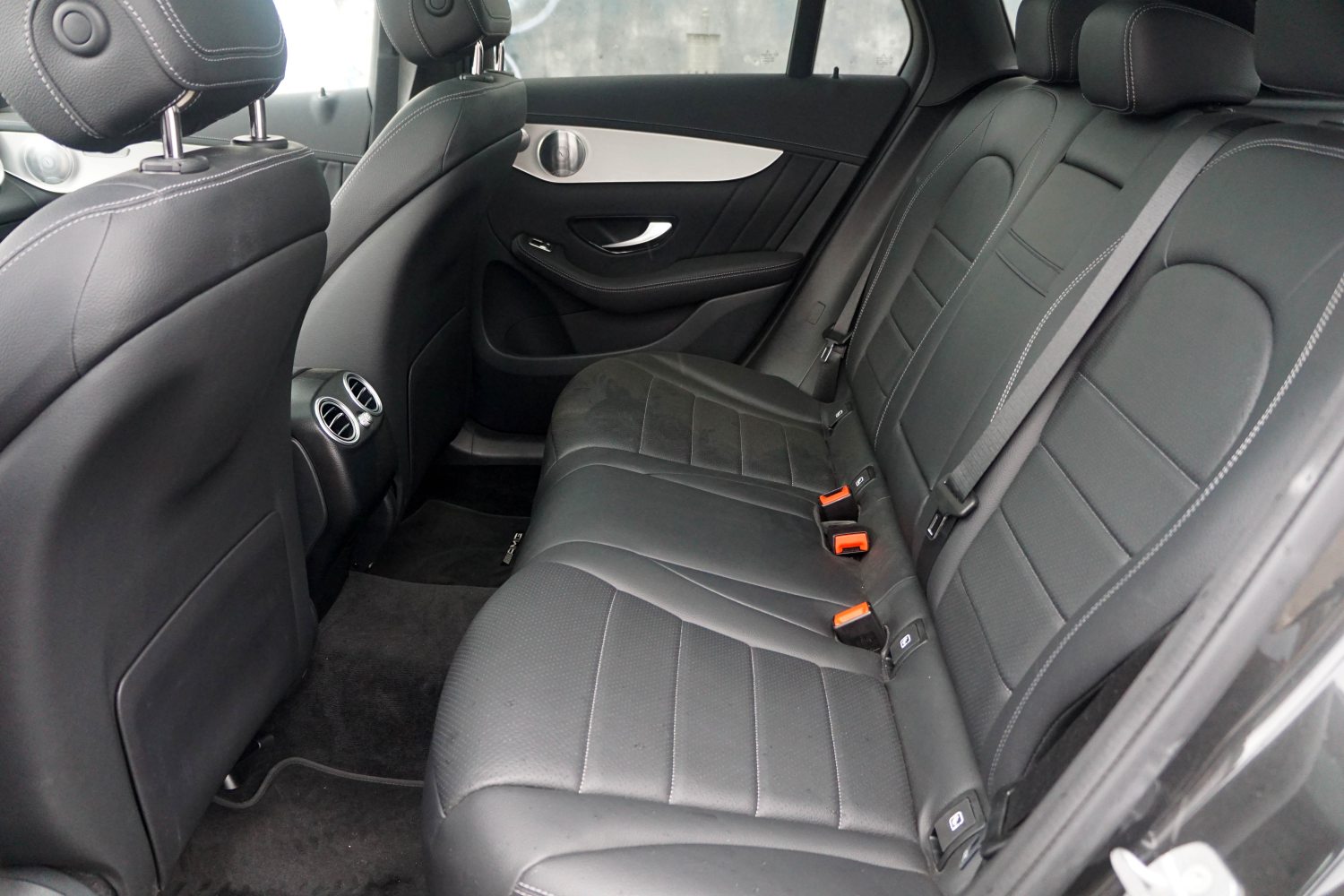 The rear seats legroom is adequate and there is ample width for two adults and one child. Putting three adults in here will be somewhat uncomfortable, with only a few inches at shoulder height. I like that the backrest can be reclined and that there are air vents, although an independent air conditioner that is standard is missing (there is an option).
As I said above, the trunk is not its strong point in this version with plug-in hybrid technology. In addition to the aforementioned elevation, the volume is reduced from the good 550 liters that the conventional versions take to a fairer 395 liters of the "e". Of course, the rear seatbacks can be folded down to gain some volume.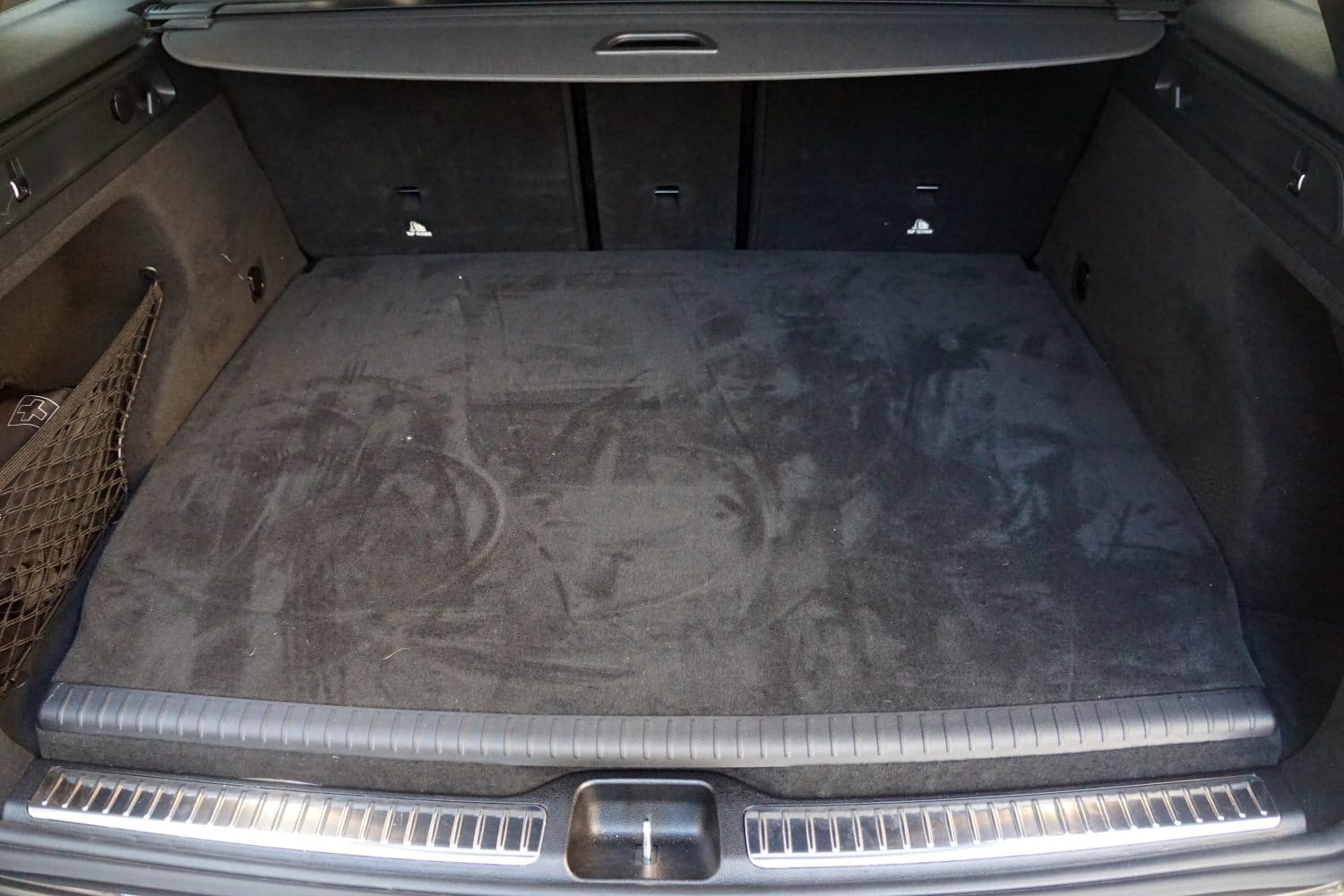 equipment
For some time Mercedes-Benz in Spain offers more complete and equipped units, something necessary to justify the high prices with which all its models start. The GLC is no stranger to these improvements and they already come standard with everything you need in terms of comfort and safety.
Among other things they have Highbeam LED headlights, cruise control and speed limiter, trip computer, light alloy wheels, fatigue detector, driving mode selector, pre-collision warning, fatigue detector, cyclist and pedestrian, heated mirrors and selective damping system.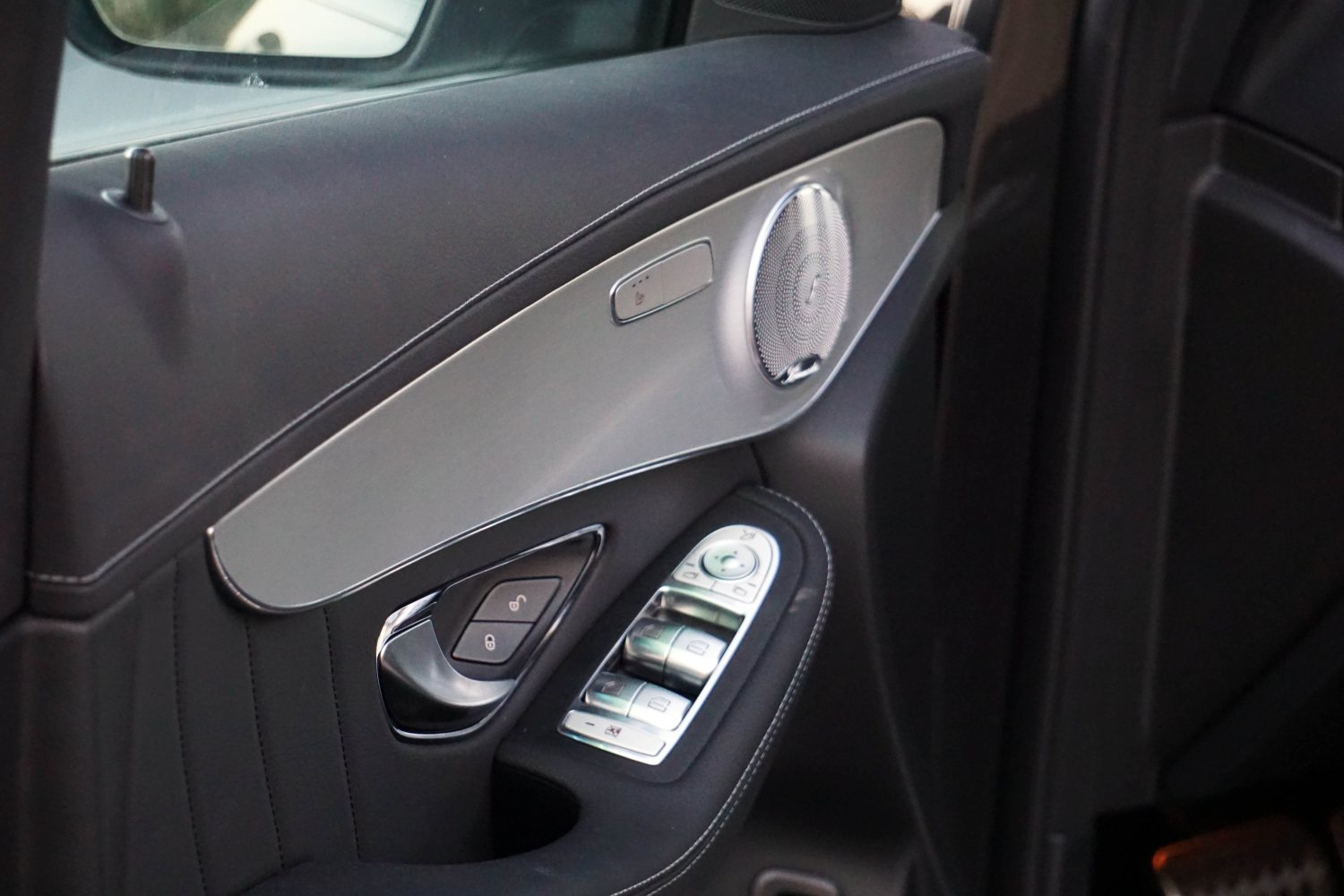 Other elements also standard are the dual automatic climate control, partially electric seats, push button start, rain sensor, tinted windows, automatic gate, MBUX system with touch screen, voice control, bluetooth, DAB radio, USB, WI-FI, eCall, 18-inch alloy wheels, etc.
Among the most interesting options are the navigation system with 10.2-inch display, digital instrumentation, AMG pack, panoramic roof, ventilated and heated seats, automatic parking assistant, 360 camera, smart headlights, keyless access, leather upholstery, tri-zone climate control, etc.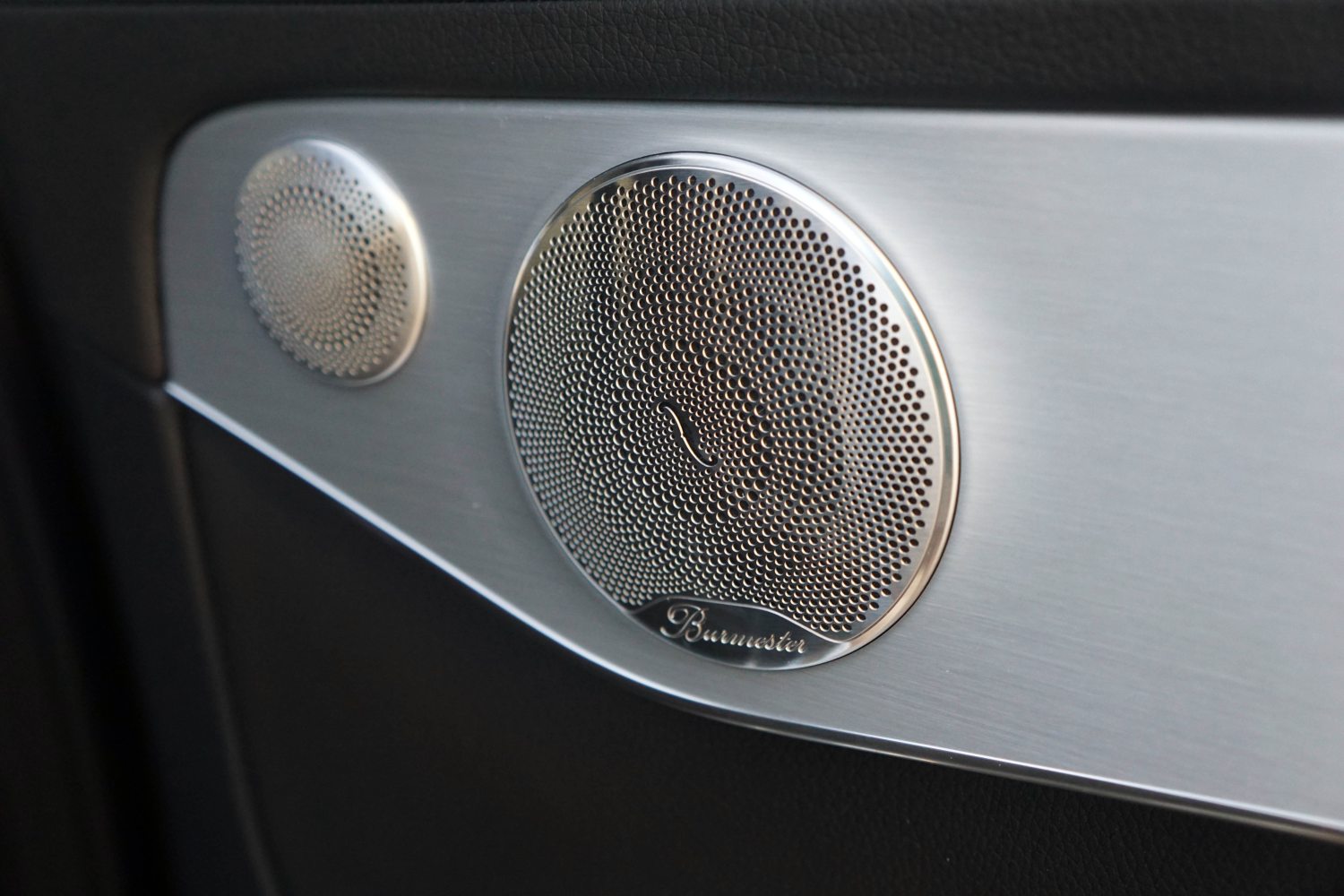 The starting price of the Mercedes GLC 300de 4Matic has been set at € 67,972 not including possible promotions or discounts. If you also want it as it appears in the images, you will have to raise the budget to approach € 80,000, a very high cost that curiously is not so much when compared to its more direct rivals that are around similar figures.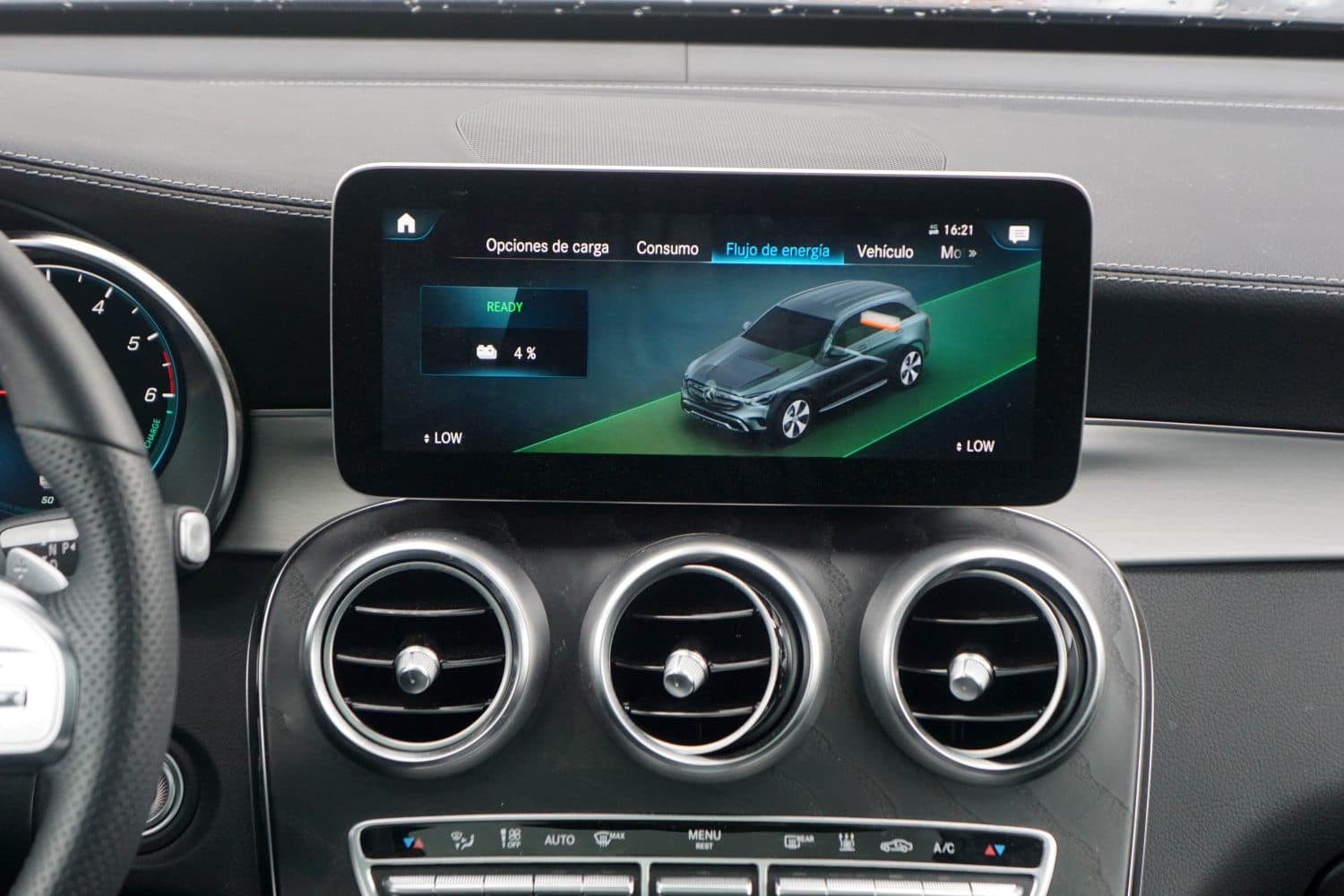 Motor
The current supply of the Mercedes GLC is made up of gasoline by the 197 hp GLC 200 engines with light hybridization, the GLC 300 also MHEV with 320 hp and the AMG explosives with 390, 476 and 510 hp of power. All of them include 4Matic all-wheel drive and automatic transmission as standard.
The diesel supply is made up of the GLC 200d with 163 hp, the GLC 220d with 194 hp and the GLC 300d with 245 hp. All of them have a C label, all-wheel drive and automatic transmission. The "greenest" proposals are the GLC 300e with 320hp and the proven GLC 300de with 306hp., both with plug-in hybrid technology.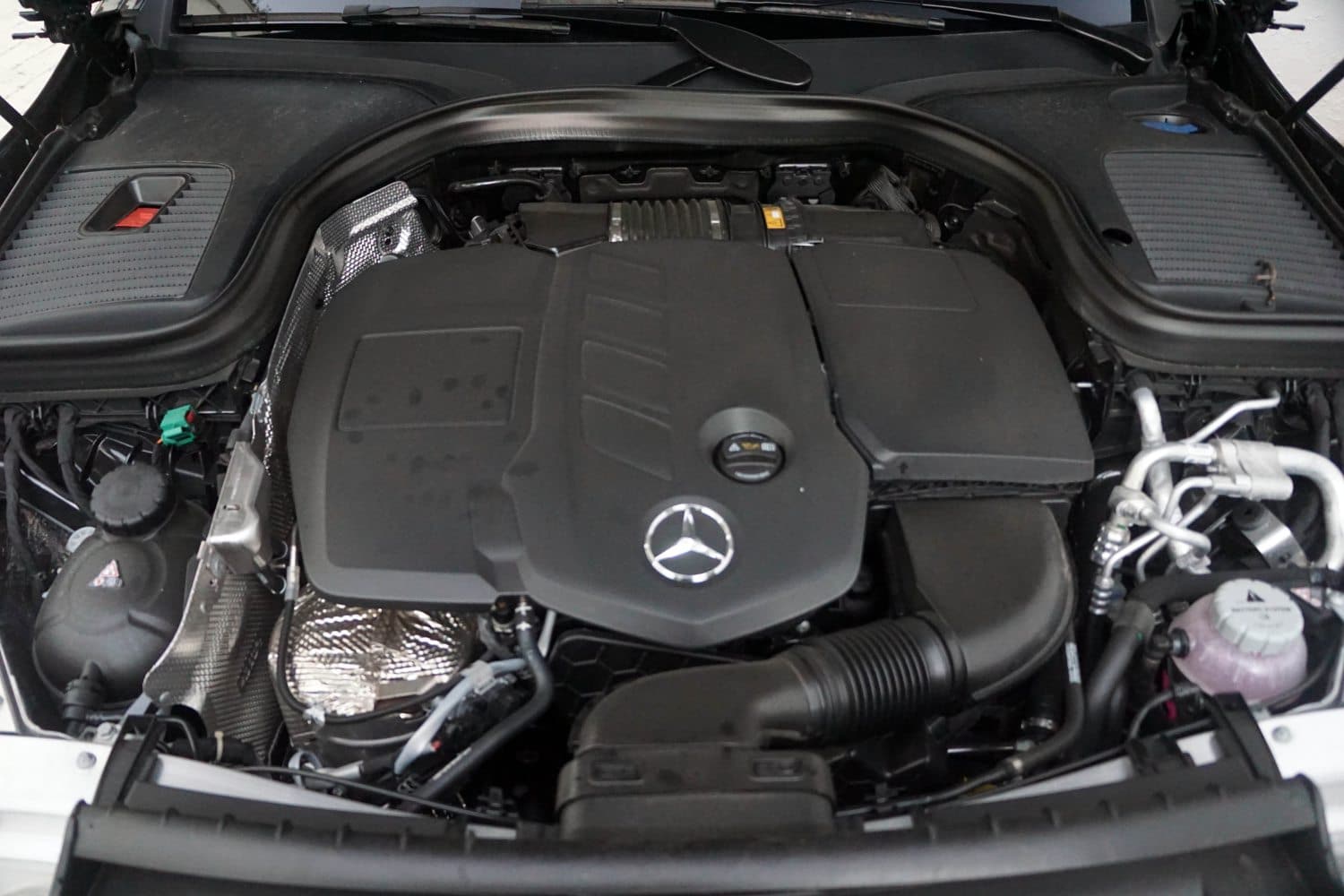 The GLC 300de combines the 2.2-liter diesel engine that develops 194 hp with an electric engine that develops 122 hp to achieve a combined power of 306 hp. Lithium-ion battery has 13.5 kWh capacity (9.5 useful) and a range of 45 km is declared that I do not find difficult to achieve.
Contrary to what happens with other PHEVs of the brand in the GLC, it is not possible to do fast charging but this is not a problem considering that in alternating current allows up to 7.4 kW thanks to a more powerful on-board charger than before.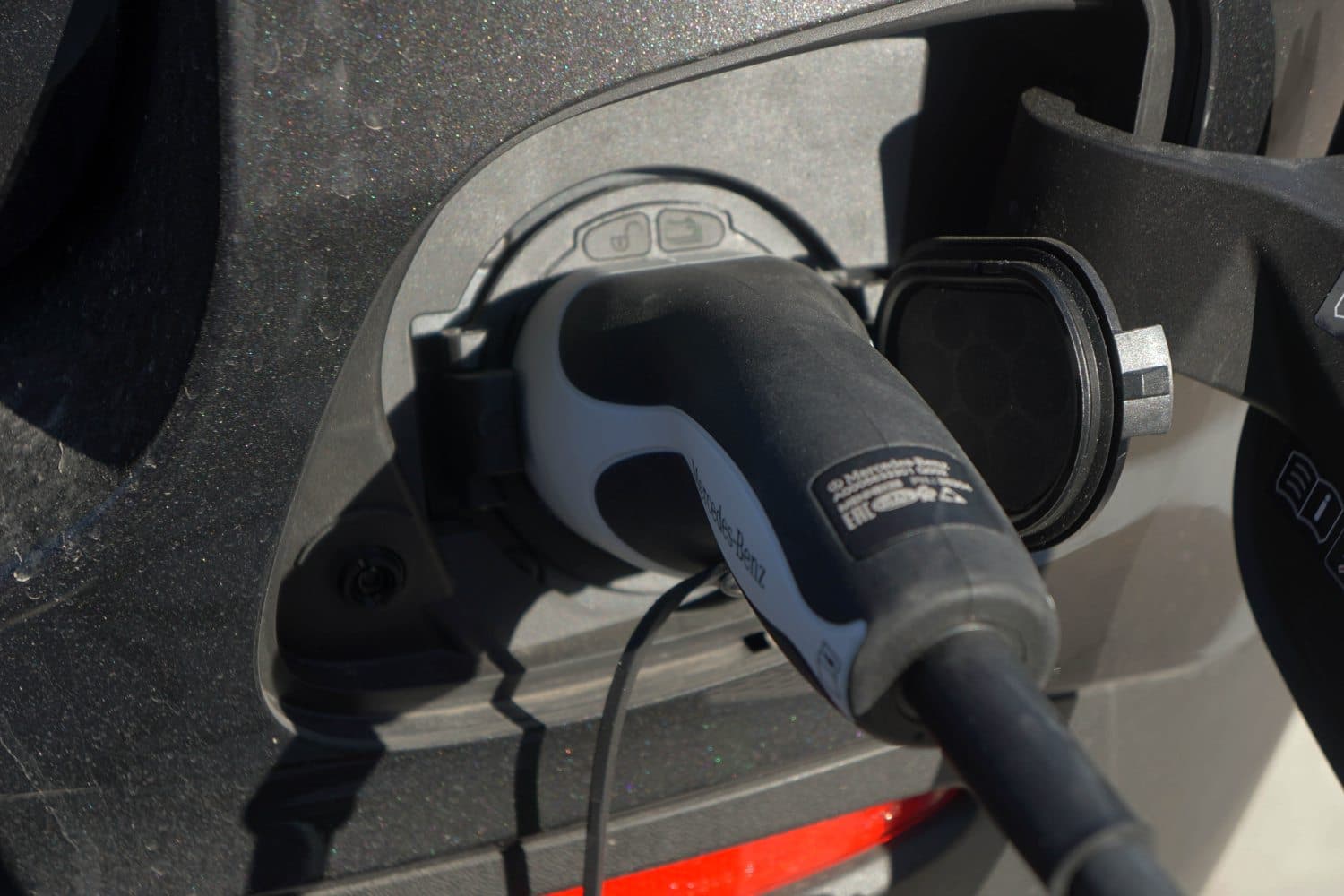 In order to have the battery at 100%, 5 hours are required in a conventional socket and the time can be reduced to just over an hour and a half in a 7.4 kW Wallbox. These are short times that will also make it possible to take advantage of the public points of commercial areas and / or charging stations that some municipalities have.
During the test it seemed to me that adjusted consumptions can be achieved but not better than those registered in the GLC 220d of identical diesel power. It is true that in terms of performance it is in a higher step thanks to the contribution of the electrical block that is always present to guarantee an energetic response.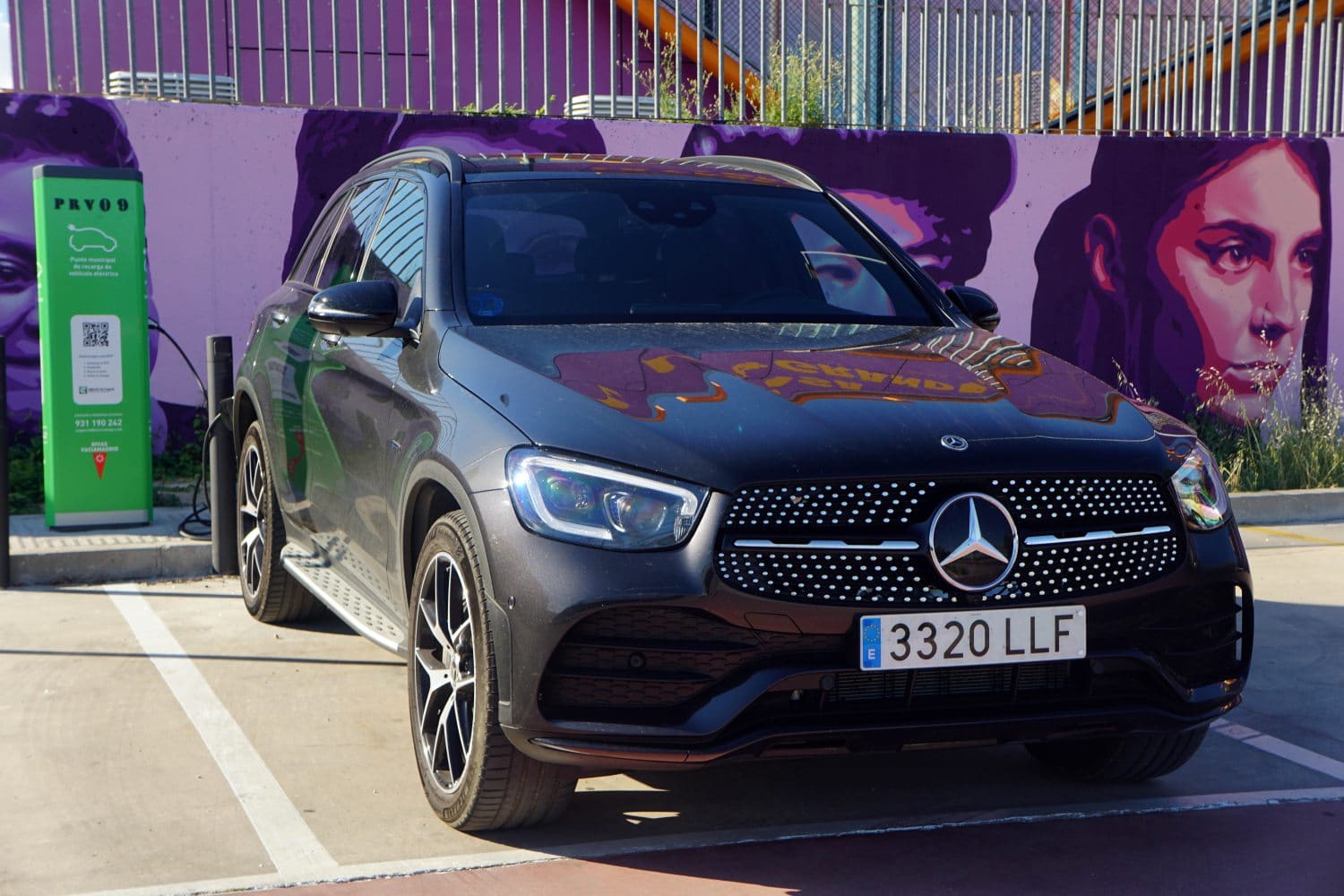 On long trips it is normal for the GLC 300de to end up around 6.0 L / 100, a contained data if the size and weight of the vehicle is taken into account. Compared to the GLC 300e it is less refined but it manages to reduce consumption on the highway and highway considerably so I think it is more recommended.
I don't think it is necessary to carry out a large performance analysis on a car with 306 hp available since it always accelerates and responds very well, guaranteeing fast and safe overtaking and incorporations. The automatic gearbox is as always correct in its operation, achieving fast and smooth transitions. For those who want to vary how the power is delivered, there are the driving modes already known in the brand.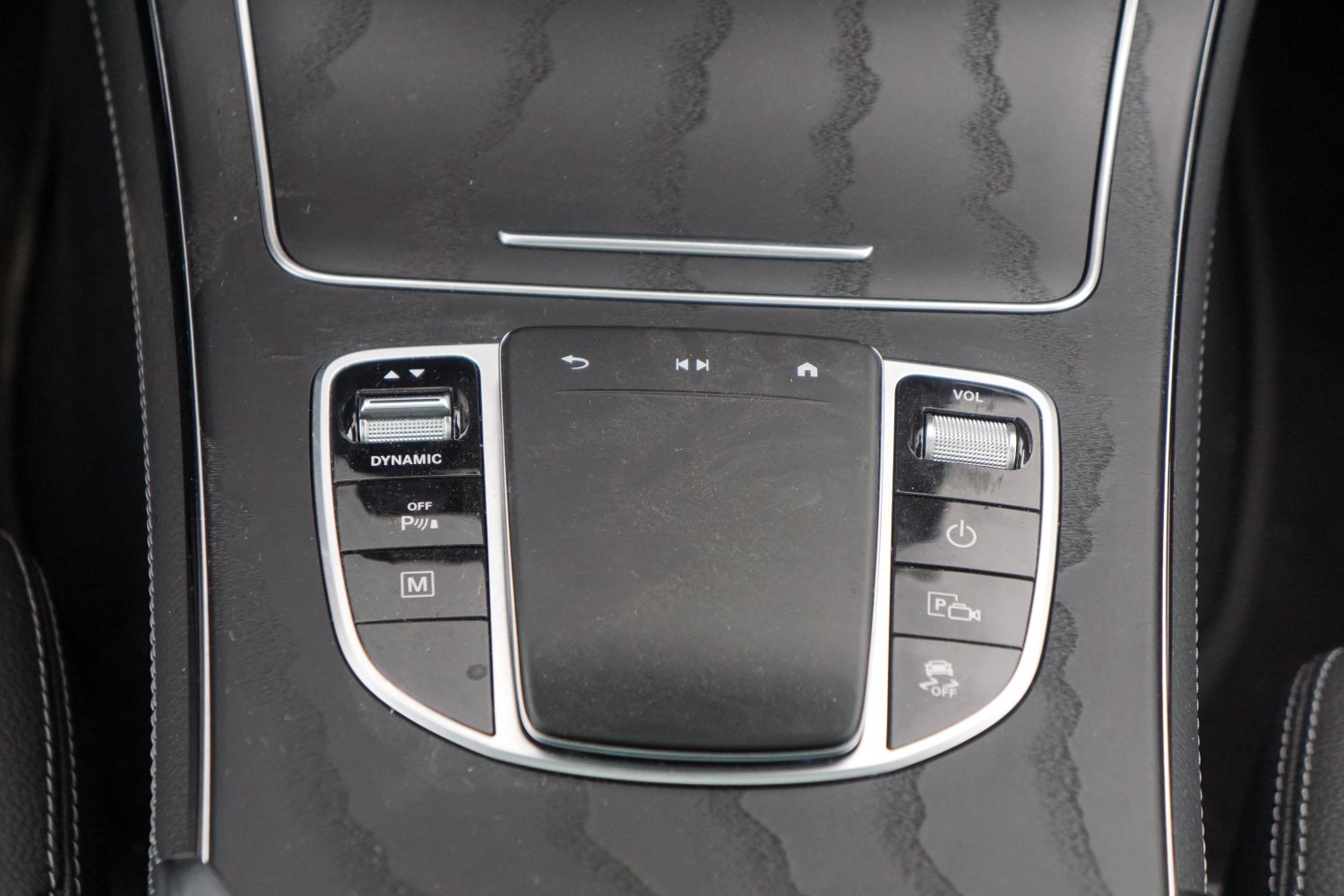 The hybrid system also has specific operating modes, being able to choose between a pure electric use (if there is a battery), automatic so that the car decides at all times how it should distribute the energy (the electric use prevails) and Battery Save that allows to save charge in the battery so that it can be used at another time, for example in an emission-free zone at destination.
| | |
| --- | --- |
| Version | GLC 300 by 4Matic |
| Displacement | 1,950cc |
| Power | 306 HP in total |
| Pair | 400 Nm + 440 Nm |
| Weight | 2,125 kg |
| Dimensions L / W / H mm | 4658/1890/1664 |
| Trunk volume | 395 / 1,445 liters |
| Acceleration 0 to 100 km / h | 6.2 sec |
| Recovery 80 to 120 km / h | 4.1 sec in D |
| Maximum speed | 230 km / h |
| Approved consumption | 1.7 L / 100 |
| Electric autonomy | 44 km |
| CO2 emissions per km | 45 gr |
| DGT sticker | Zero |
| Starting price | From € 67,972 |
Behaviour
The Mercedes GLC is a car that goes well, goes a lot and allows you to take long trips without realizing it. If you are looking for the ultimate in refinement, it will not be your car as an Audi Q5 is notably quieter; If you are looking for a somewhat sporty behavior, it will not be the most interesting option, especially having the BMW X3 as the main rival.
How is the GLC positioned? Well, a little halfway between the two models mentioned, although comfort or effectiveness can be improved depending on the extras, opting for smaller tires / rims or a somewhat softer suspension but still, it falls short of the compromise of an Audi Q5 S-Line.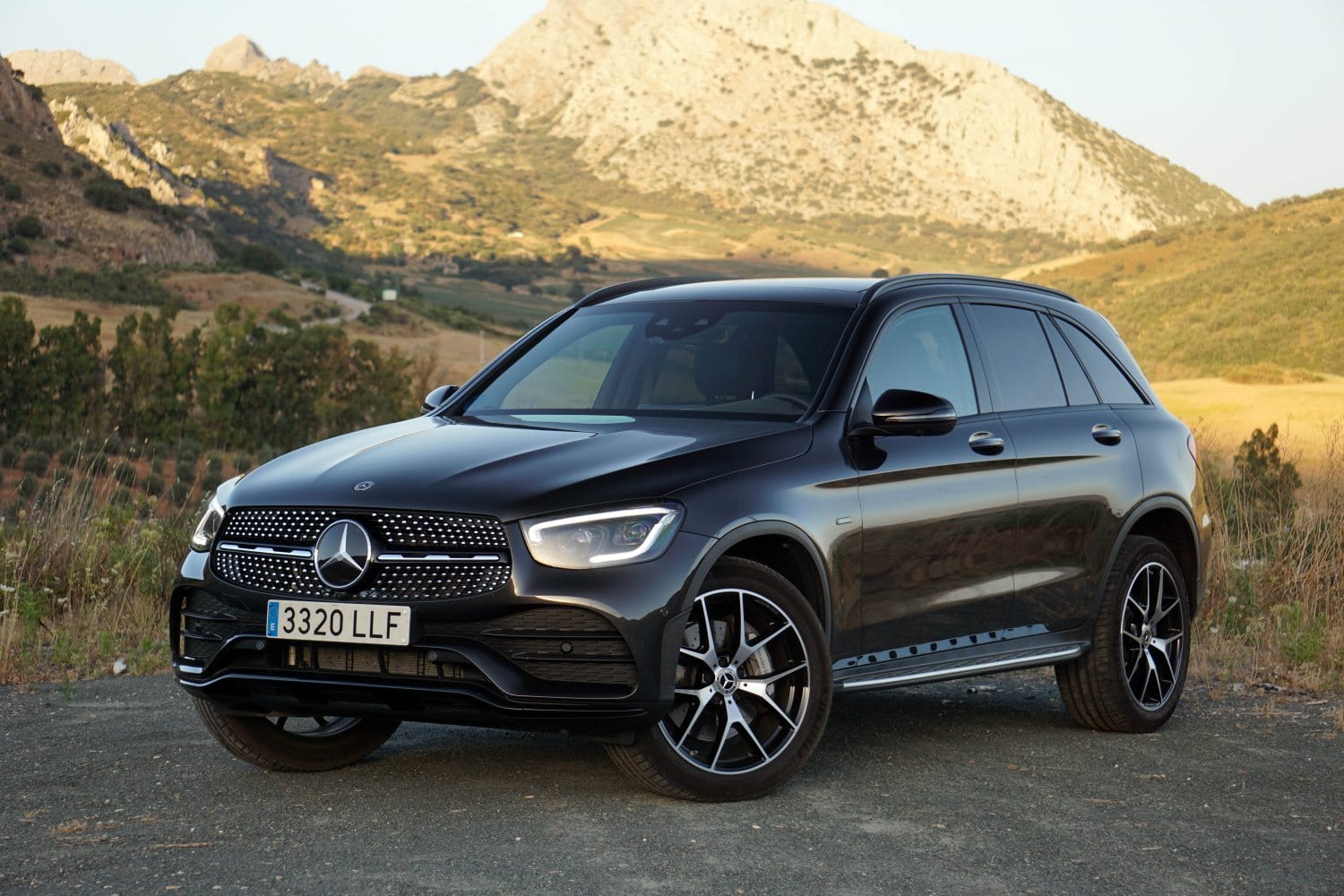 That it is not the best in the segment does not indicate that it is a bad car but it is true that when they spend a significant amount of money they are looking for "the best". The Mercedes boasts a good ride, a very correct behavior and it also offers you the only option on the market with a plug-in hybrid motorization that relies on a diesel engine … and this is a hoot.
In the city the GLC is a bulky car but within what it fits it is not difficult to maneuver with it thanks to the fact that it rotates a lot and also the glass surface is generous. I recommend including the rear camera (if there is no budget problem, the 360º is better) that guarantees exceptional visibility when it comes to parking in somewhat fair areas.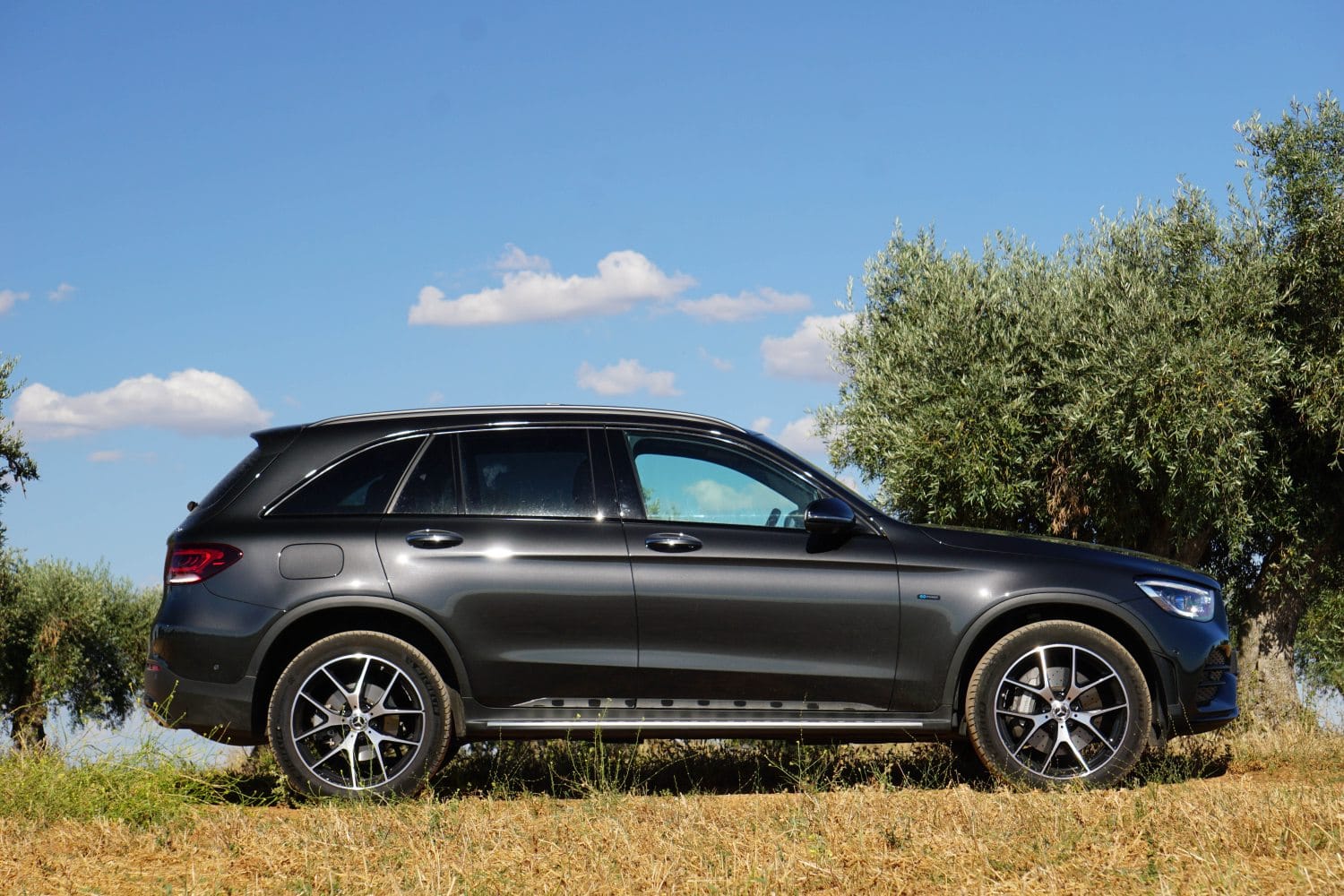 Although this version has all-wheel drive, I think it is not the most suitable in the range for off-road driving. It is true that the GLC is not one of the worst crossovers of its size outside the asphalt but it would be more interesting to opt for a version with a conventional diesel engine for this, and with certain optional packages that protect the underbody of the car.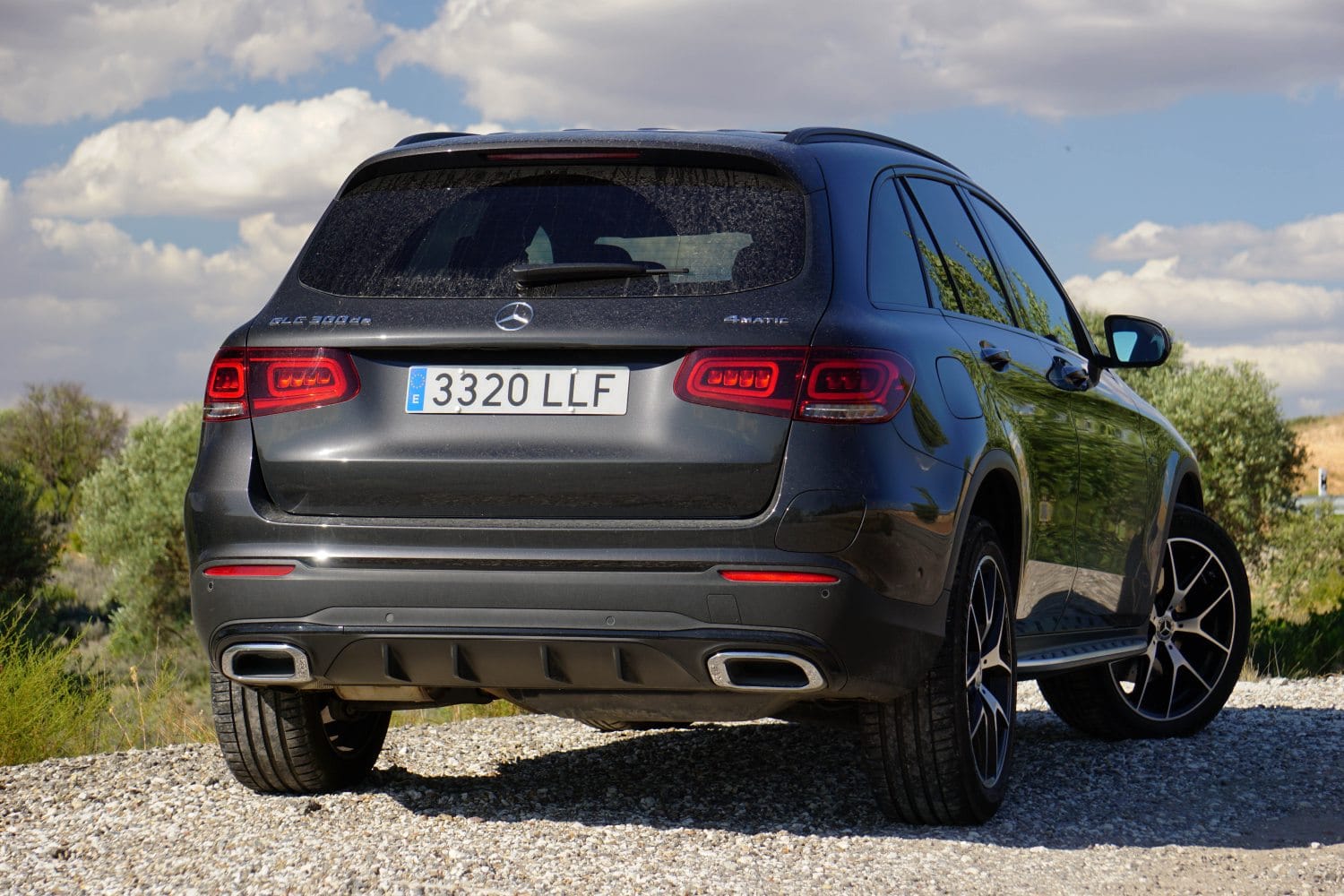 7.9
Remarkable
The Mercedes GLC 300 from 4Matic is perfectly suited to the needs of a majority who do not want to renounce the low consumption of a diesel engine and the advantages of the ZERO environmental label. Unless you have an allergy to this type of combustion engine, it is much more palatable than the gasoline PHEV that is also offered in the range and has a much higher consumption.
The good
ZERO label
Benefits
Consumption content
The improvable
High price
Trunk somewhat small
Diesel block loudness