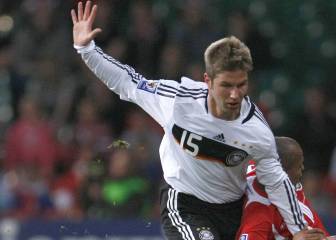 In recent years, every time There are more soccer players, men and women, who have declared themselves openly homosexual, bringing more visibility to the LGTBI+ soccer community. The latest case is that of Jake Daniels, a Blackpool player, but he is not the only one.
Thomas Hitzlsperger
"I speak of my homosexuality because I want to promote the discussion on this subject in professional sports", those were the words chosen by the former German international to make his sexuality public in the German weekly 'Die Zelt'.
His is one of the most mediatic cases. International player between 2004 and 2010, he played 52 games for the German national team and defended the colors of Aston Villa and Everton, in England, of Stuttgart -team in which he was captain- and Wolfsburg in Germany and Lazio in Italy.
Mapi Leon
The player of Barcelona and the Spanish women's team He has spoken about his homosexuality in various media interviews. With his speech against homophobia and in favor of equality, he seeks that other athletes, and specifically soccer players, also take a step forward and help the visibility of the LGTBIQ community.
Anton Hysen
Swedish footballer Anton Hysén also chose to make his sexuality public through the media. Son of former Liverpool and Fiorentina footballer Glenn Hysén. Anton continues to fight to continue his sports career in the Swedish league and also for the rights of the LGTBIQ community around the world.
Maca Sanchez
The Argentine footballer led the fight to make women's football professional in Argentina and ended up being hired and signing her first professional contract with San Lorenzo. A lesbian and feminist activist, one of her phrases with the most interactions on her Twitter was: "A national, popular, democratic and feminist 2019. That women's soccer be professional and abortion be legal damn ".
Liam Davis
In 2017, the then Northern Premier League side Cleethorpes Town midfielder One North led a UEFA campaign against homophobia in football. He took advantage of this to make his homosexuality public and actively asked other soccer players to do the same without being afraid of what they might say about them.
Eriksson and Harder
The World Cup players in France 2019 Magdalena Eriksson and Pernille Harder left one of the most important non-sports images of the Women's World Cup. The Swedish player, Eriksson, was congratulated by her partner, the Danish Harder, with a kiss in the stands, after a victory for the Swedish team. A gesture that has become one of the most reproduced images in recent days by the visibility it brings to the LGTBIQ community in soccer.
Justin Fashanu
His case is perhaps the best known for having been the first professional soccer player to declare himself homosexual and for his terrible end. In 1990, Justin Fashanu was featured on the cover of 'The Sun', revealing his homosexuality. The reactions were bad. He was mocked by fans, teammates and stopped receiving offers from clubs, thus having to retire from football prematurely. Finally, and after being accused of sexual assault on a teenager, he ended up taking his own life.
Sandra Castello
A few weeks ago, Sporting Huelva published a photo with which they congratulated to Sandra Castelló, a footballer on their squad, and the team delegate, Leyre Serrano, for their marriage. Social networks were filled with congratulations to both.
Josh Cavallo
One of the last to do so, on October 27, 2021, was the professional of the A-League, the Australian league, Josh Cavallo. The Adelaide United midfielder used his Twitter account to make his sexuality official through a video. Furthermore, he also posted a series of images where he gave more details of his situation. He received the support of big names in the sport like Gerard Piqué or Pau Gasol.


[