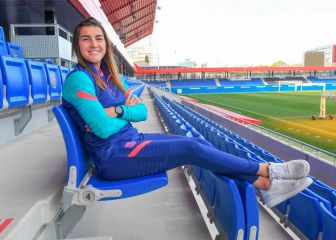 Patricia Guijarro Gutiérrez (Palma de Mallorca, May 17, 1998) is one of the leaders of Barcelona's midfield. At 23 years old, she is a fundamental piece in both the Barça team and the National Team. Her versatility, versatility, work and undoubted quality have made her indispensable. Leader of one of the best generations of Spanish women's football, the one that was proclaimed runner-up in the U-20 world with the Balearic Islands as the tournament's Ballon d'Or, Patri never tires of winning. Her ambition makes her better every day. Before playing the second leg of the Champions League semifinals against Wolfsburg, she spoke with As.
You came back in the game against Wolfsburg due to injury, how are you?
Very well, always after being stopped for ten days, when you stop a bit with a rhythm that we know how it is, that you don't stop for the whole year, it can cost a bit. I took advantage of the intelligent way to rest, due to that injury and I arrived very well. I felt very good against Wolfsburg.
With 5-1 in the first leg, it seems that Barcelona already has the tie settled…
We are not to think like that, we are ambitious and we want to win everything. Our mentality is as if we had been 0-0 and it's another final, the truth is that seeing the game we played at the Camp Nou I hope to repeat it because we played a good game.
What did you feel when you saw the Camp Nou full?
It's a pass. We are amazed, we feel very grateful for the people who support us, who come to see us. There are more and more people with us. Now it seems that we do not realize it, but little by little we will realize what we are experiencing because it is something super beautiful
If three or four years ago they told you that there were going to be more than 91,000 people at the Camp Nou to see you, what would you have told them?
We know that three or four years ago it was unthinkable. We never thought this would happen so soon, maybe in the future women's football would evolve. We didn't expect to win the Champions League so soon either, but it's coming sooner and it's the result of the great work we do.
How do you explain such rapid change?
We have put our batteries and we have all given everything so that the work bears fruit soon. In two or three years we have made a brutal physical change because it was the greatest difference between Spanish teams and European and world teams. Now, in such a short time, we are up to the task and it is more noticeable how ambitious we are and the results arrive
That 2019 final against Lyon was an important turning point…
We know the story, the change we made from two years to now. It's nice to remember what we lived through and have achieved it now.
Wolfsburg coach Stroot said that Barcelona is already in the final, what do you think?
In football anything can happen. It is true that we have never lost by a result like the one it would have to be to be eliminated, but a team like Wolfsburg with its definition and the success it has in front of goal can do it for you. If you don't come out at 200 percent it can mess you up, your nerves play tricks, if you score a goal or two your nerves and tension increase, the game gets worse and Wolfsburg is capable of anything. We have to go out like a final, it's a new game.
Surely Wolfsburg will seek to make changes to the type of game they proposed at the Camp Nou, what do you expect the Germans to do?
Watching the game that came out of the Camp Nou, they will surely make changes. Especially defensively they are a little more organized, they are not so organized in the face of our mobility that we can enter them from anywhere with attackers or midfielders. We have a brutal mobility, be more organized to have more spaces in the face of the counterattack
They say that getting there is difficult, but staying longer…
We said at the beginning of the season that repeating what happened last year would be a mistake. Being physically, tactically and at game level we had to give it a twist because the teams were going to improve in order to beat us. It's what we did, we worked harder, the preseason was harder… all a bit to do this.
What fault does Giráldez have in all this?
Physically we have added things, we have worked even more. With Lluís we made changes and it was seen, but every year we add more. Trying new things, not being predictable, not just being what we did last year because otherwise they have you caught and doing new things for each game is a world.
You have six games left to sign the perfect season, is that the challenge?
The first objective is the titles, we already have two. Now we have the Champions League and the Cup. We have to be smart with what comes our way, but as I told you, the word that defines this family is ambition and the desire to win things. We want to win it all.
After the club season comes the European Championship, how do you face it?
We have played good games, we have been improving and learning. We have strengthened ourselves as a team, we are many from Barça, but we also coordinate with more people from other teams. The Spanish teams have a style of play and it shows. We have had a good phase and facing the European Championship we are going with great enthusiasm and confidence.
Many selectors already give you as the favorites…
They still put us as favorites because of what we have done with the clubs. Levante stood up to Lyon, Real Madrid eliminated City… Spanish women's football is improving, but we don't put labels on ourselves. We have never reached the semi-final or final of a major tournament. We don't put labels on ourselves. We're going to do our best.
And other good news for Spanish women's football is that professionalization seems to be finally coming.
Finally, it seems that it will arrive. We needed it. We know how it is to play in a stadium, after a change to artificial turf with barely a hundred people… the resources and facilities are scarce, the teams live without doctors or physios… there are many things to improve and they will improve with professionalization. For next year I hope everything is up.
Not too long ago, Olympique de Lyon won five Champions Leagues in a row and marked an era in women's football, can Barça mark a similar era now?
Those are big words. Lyon will always be the king of Europe, at least for now. Hopefully we can reach those levels, we've only won one, we're on a good track, but that's a long way off. What Lyon did is amazing, to achieve that would be incredible. For now, hopefully we win and go to the final and see what comes next.
For ambition it will not be..
Surely not, we want to win even in the warm-ups.
[