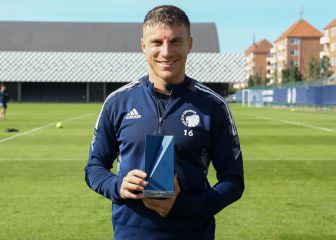 the balearic Pep Biel he was chosen as the best player of the season in the Danish Super League. It was the footballers themselves who voted for the Spanish midfielder from Copenhagen, who in his third season in the Danish capital adds 11 goals and six assists in the league. "I was a bit surprised to win this award, but I am very proud to have achieved it. I want to thank everyone who voted for me," said Biel after receiving the award from the Danish Football Federation. "It means a lot that the ones who voted for me are the footballers. I'm very happy with myself because I think I've had a good season. I've played a lot of minutes and I've helped the team," added the Spaniard, who arrived in Denmark in 2019, after that Copenhagen paid Real Zaragoza five million euros for his transfer.
Pep Biel is going through his best moment as a footballer in Copenhagen, but his performance was not always up to expectations. after becoming the most expensive signing in the history of the Danish Superliga, Biel lived complicated months in which it was difficult for him to adapt to his new home. As he himself acknowledged, his 167 centimeters in height suffered in football as physical as Danish: "At first it was a bit difficult for me. I'm not the tallest or the strongest, but football is also played with movements or skill with the ball." The former Real Zaragoza player enhanced his qualities and is already listed as one of the great stars of Nordic football: was voted best player in Denmark with 25% of the votes. He thus overtook Nicklas Helenius (Silkeborg IF), who received 19% of the ballot papers, and Evander (Midtjylland), elected by 16% of those polled.
"There is a good level in the Superliga. There are many talented players. Football is different from Spain. Here it is more physical"Said a Pep Biel who this season also performed at a high level in the Conference League, where he scored four goals and provided as many assists in eight games. The Spanish, who already he surpassed the hundred of parties with the Copenhagenwill have the opportunity to round off their fantastic season next Sunday, when their team will have the opportunity to win the Super League for the first time since 2019. To achieve this, the 'lions' will have to defeat an Aalborg team that will visit the Parken Stadium with the Conference League at stake.
[