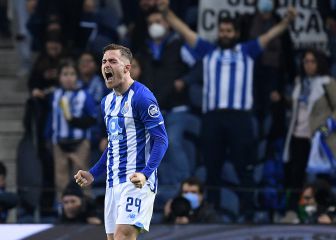 Porto managed to get, a month and a half ago, a valuable 1-2 that they certified in Do Dragao. It's not that Sporting wasn't capable of coming back, it's that local victory was always closer than the visitor.
The Verdiblancos tried to react to the dominance of those from Conceiçao with a play by Pedro Gonçalves and a goal from Sarabia, but the latter was disallowed for offside. Reis called for a penalty in the 35th minute that could have been called if it hadn't also been offside previously.
Porto responded with Zaidu, who had one of the clearest of the match in a counterattack, but it was noted that he is not a striker by crossing it too much. after the break, Gonçalves missed a very clear one-on-one against Marchesín, who regained his starting position for the Cup.
From then on, Do Dragao began to grow and with him his team. Fabio Vieira, one of the most exciting players in the squad, stole a ball, drove to the front and demanded Adán, who responded. Porto lit up with every shot, even from very distant positions, and ended up shouting with joy in the 83rd minute. Toni Martínez, with the suspense of the VAR due to an offside that was not by 7 centimeters, scored on the first ball he touched.
The desperation of elimination caused Pedro Porro saw the red card in the 89th minute due to a very ugly foul with the heels and Galeno's heel.
Porto will play the Cup final on May 22 against Tondela looking for the double By then, he will surely have already celebrated the league.
[