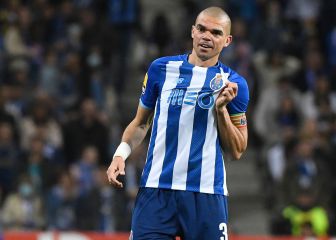 Pepe, a former Real Madrid soccer player and currently a Porto player, is already aware of the sanction for the incidents that occurred on February 11 in the match between his team and Sporting de Portugal. The Disciplinary Council of the Portuguese Football Federation (FFA) had opened Disciplinary file against Pepe and Tabata, striker for Sporting de Portugal, for causing a brawl between players and coaching staff of both teams. Now it sanctions both with 23 days of suspension and an economic fine of 2,870 euros.

Both footballers had already been suspended preventively with a two-match ban. The minutes of the meeting left no doubt about the unfortunate acts of both. "Pepe kicked a manager of the opposing team (Hugo Viana), committing an act of violent conduct," while Tabata"pushed a manager of the opposing team, committing an act of violent conduct".
Pepe also, as announced on the days of the events To Ball, tried to hide a bullet thrown onto the pitch by Porto fans. "The Porto center-back, near the Sporting area, would have tried to hide an object that, according to the League delegate's report, could be a bullet", explained the middle of Portugal.
The sanction is imminent and they will be left out of the second leg of the Portuguese Cup semifinals that this Thursday faced both teams. Tabata and Pepe can appeal the sanctionbut the defender will have to do it against the TAS (Sports Arbitration Court) since at the time he did not recognize the facts, as reported by several Portuguese media.
Pepe's harsh statement: "I repudiate the punishment for something I didn't do"
The Porto player continues to deny the facts and issued a statement asking for justice: "Honour, dignity and uprightness of character are three of the values ​​that I value most in life, whatever the circumstances. And it is in defense of these pillars that I have no choice but to vehemently repudiate the punishment applied to me by the FPF Disciplinary Council.
My sorrow is as great as my conviction that the truth of the facts will ultimately prevail. Since February 11 I have always remained very calm, knowing that the facts imputed to me were not true, but today I was sentenced to 23 days of suspension after a process in which I was heard on March 7 and tried on April 12, in the City of Soccer.
I have been a professional athlete for over 23 years. Along the way I have made many mistakes (I do not hide it), but no one can accuse me of not always admitting my mistakes, assuming the consequences of my actions, both as an athlete and as a man. Anyone who has come across or has come across me knows this well.
The word of some cannot have a different weight than mine,The presumption of innocence of some cannot have a different weight than mine. The honour, dignity and uprightness of character that I hold dear, They drive me to repudiate, repent and rise up against a punishment that was imposed on me for something I did not do. Again, I didn't. And the feeling of injustice is, today and always, the worst feeling."
[