If football were a chessboard, Álex Pozo would be the queen, capable of making the moves of the rook, but also of the bishop, starting as a right back and finishing as a winger striking like a knife in butter, as if he had entered from the bench of revulsive. On loan from Sevilla, he will become the property of Almería upon promotion. Not in vain, in an outstanding season for the rojiblanco team, the footballer born in the Sevillian town of Huévar del Aljarafe is the second fittest player in the Almeria squad for artificial intelligence, only behind Fernando. The data analyzed by Olocip, a pioneering international company in the development and implementation of artificial intelligence, indicates that, with a value of 7'13, he is the third player with the most impact this year for Rubi's team, only behind Sadiq (12'27) and Fernando (9'16). This means that has contributed to producing seven more goals than expected.
The system, which analyzes not only quantity but also quality, shows that it is the right back with the most impact of the entire competition in the offensive aspect, ahead of Álex Sola, from Real Sociedad B, Álvaro Tejero, from Eibar, and Luis Pérez, from Valladolid, despite the fact that the Almería footballer is not a pure right back. The data studied by Olocip indicate that in the global aspect (not only offensive) Pozo is the fourth with the best performance in that position. With an accumulated value with his total shares of 7'13, he is only surpassed by Mellot, from Tenerife (8'32), Álvaro Tejero himself (7'89) and Arnau Martínez, from Girona (7'4).
The Sevillian is the outfield player who has played the most on the Almeria squad (2,918 league minutes), being able to overcome this Friday in Anoeta the barrier of 3,000, something that he has not achieved in his entire career, proof of the role it is having in this course. In value he is generating 0.22 goals per game, which means that, with his total actions (offensive, defensive and game construction), contributes to the rojiblanco team generating a difference (score/avoid) of one goal every 409 minutes. He has almost doubled the value he had last year at Eibar (0.12) and is close to his best season, that of Granada (0.23). The offensive aspect adds up all the offensive variables, including shots or duels, among others. The construction of the game includes successful passes, failed passes, assists, driving and much more. The total, for its part, includes all the actions of the footballer.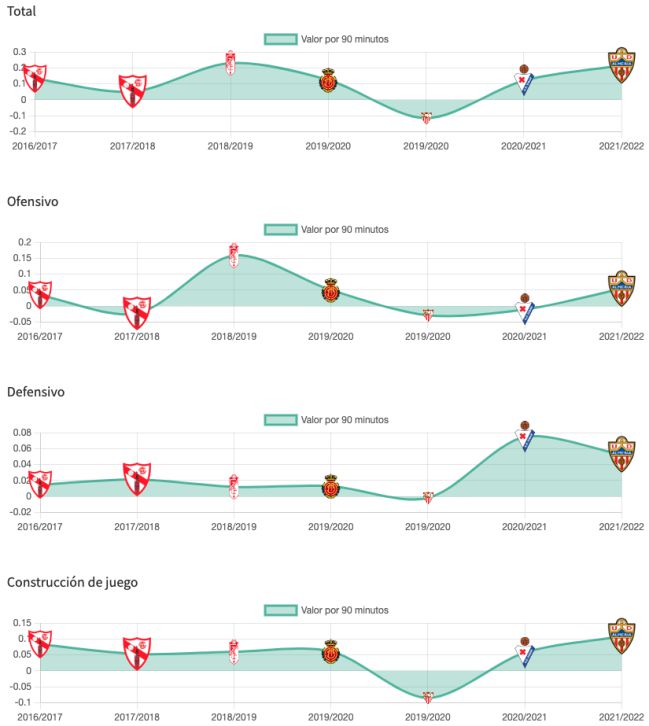 [