The price of video cards (GPU), devices used for mining alternative cryptocurrencies to bitcoin (BTC), has fallen by 25% in at least three months, prolonging a sustained decline that does not seem to take off.
According to the results of a market study carried out by CriptoNoticias, video cards or graphics cards have fallen 26.8% on average in their price since March 16 of this year, when we started to keep pace with the prices of these products.
For this study, we used the Amazon.com website as a reference, understood as one of the largest e-commerce platforms in the market and where offers of this series of technological products abound.
Advertising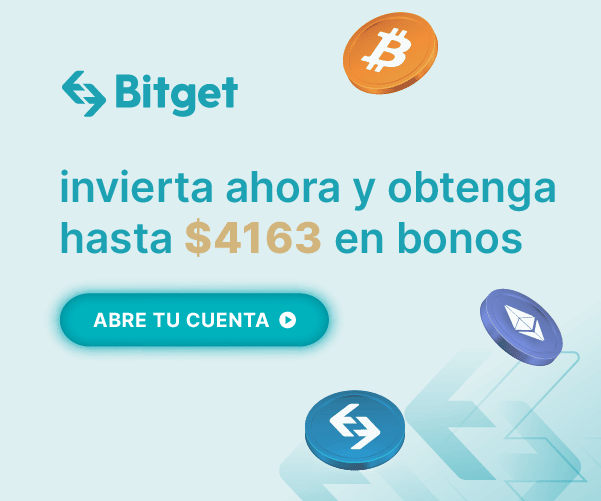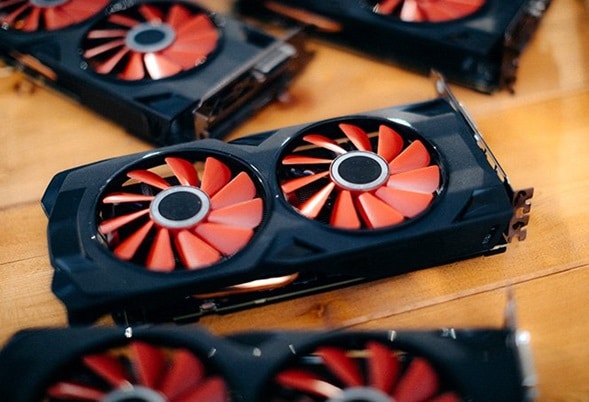 bloody quarter
Something that draws the attention of our study is that, since March, all the analyzed video cards accumulate drops greater than 10%, with minimums of just -12.4%, for the case of an AMD 6700 XT GPU.
The video card that had the worst drop since March was the AMD 6800 XT, which accumulates a decrease of up to 52.8% in the span of 90 days, a significant drop for a product that is widely used for Ethereum mining.
The GPUs that had average falls were the AMD 6600 XT, with -24.3%, the Nvidia GeForce 3090 Ti –which practically just came out on the market–, with -29.5% and the Nvidia GeForce 3070 Ti, which fell by -37.4%.
Advertising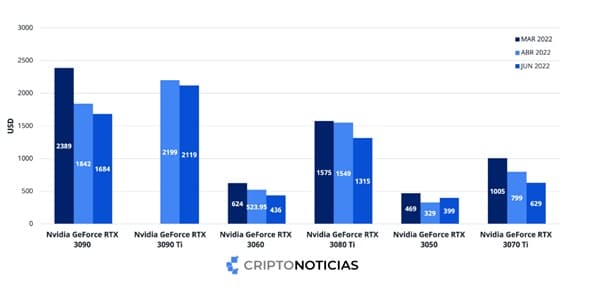 If the data is compared to April, which was the last time a price decline was reported, the decline has run its course, as forecast at the time. And it is that, in numbers, GPU prices are down 11.1% on average from almost two months agofollowing the bearish market trend that also impacts these products.
For its part, the Nvdia GeForce RTX 3060 video card reported a growth in its price between April and June, equivalent to 21% or about USD 70 on average. However, it was insufficient to break the downtrend, as it is still below the price reached three months ago, in March.
An impact of the cryptocurrency market
Video cards are technological devices used for computer games, graphic design, audiovisual editing, and also cryptocurrency mining. That's why, price increases or decreases respond to various factorsespecially to the public's interest in GPUs.
long time ago mining has been a fundamental part of the growth of video card manufacturing companiesSo much so that companies like Nvidia have been sanctioned for hiding such bullish data, which respond to mining activity.
Therefore, it could be normal that part of the price variation of video cards responds to the impact that the fall in prices is currently generating in the cryptocurrency market.
As we have widely reported on CriptoNoticias, the emerging market has reported sustained declines for at least 10 weeks, with the main currencies, bitcoin and ether (ETH), in red prices that have left the ecosystem in full distress.
If prices go down, so does the profitability of mining, so much so that, as we reported a few weeks ago, there were miners who were about to turn off their mining rigs, since they were practically working at a loss.
An outage scenario can lead to the disconnection of mining equipment, especially those that are connected to a home electrical network or are part of small-scale operations, because what is generated does not cover to pay the electrical and maintenance costs.
So, and if this is true -responding to the theory of supply and demand-, there is less interest from minerswhich far from wanting to buy more video cards, may rather be thinking of ceasing activities (at least temporarily), which would negatively affect the price.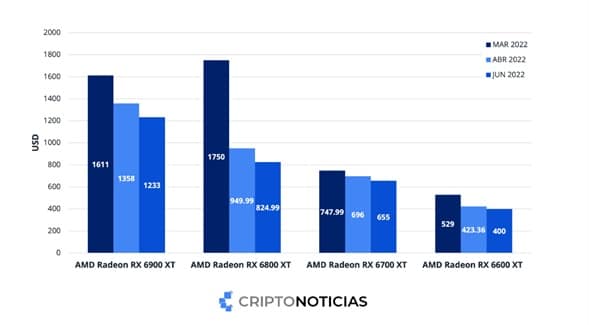 This, in addition to the fact that miners are about to finally say goodbye to Ethereum, a network that will migrate from the Proof of Work (PoW) algorithm to the Proof of Stake (PoS), so the hardware will not be needed to obtain ethers.
While it is true that there are other cryptocurrency projects that offer profitability when mined and that have opened their arms to miners who become "unemployed" after the departure of Ethereum, the truth is that there is a lot of uncertainty among these operators, which, seen the data, they seem cautious to continue acquiring equipment to mine.
At the moment, the trend is down and there seems to be no incentive to stop. So, It remains to make a decision, because, to be honest, there are good and efficient equipment at half the priceas a sign of a new opportunity to mine cryptocurrencies.
| | | | | |
| --- | --- | --- | --- | --- |
| GPU | March 16 | 28th of April | June 17 | Variation % (June-April and June-March |
| Nvidia GeForce RTX 3090 Ti | – | $2,199 | $2,119 | – 3.6% |
| Nvidia GeForceRTX 3090 | $2,389 | $1,842 | $1,684 | – 8.5% / – 29.5% |
| Nvidia GeForce RTX 3060 | $624 | $523.95 | $436 | – 16.7% / – 30.1% |
| Nvidia GeForce RTX 3080 Ti | $1,575 | $1,549 | $1,315 | – 15.1% / – 16.5% |
| Nvidia GeForceRTX 3050 | $469 | $329 | $399 | + 21.2% / – 14.9% |
| Nvidia GeForce RTX 3070 Ti | $1,005 | $799 | $629 | – 21.2% / – 37.4% |
| AMD 6900XT | $1,611 | $1,358 | $1,233 | – 9.2% / – 23.4% |
| AMD 6800XT | $1,750 | $949.9 | $824.99 | – 15.1% / – 52.8% |
| AMD 6700XT | $747.99 | $696 | $655 | – 5.8% / -12.4% |
| AMD 6600XT | $529 | $423.36 | $400 | – 5.4% / – 24.3 |