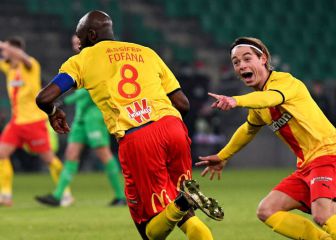 Paris Saint-Germain is looking for reforms ahead of 22/23. Leonardo's time with the French capital team is over and, After the renewal of Kylian Mbappé, a man of his confidence will take over the sports management, Luis Campos.
The Parisian team wants to turn the template concept around and is looking for 'soldiers' to surround their stars to reach the Champions League. Although the sports director has not yet officially arrived, the club is already working on the remodeling and intends to strengthen the midfield. Plan A is Tchouameni, but they also have an alternative plan prepared: Seko Fofana.
The midfielder is one of the most outstanding of last season in Ligue 1 and, according to Le Parisien, the whole of Paris considers that it is a perfect reinforcement for that area. After ensuring the presence of Nuno Mendes for next season, the Frenchman is on the target list, but he is not the highest priority. From France they assure that Tchouaméni continues to be the priority objective and this would be Plan B for Monaco, finally deciding on Real Madrid. As AS learned, the player's agent and the white club have already reached an agreement in principle, but there is still no firm decision after PSG's meddling in seeking to sign the player. At the moment, the agreement between Monaco and Real Madrid would be missing. Those from the Principality remain firm at 80 million euros plus bonus while the whites offer a range between 50 and 60 million euros plus extras for objectives.
Fofana, a historic sale

Signed for 8.5 million euros to Udinese, Lens will ask for good money for Fofana, which has doubled its value in just one season, reaching 25 million euros. Paris Saint-Germain is looking for replacements for the midfield and there will be reforms with a possible departure of a Wijnaldum that has not fitted in the best way in his first campaign or that of Rafinha, who already left on loan last season.
The one from Paris would thus return to his hometown where he has never played with PSG and with Paris FC when he was still in training. With Lens he has been key, playing 41 games and scoring up to ten goals, drawing the attention of the Parisians. In the event that these reach the claims of the Lens, Fofana would become the most expensive sale in the club's history, surpassing Loïc Badé's 17 million euros, Diouf's 15 million on his departure to Liverpool or the 11 paid by Real Madrid to sign a young Raphael Varane.

[