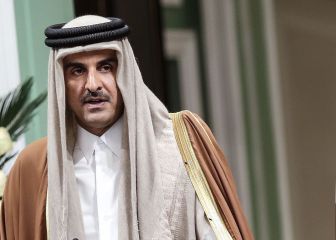 His Highness the Emir of Qatar, Tamim bin Hamad Al Thani, will travel to Spain on May 17 and 18 in what will be his first State Visit since his accession to the throne in 2013 in the year in which the Asian country will organize the first World Cup in football in the fall, reports the Qatari embassy. This visit comes with the theme Mbappe hotter than ever.
His Highness the Emir will be accompanied by his wife, Her Highness the Sheikha Jawaher bint Hamad bin Suhaim Al Thaniand a large delegation, which includes the Deputy Prime Minister and Minister of Foreign Affairs and the Ministers of Finance, Industry and Trade and of State for Energy Affairs.
The Emir will be received by His Majesty the King and Queen of Spain and the President of the Government, Pedro Sánchezon a trip whose main objective is to strengthen cooperation between the two countries at all levels.
During his stay, he will sign business and commercial collaboration agreements, although issues related to energy, sustainability and World Cup Qatar 2022which will be played in the Asian country from November 21 to December 18.
"Qatar and Spain have maintained a relationship of friendship and harmony for many years. The visit of His Highness Sheikh Tamim bin Hamad Al Thani will undoubtedly serve to strengthen ties between the two countries and work on common interests", assured the Ambassador of Qatar in Spain, HE Abdalla Al-Hamar.
Qatar is one of the main foreign investors on the Spanish Stock Exchange and an important supplier of natural gas, and both countries maintain an active collaboration in matters of security, education and technology.
The Ambassador of Qatar in Spain is confident that the state visit that His Highness the Emir of Qatar will carry out next week will result in a "strengthening of cooperation between the two countries in all sectors".
[