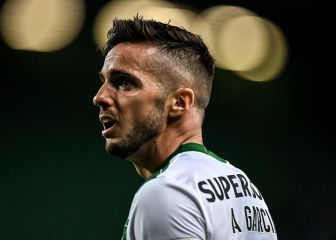 While PSG ends the season with their tongues hanging out and barely the Ligue 1 title in their pocket, one of their loan-outs, Pablo Sarabia, stands out at Sporting de Portugal in the best season of his career. Porto snatched the championship from the lions, but it will not be due to the extraordinary role of the Spaniard in all the competitions played this season with his team: In total, he has 21 goals and 6 assists. In addition, he made 5 with Spain.
These figures improve those achieved in any of his other campaigns as a professional. Only in one, with Sevilla, did he come close to those goalscoring records by scoring 12 goals, for the 14 that he accumulates in the Portuguese league on this occasion. To them we must add two in the Champions League, two in the League Cup, another in the Portuguese Cup and one more in Ligue 1 with PSG before leaving for Portugal.
All of this makes Sarabia the biggest planning mistake for the Parisians this season. The bet on Di María, who occupies his own position, has not been the best. El Fideo barely has 3 goals and 8 assists during the campaign, which has triggered an exit from the team that could end him in Italy. Although there has not yet been a meeting with Sarabia, the logical thing is that PSG wants to recover the Spaniard and give him those stripes from the Argentine.
Sarabia's season is not going unnoticed. There are many clubs that have been interested in his situation, because he is a footballer who, at 29, is in full maturity of his career. PSG is still the holder of the rights to him, but the great season in Lisbon makes many more suitors emerge. With the World Cup in Qatar just around the corner, in which he will be one of Luis Enrique's regulars, more than one big club in the Champions League would like to have him. The numbers back him up.
[