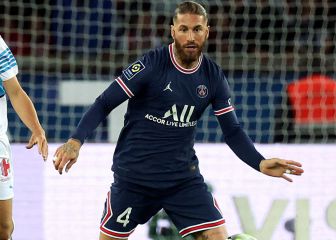 Sergio Ramos' adventure in Paris could end sooner than usual. According to the information from Le Parisien, the center wants to continue in the French capital next season, but the leaders of PSG do not want to keep him and they have already shown him the exit door, in clear evidence of the shipwreck that his incorporation has meant.
Both parties have very opposite positions. While Ramos assured a week ago in an interview with Amazon Prime that his continuity was a contractual issue (he has one year left on his contract) and not of desire, PSG does not want to live another season with the center-back constantly injured and unable to debut in the Champions League. Despite having played the last three games, one of them as a starter against Clermont, the physical state of the camero worries to PSG, who in principle will not put an obstacle to letting him out from June.
The great handicap that the Parisian team has is the player's salary. Currently, very few teams can take on the Andalusian central defender and to this must be added the continuous injuries he has suffered throughout this course. In addition to Ramos, PSG has already informed Di María that he will not renew his contract that expires in June, so that El Fideo also has every chance of leaving the French capital in the coming months.
[