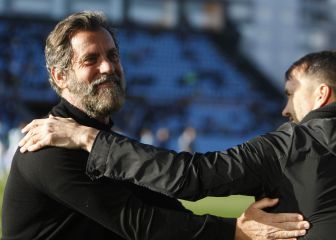 What casualties do you have for Monday?
In principle we are all except Cuenca for the sanction. The boys are training well and we've had a good week.
Have you had to reduce the euphoria after the victory in Vigo?
Nothing should be discounted or anything taken for granted. It is in speech that we believe. Playing the last ones, the weekend is long. We have developed the ability to observe without giving an opinion. We watch the games go by and think about ours.
In Vigo there were news and victory, what do we expect?
When the boys give us a good feeling they put you in doubt for the next game. The competition tightens and those who have not played see that the level has risen and the whole group is stronger. We come to the end of the season with enthusiasm and desire to compete well. We have won two games out of the last five playing against very difficult teams and we understand that we are in the positive dynamic that we wanted.
How can you make up for the loss in Cuenca?
There are several possibilities and we will look for the one that least varies the concept of the team and its operation. We will bet on a player who is very keen and who has to show and will try to do his best.
What do you expect from Betis after winning the Cup?
We believe that Betis is in its best season in many years and we know what it is historically. We also know what he is in the last ten years and this is his best season. We saw up close what a desperate team was, spending a lot and not getting it right. From Pellegrini the project is different, the team has grown, wins titles and rubs shoulders in the historical positions of that club. Our rivals do not have to convince us of humility. They will come wanting to win. We will congratulate them on the Copa del Rey and from then on we are staunch enemies.
If the weekend goes well on Monday they can leave the permanence almost sealed.
Honestly, we don't do those calculations. It is very exhausting to do mathematics with situations that we cannot handle. In soccer, limiting and focusing on what we can control generates better decisions than wanting to control things that we cannot. That creates unnecessary wear. If we are capable of doing our homework, we will think little of our rivals.
Does it make it easier to have two strikers like Ünal and Borja Mayoral?
I don't like to talk about Enes or Borja without talking about Sandro and Mata or Darío's attempts. If Enes has reached this level, it is because he has a group behind him that supports him a lot and adds that he is a better player. If Borja has come to focus so much on the club and knowing what we want, it's because we have a team that explains it well. And there are players like Sandro who are making an incredible effort this season. And Mata can't do it, but we feel it around us every day.
You spoke about Pellegrini first, what do you share with him?
We feel contemporary. He starts the race before me, but we have shared many things together. We even share an exotic league like the Chinese one. We have called each other on the phone to talk about players there. We have a fluid relationship and it is recognizable to me. Pellegrini brings together many things of a coach that I like and Manuel also sees in me a hard-working and capable coach. They are that kind of mutual respect that we know exist.
When will there be news about its renewal?
We are in the idea of ​​achieving the objectives and there is no mind for anything else. I am focused on this and I have no other look. I speak with the president that he is also interested in knowing. We are calm and the most important thing is to achieve the goal.
[