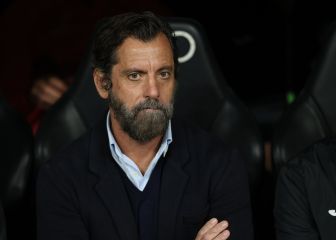 Does the break after this day multiply the importance of the match?

My feeling is that we haven't played a single game that wasn't very important. We have had to take it that way at all times. The breaks are worth to reflect and rest. We want to add and improve in each game.
Is it good for you that many teams have gotten into the fight?

The more teams the better. Let the work and luck be distributed and whoever deserves it should keep the category. It is not good to think about mathematics. We are worth what can happen in the field. If we do our job, the rest is of little value to us. If anyone is surprised now it is that he was offline. You cannot work on assumptions. The fight is constant. We need people in the most absolute reality that is marking this season. We have to keep fighting until the end.
Are you obsessed with the fact that you haven't won away from home yet?

On Saturday we lost a streak of ten months without losing at home. Who was going to tell us? The streaks outside are also to be broken. One has been broken at home and we are optimistic that one can start outside. Far from home there are hostile environments and they don't give anything away. We have to take a step forward.
How are your players mentally prepared for this final stretch?
In my mind and in that of the players, nothing has changed compared to when we arrived. We are focused on each game. We never thought that those behind us were not going to react like we did. It would have been unwise to think that others could not do what we could do. We must recover energy, attention and responsibility that led us to do important things. We are capable of doing it.
It bothers him that some arbitrations transcend a lot and when they harm them, so little is said.

We are in the season finale. I get along well with the referees and I don't want to cross red lines. I don't want my players to be harmed. There are complicated plays to referee and we only ask that ours be reviewed with the same detail as others. Ours, with closing one eye are already reviewed and in others until they discover the move there is no end. I ask that you treat us the same as others.
Are there more casualties besides Mata and Silva?
Maksimovic will not come because he is sick with the flu.
What can you say about Celta?

We talk about the rival at the moment we meet him. He had stagnated and the other day in Bilbao he had the best game of the year. Here they did us a lot of damage that cost to repair. It is a team built to play well from behind, with a good foot. They have been betting on that type of player for many years. We will have a simple and clear plan. If we do it and we have dynamism we will be a team to take into account.
The other day they improved with four defenders. It's a good solution?
It is something that we do not train. We know how to defend with four because we defend very well with five. We have maintained a system that has worked and it is very difficult to undo it because it has given us many points. We are not training with four defenders. The players adapt well when it is necessary to use it.
Can there be rotations due to lack of gasoline?

We have some players who did not play the last game, others have rested and there are players who are recovering their energy. We can not complain.
How many points will they need to save themselves?

I don't calculate. I haven't been to school in a long time and I forget things. In each game there are three points and I don't waste time calculating the ones we need. We are where we would have imagined eight months ago. We depend on ourselves and that is the most important thing.
[