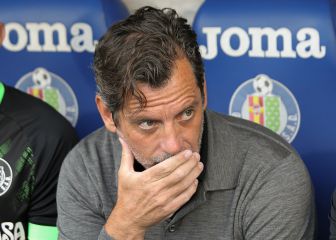 Does it motivate the possibility of being able to finish thirteenth?

Yeah, that's already another one-match target for him. We have lost the goal average with Elche. It would mean being in the same position as eighteen years ago when it all started. After everything that has happened, it would be great to simulate something like this.
How do you live a quiet game after so much agony?

Let the boys loose to play. It is very difficult to play in a situation with so much pressure and so little margin for error. The players contract for it and have given less than they can collectively as a team. We are going to see if we are capable of playing a game giving everything without anything to negatively affect his attitude.
What remains for Quique of this complicated season?

Learning. It has been the most positive. We had never gone down paths so dark and with so many obstacles. We had to seduce a group to take them to a very different place. It has served us to test ourselves. To know where our calm and ambition is, our balance. It has been a wonderful experience.
What line-up will he bring out in the farewell?

I don't like to advance lineups. It is done. We will make a competitive team and thinking about winning.
What do these very different numbers tell you in the Coliseum and outside of it?
The fact that we have become very strong at home says it all. We've scored quite a bit away even though we've only won one game. We have achieved balance with many draws away. If we think about the future we must find a team that does not distinguish between playing inside and outside.
Has it been the most even season you remember?

The League aims to close the gap between its competitors and it is succeeding. Every game is an indecipherable hell. Anyone can lose to anyone. That is why there are things to elucidate on the last day. That speaks very well of our competition. Well-armed teams, level technicians and a lot of tactical preparation. Everything has leveled up.
How do you see the Champions League final next Saturday?
We're going with the teams that represent Spain and hopefully Real Madrid will be European champions.
Can you share a locker room moment that has stuck in your mind?
For me it's a movie and any detail stays in my mind and frames of many things go through me. There was a moment of discouragement, pressure, many of illusion, energy, positivism. When in this last section we were weaving the permanence with caution and point by point. They all have to do with the predisposition of the squad towards the coaching staff to give everything. That has been the key together with a friendly and familiar club management that is pleasing.
Is it a good time for players who have barely participated to play?

Any player can do it, but one who has not played minutes will be at a disadvantage. Football is structured in a way and we will make a line-up to contribute to the club by being in the best possible position. We are sorry if any footballer is left behind. That is always a thorn in the side of the coach.
Before he talked about his first season. Is there any similarity?

They are very different. So we were all new. The team and me. We experienced it as a party from minute one, the Coliseum was always full and we had no trouble throughout the season. This year there was a lot of sacrifice and moments of tension. The club has grown a lot and we can think of a season to come in which we can enjoy the journey.

[