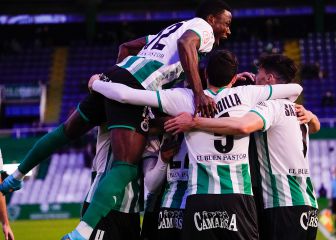 Racing becomes the first champion of the 1st RFEF
Racing and Andorra had their options in the first part. Racing started better in the first few minutes, trying to take the initiative with the ball and looking for the flanks to attack on the flanks of Andorra. Nevertheless, Eder Sarabia's men began to have possession and feel more comfortable with the ball. As a result of that, the scoring chances of the Andorran arrived, especially in a one-on-one match for De Molina, who did not choose well and decided to give it to his teammate who was covered by a Racing defender. Little by little, Guillermo Fernández's team improved and in an isolated play, Javi Vázquez put a ball to the far post for Cedric and the Nigerian striker put it in the cage with a very powerful shot from the bounce, adjusted to the strain of the post. of Ratty. After the goal, Racing improved and made it quite difficult for Andorra to find no solutions when it came to the ball.
The second part was different. Racing came out for the match and, despite being ahead, insisted on Ratti's goal, leaving Andorra no chance to come out with the ball played in the first third of the second half. First he had a very clear Pol in front of the Andorra goalkeeper, but he threw it at Ratti's body. In the second, Cedric would not forgive and would give more advantage to a Racing that was being superior. From that goal, Andorra began to control possession of the ball, although with little depth. Little by little, Racing was accumulating in their area, they worried about defending well and the third from Cameroonian Soko would arrive on the counterattackwho would dribble past the Andorra goalkeeper and define at will by scoring the third and final goal.
The victory finally fell on the side of Santander. They did not need to dominate the game to be superior and thus became the first team to be champions of the entire 1st RFEF category.
[