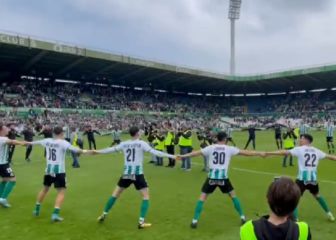 RACING: Parera; Unai Medina, Bobadilla, Pol Moreno, Javi Vázquez (Isma López, 87′); Tienza, Inigo; Soko (Camus, 60′), Pablo Torre (Borja Domínguez, 75′), Arturo (Mantilla, 75′); and Cedric (Manu Justo, 87′). SUBSTITUTES: Lucas Díaz (ps), Jorrín, Sergio Marcos, Dani González, Bustos and Harper.
CELTIC B: Rully; Carrique (Beitia, 80′), Martín, Javi Castro, Pampín; Carbonell, Holsgrove; Alfon (Cedric, 88′), Losada (Javi Gómez, 65′), Fabricio (Lautaro, 65′); and Miguel (Medrano, 80′). SUBSTITUTES: Cesar Fernandez (ps) and Ferrares.
REFEREE: Sergio Escriche Guzmán, of the Valencian committee. admonished a Ruly (31′), Arthur (35′), shop (79′), Borja Dominguez (+90′)
GOALS: 1-0 (31′) Unai Medina, He clinches a bad blocking by Ruly, who claimed a foul, at the exit of a corner. 2-0 (35′) Cedric pushes a death pass from Pablo Torre over the goal line. 2-1 (44′) Miguel, left-footed from the front. 2-2 (52′) lost, penalty committed by Javi Vázquez to Alfon.
STADIUM: El Sardinero, packed to the brim, with the 22,222 seats sold since Wednesday.
[