He has just over ten days to make a decision that could be decisive in the final in Paris. Right now Ancelotti has twelve starters, ahead of the rest, but he can't logically line up everyone from the start against Liverpool. The Italian contributed to the mystery in Cádiz, after the 1-1 on the penultimate league matchday. Valverde and Rodrygo starters at the Stade de France? "Maybe yes, maybe not," was the transalpine's response.
A game of shadows by the Madrid coach, because in the post-match against Levante his apparent speech was different. "Fede and Rodrygo are going to play the final", confirmed Carletto. But of course, she had a trick. He did not specify if both will play at the start. Because right now, the only option for both to enter from the initial whistle is to do without Kroos, something that has not happened without injury or rotation throughout the season but that is not unreasonable In view of Ancelotti's tendency to substitute almost out of habit the German. He did it significantly in the three European comebacks of this Champions League for history. Against PSG he went to the bench in the 57th minute, against Chelsea in the 73rd minute and against City in the 68th minute. The duels against the English, by the way, went into extra time so Kroos barely played roughly half of those encounters back that infuriated Madridismo…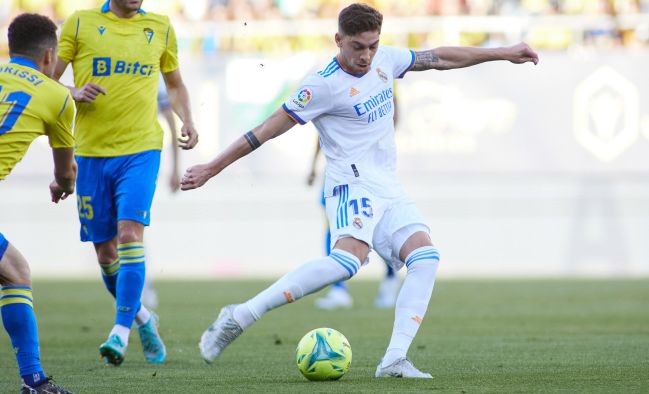 Although Ancelotti hides behind the fact that his system is a 4-3-3 that changes depending on the needs of the match to a 4-4-2, those systems are defined by the players you line up. Y Valverde seems untouchable at the moment seeing the physical display he is showing and that it can come in handy against the Liverpool midfielder and that he is exploring a new weapon, or rather, perfecting it: his powerful long shot. Ancelotti has been publicly squeezing him to make him more Hawk than ever thanks to that facet. The Uruguayan would facilitate a more contained scheme in the central zone of the field.
Rodrygo, a golden bullet
But if the sacrificed is Rodrygo, the decision is not easy either. He has been the last to oppose the starter, maybe that's why could return to a substitute role, but with a view to having a revulsive role similar to the one in the second leg against Chelsea in the quarterfinals. The bullet to refresh the white attack and multiply the danger in the second half. Although it means delaying the appearance of a talent that is in its moment, with six goals in the last month of competition, especially those two against City that have gone down in history. But a final is a final, and Carletto knows what it is to play them. And with Madrid, win them.
In any case, the decision will always be complicated.
[