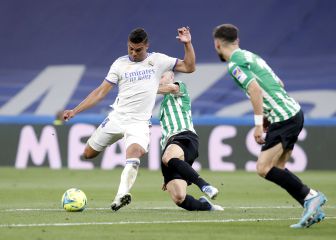 It was one of those games that serve a lot and for nothing. The emotion that the game lacked appeared in Marcelo's farewell, a side of the time, a player for both sides of the field, which comes to be a horse with wings. He also rehearsed the Madrid, in a minor key, the play that he will perform in Paris. Y Betis tried to explain without much success why the table and the Cup have spoken so highly of him throughout the year, but secured fifth place. The thing ended in a draw without salt, but entertained the wait for Mbappé's decision. That's where the real emotion of a madridismo in suspense lies. That Griezmann decision that seemed like a soap opera to us has remained in a short compared to this comedy that will lead to drama on one of the two shores.
It is impossible to reproduce the scenario of a final. Another rival, another stadium, another own emotional state, someone else's and that of the stands. So the dress rehearsal that Ancelotti prepared remained at eleven. Or in ten, if Alaba arrives on time and seats Nacho. Or in the ninth, if at the last minute he repents with Rodrygo and gives himself up to Valverde. In any case, he confirmed to Klopp what he already knew: that his Madrid for the entire season will be in Saint Denis, without additives or shocks. It was against a Betis of lights, determined to finish off the best, without concessions to sentimentality (Joel and Tello said goodbye to the club). His has been a happy season that stayed at the gates of paradise: having snatched the Champions square from Sevilla. But he repeats in the Europa League, he has walked a Cup around the city, he has won a place in the Saudi Super Cup and he has settled on the same floor as the neighbor with a better humor than him.
Madrid and Betis, League and Cup champions, they treated each other to friendly corridors and later left a game more relaxed than showy, with better air from Betis, the team that had the least to take care of. Pellegrini, who in Madrid died of an acute cork injury, has built his project by bringing together good-footed footballers. Even from fantasy, like Fekir or Canales, who have played better for Betis than at any other time in their career. With them, with Guido and with a very unruly Juanmi, they warned a Madrid with a certain experimental varnish: a higher than usual first pressure, an unusual foot game outside the Courtois area that can be useful against that group hunt that Liverpool practices when the opponent's ball comes out, an exercise of long balls to Vinicius in case the match goes to antelopes in Paris… The duel also confirmed that Rodrygo dwarfs on the right, that Mendy has plenty of strength and lacks skill and that there is still a lot to refine in the back. Nothing Ancelotti doesn't know.
Juanmi, without gunpowder
Betis launched a few cons that could have ended badly for Madrid. They were all finished off by Juanmi without precision, which has not exactly been the norm during the course. Ancelotti's team was little before the break: a shot from Benzema rejected by Bartra and three long shots from Kroos, Modric and Casemiro, that resource that appears when the team can't think of anything better.
The feeling is that Madrid took the duel as a maintenance session and played on autopilot except for Viniciusthe bullet man In this he does not distinguish the wheat from the chaff. He took the game as if he were already in Paris, gave Sabaly a hard time and was Madrid's only offensive threat in the first half. He retains the imagination that he brought as a youth with the knowledge of the game that surrounding himself with teachers has given him.
As Ancelotti assumes that there will not be a single game in Paris but several concentrated in 90 or 120 minutes, in the second part he tried with the vitaminized part of the team: Camavinga and Valverde. Putting legs on him went well for Madrid, who soon created the best chance until then: Carvajal's precise cross, Benzema's shot on the fly, rejected by Rui Silva and Rodrygo's final shot outside, who collected almost everything that was lost in the area. Camavinga is another one of those who is in the oven. Each of his matches improves on the previous one.
Farewells and closing
Twenty minutes from the end, Ancelotti ended the rehearsal and the end of the party began: the honorable farewell of Marcelo and Isco, a myth and a genius who became melancholy. Almost at the same time, Pellegrini introduced Joaquín, who will have a year of dessert among the general affection. Sometimes his sympathy ends up being the trees that hide the forest: there has been an exceptional footballer, good in all the teams he stepped on but better in Betis than in none. You also have to add feeling to art. He missed a sung goal, but nobody will take it into account.
With Bale Ancelotti did not want to risk. He left him in the stands because his goodbye was presumed bitter. Too many rudeness for the Bernabéu. He ended up weighing more what could have been than what was. And it is that in the end he decided that when he grew up he only wanted to be Welsh. And what started with a birdies has finished in triple bogey.
Changes
Camavinga (45′, Casemiro), Federico Valverde (45′, Kroos), William Carvalho (62′, Saved), rodry (62′, Willian José), Daniel Ceballos (69′, Modric), Marcelo (69′, Ferland Mendy), Isco (69′, Rodrigo), Borja Iglesias (72′, Juanmi), Joaquin (73′, Fekir), Tello (85′, Channels)
[