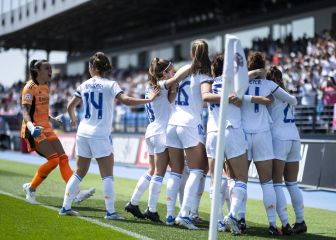 Few things are more beautiful and exciting in football than the goals in the discount. or at the last minute. Real Madrid has become an expert in that and has achieved this way nine of his last 12 points added in the First Iberdrola. Thanks to these golden minutes, the white team (fourth, 56 points) remains alive in the fight with Atlético (third, 56) for the last place in the Champions League that remains to be awarded. Barcelona and Real Sociedad own the other two.
Unlike the rojiblancas, who are the second most accomplished team in the league, Real Madrid is having a hard time finding the long-awaited goal in this final stretch of the season in the league. But she always ends up doing it. Against Levante, on matchday 25, It was Lorena Navarro who managed to bring down Paraluta's wall with a goal in the 90th minute. The young striker from Madrid took advantage of a ball rejected by the Granota defense to send it to the back of the net and give Alberto Toril's three fundamental points.
Last April 20 was Olga Carmona who appeared, in minute 89, to give her team the win in the postponed match of matchday 18 against Rayo. The Sevillian put the 0-1 on the scoreboard after finishing off, at the far post, a remote-controlled pass from Ivana Andrés.
Precisely the versatile Olga, chosen as the best player of the month of April by the Whites' fans last week, gave a new victory in extremis to his team on Sunday. His victim this time was Madrid CFF. Real Madrid's '7', 21, took responsibility for taking a penalty in 94′ and did not fail.
Another victory in extremis. Another goal in the golden minutes for a Real Madrid that holds on tight to the Champions League.

[