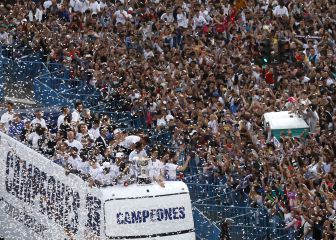 A party with the dream of being the preamble to another. Real Madrid stepped on Cibeles again four years later and the Madridista parish took to the streets to support their idols and begin to emotionally prepare for the second leg against City. "Wednesday, more!", was heard among the playersa spirit reciprocated by the fans, who at different times sang "Yes you can, yes you can!" thinking of pushing the team to the Champions League final.
But the League was celebrated and the players followed Carletto's 'order'. The Italian has been saying in the previous days that the total demand of the club means that the celebrations do not last long, so before the clash against the cizitens there is the joy of the thirty-fifth garter belt and there was no need to repress it.
A happiness shared by all but one, Gareth Bale, who returned to give the note. He was not on the list citing an alleged back spasm and the Welshman also decided to remove himself from the party. Another ugly to madridismo but especially to his teammates…
A party that kicked off on the lawn with Nacho's bullfighting capes and even special guests, such as the tennis player Carlos Alcaraz, who shared confidences on the lawn of the Bernabéu with Ancelotti. Carletto It deserved a chapter of its own. On the open-top bus on the street, she even started dancing with Vinicius and Militao.
At 8:49 p.m. and with the soundtrack of Star Wars, the team finally appeared and did so with the trophy safe and sound, to avoid accidents like that of Ramos with the 2014 Copa del Rey, thanks to a curious mechanism : arrived tied with electrical tape…
Musical moments for everyone, from "Champions, champions!" Marcelo (who took the microphone to throw a dart at Atlético fans) and "How can I not love you!" of Modric. The peak moment was put by Ancelotti, who closed his speech of thanks by launching a war cry: "Go for the City!".
League 34 could not be held in large numbers due to the pandemic. For this reason, Real Madrid celebrated twice. A luxurious warm-up for the Champions League.
[