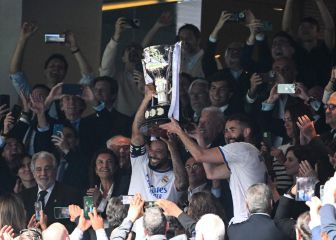 Real Madrid lifted their 35th league championship on Saturday, showing overwhelming dominance in Spain. Barça, their closest rival with 26, is now nine titles away. Nobody doubts the greatness of both clubs, but, What would be your situation compared to the rest of the teams in Europe? Although none of the five major Leagues can be assessed with the rest of European domestic competitions, given the different level that exists between them, In this article we are going to highlight the teams with the most league titles in Europe. Real Madrid, for example, enters the top 10 teams with the most Leagues, specifically in seventh place.
Those of Ancelotti with their 35 Leagues equal to Ajax, of the Eredivisie. However, it seems that it will be momentarily, since Ten Hag's men are on their way to their 36th league title. At this time they are four points ahead of PSV, with three games to go. If we only counted the five major leaguesthe only rival that Real Madrid has ahead is Juventus, which occupies sixth place, with 36 titles. The bianconeri champions were raised for the last time two seasons ago and this course they will not lift the trophy either. No other team from the five major leagues breaks into the Top 10leaving Bayern at the gates, with 32.
If we look at the table of teams with the most Leagues, we find in first place to Linfield, of the Northern Ireland Premiershipwhich has been proclaimed this season as champion, leaving the bar at 56 titles. In second position is another better known team, the Scottish Rangers, who have 55 league trophies. The Scottish League also puts the third member of the podium, Celtic, who with 51is about to lift his 52nd title (he leads Rangers by six points, with three games remaining). The fourth and fifth steps go to Olympiacos, from Greece, with 46 Leagues and Benfica, from Portugal, with 37.. The former are one step away from obtaining number 47, while the latter have not won it since 2018-19 and this year they will not be able to do so either.
[