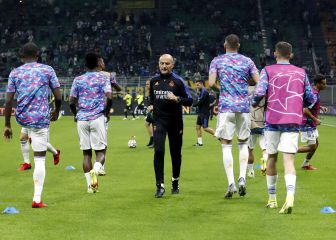 Casillas: "When it reaches so many finals, it's a reason something is going well"
Former Real Madrid and Spanish national team goalkeeper Iker Casillas said that "without a doubt" the current Whites' goalkeeper, the Belgian Thibaut Courtois, is the best goalkeeper in the world, of whom he highlighted his "maturity" and "solidity" that he transmits to the teamahead of Saturday's European final against Liverpool.
"Without a doubt, because the season he has had has been very good, he has established himself as a goalkeeper, you can see a very important maturity that he transmits to the rest of his teammates, if you have a goalkeeper like him, you are having a very solid phase"Casillas replied when asked at an event if Courtois is the best goalkeeper in the world.
The former Mostoleño goalkeeper participated in the presentation of the 'Mallorca International Football Cup Vicente del Bosque' tournament, which will take place from June 28 to July 2 in Mallorca, where he gave his forecast for the Champions League final this Saturday against English Liverpool. "1-1 and we won on penalties. If Courtois saves one, it's enough for me"Casillas bet that he will experience his first final as a spectator.
"This is the first time I'm going as a fan, not as a player, but enthusiastic, very happy to see that the club is still the best club in history because it's obvious, when a team reaches so many finals, tangos are played by very good players and it gives joy to its fans, it is reason that something is going well, and that it is a reference worldwide"plot.
With three Champions League titles in his history, Casillas considered that for Real Madrid it is "a fetish competition". "There are 13 Champions, it almost doubles the second but it is true that for the club, for us, it is a special motivation, what everyone has in their mind is to win a Champions League again"he added.
Casillas had words of thanks for Del Bosque at the presentation of his international tournament, which he recalled that he has known "since he was 8 years old" and that it was key in his transition from the academy to the Madrid first team. "Vicente, who directed the quarry, considered that he had to continue advancing, and reach the first team, but then you have to continue working"he remembered.
[