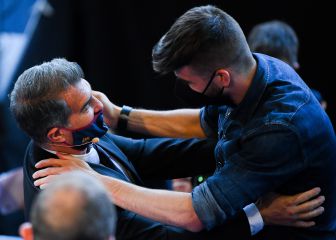 Barcelona lives on the limit and the solutions to its economic situation are going to cause a month of vertigo. To summarize, the picture is as follows: As of today, the pay slips to the players that must be paid on June 30 are not guaranteed by their own funds, a new salary reduction is going to be proposed for the players who earn the most and the project of accepting the help of CVC in two phases that must be approved by the partners by assembly continues without the unanimous approval of the Board.
Three very complicated scenarios that are aggravated by the scarcity, if not to say nil, help from Javier Tebas from LaLiga, who sees Barcelona's weakness as a crack to bring down the European Super League project.
Let's go by parts. Barcelona's first problem today is that On June 30, the players' chips must be settled and today the club will have to fill the box to make the payments. A situation that is not new in the entitybecause with Bartomeu they were already late.
The second problem is in asking for salary reductions again to the footballers who earn the most of the team. Again, Busquets, Piqué, Alba and Ter Stegen will be asked for a salary reduction. Sergi Roberto is given the reduction for granted in his renewal and Frenkie de Jong and Lenglet would only consider it if they continue at the club, because they are actually on the market.
Let's continue with the labyrinth that does not end here: there is also a narrative dilemma. Joan Laporta became president denying CVC and betting on the Super League, considering with the numbers in hand and every reason in the world that the agreement offered by Tebas was insufficient, but now with the suffocated club he needs money urgently. Y Tebas does not give his arm to twist, any agreement with CVC, forces him to resign from the Super League.
Faced with this situation, which continues to be a clamp between Tebas and Florentino, Laporta must make a decisive decision. The president still does not like the CVC option, but then the capitalization of the club would go through the sale of the merchandising section and by seeking other investment funds at the time of selling to players with a market. Some players with payroll and deferred salaries to enter. And those who will be asked to lower their salary. The puzzle is level.
[